Current affairs apps offer a wealth of benefits, keeping you well-informed about global events, political developments, business trends, sports updates, and much more. With user-friendly interfaces and comprehensive coverage, these current affairs apps are your go-to sources for staying updated in this fast-paced world. These apps are appropriate for anyone who wants to succeed in areas like banking exams, government exams, and more. Without further ado, here are the best current affairs apps!
Daily Current Affairs & GK
Price: Free
Daily Current Affairs & GK by JagranJosh stands out as an excellent resource for individuals preparing for government exams, making it one of the best current affairs apps. With its user-friendly interface and extensive coverage of national and international events, the app ensures users stay well-informed. The app's strength lies in its easy-to-remember format for both Hindi and English daily current affairs. Also, the comprehensive GK section offers various topics and the top 10 GK questions by exam, enhancing general knowledge. The app's daily quizzes aid in evaluating exam readiness and allow unlimited attempts for better learning. Expert analysis provides valuable insights for SSC, UPSC, and Banking exams, while the current affairs videos further enrich the experience.
Daily Current Affairs & GK on Google Play
Daily Current Affairs & GK on the App Store 
BYJU'S Exam Prep
Price: Free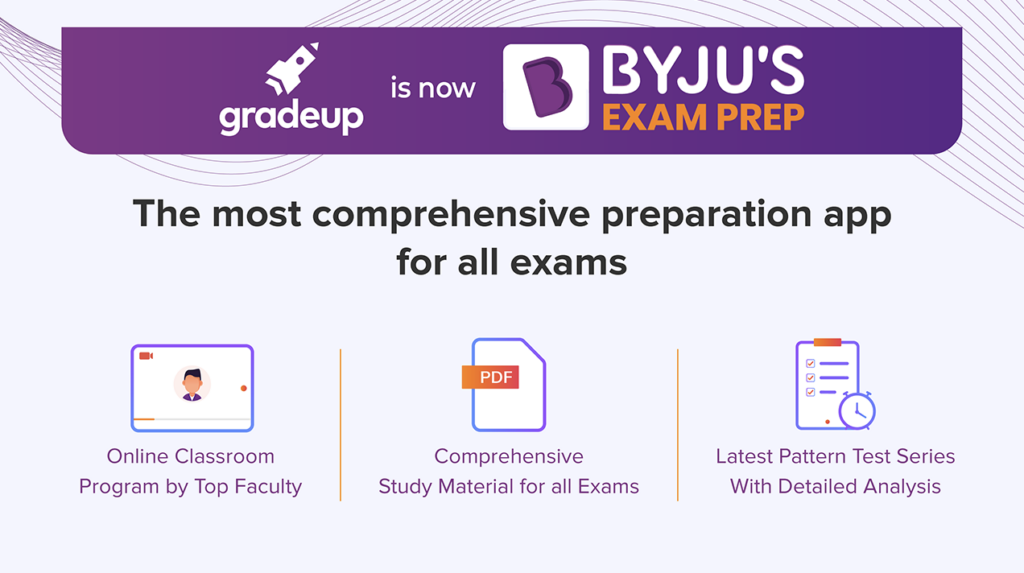 Byju's Exam Prep is a highly acclaimed and comprehensive exam preparation app, trusted by over 30 million users, and it deserves to be among the best current affairs apps. Covering a wide range of competitive exams, such as IAS, GATE, CDS, SBI, MBA, CTET, UGC NET, and more, the app offers live classes conducted by top faculty and recorded sessions for easy access. It provides unlimited practice questions, quizzes, and mock tests tailored to the latest exam patterns, ensuring effective preparation.
Furthermore, with experienced faculty resolving doubts and detailed performance analysis, candidates can track their progress. From GATE, ESE, and defense exams to banking, teaching, and state-level exams, BYJU's Exam Prep caters to diverse needs. Additionally, it supports NTA UGC NET, law entrance exams, MBA entrance tests, and assistant/junior engineer exams. Its easy-to-use interface and top-notch content make it an indispensable tool for success in various competitive exams. Visit the app's website to learn more.
BYJU'S Exam Prep on Google Play
BYJU'S Exam Prep on the App Store
---
Also Read: 9 Free Book Apps for iPhone
---
Current Affairs Daily Latest
Price: Free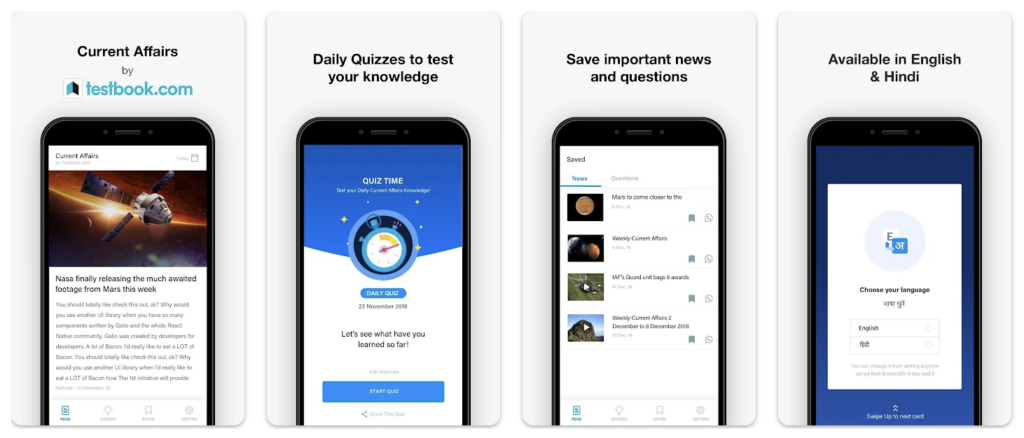 Testbook's Current Affairs App is one of the best current affairs apps. The app offers comprehensive learning of current affairs in Hindi and English for Bank, SSC, Railways, Civil Services, and MBA exams. With its byte-sized capsules, users can catch up on significant events in under 100 words, allowing focused efforts on relevant updates.
The app facilitates seamless switching between quizzes and capsules, aiding in easy memorization and retention of General Knowledge and Awareness. The app provides weekly and monthly quizzes, catering to UPSC exam preparation as well. Users can save and read content offline, and the app is expertly curated to meet exam requirements.
Current Affairs Daily Latest on Google Play
Current Affairs 2023 & GK App
Price: Free
OliveBoard's Current Affairs App is a highly trusted and comprehensive tool for Government Job Exam preparation, used by lakhs of serious aspirants and toppers nationwide. The app offers free, bilingual content, including Current Affairs GK Cards, topic-wise GK quizzes, and informative GK videos. The app covers exams like SSC, Bank, Railways, Civil Services, and Insurance, providing concise news articles and daily GK quizzes for efficient preparation.
Besides, users can interact with fellow aspirants on the Discuss Platform, and access free eBook downloads for various subjects. With its high-quality study material, OliveBoard's Latest Current Affairs & GK App keeps users updated on current and past events, proving invaluable for all major government exams.
Current Affairs 2023 & GK App on Google Play
---
Also Read: The 5 Best History Apps for iPhone and Android
---
GK & Current Affairs 2023
Price: Free

GK & Current Affairs 2023 is an all-inclusive exam preparation app designed to cater to the needs of students preparing for various competitive exams, including Bank, SSC, Railway, Defence, Teaching, Police, Insurance, EPFO, and NRA CET. It ranks among the best current affairs apps. The app offers an array of valuable features, such as free and offline content, daily current affairs updates, mock tests, previous year papers, exam target questions, notes, PDF courses, and exam updates. One of its standout features is the offline browsing capability, which allows users to access current affairs and updates without an internet connection. When connected, the app efficiently loads all the latest updates.
In addition, the app provides a holistic approach to learning, offering mock tests, short current affairs articles, daily quizzes, GK tricks for enhanced retention, 5,000 objective type GK questions, important notes, general knowledge, math tricks, and a stimulating learning experience through interactive games. Covering multiple exam categories, GK & Current Affairs 2023 includes exams like IBPS PO, SBI PO, SSC CGL, MTS, CPO, RRB NTPC, ALP, RRC Group D, NDA, CDS, AFCAT, CTET, DSSSB, UP Police SI, LIC AAO, EPFO Enforcement Officer, and NRA CET.
GK & Current Affairs 2023 on Google Play