Reading book provides mental and emotional enrichment, supports personal development, reduces stress, and enhances focus. On the other hand, book apps offer portable libraries, allowing us to read books anytime, anywhere. They personalize the reading experience, providing features like quick dictionary access, note-taking, and bookmarks, making reading more efficient. We can engage with books more frequently and quickly thanks to book apps. We can choose books based on genre, style, author, and more with book apps, saving time and money. In this review, we have examined free book apps for iPhone, catering to iOS users who want to save time and money. Without further ado, here are the free book apps for iPhone!
Amazon Kindle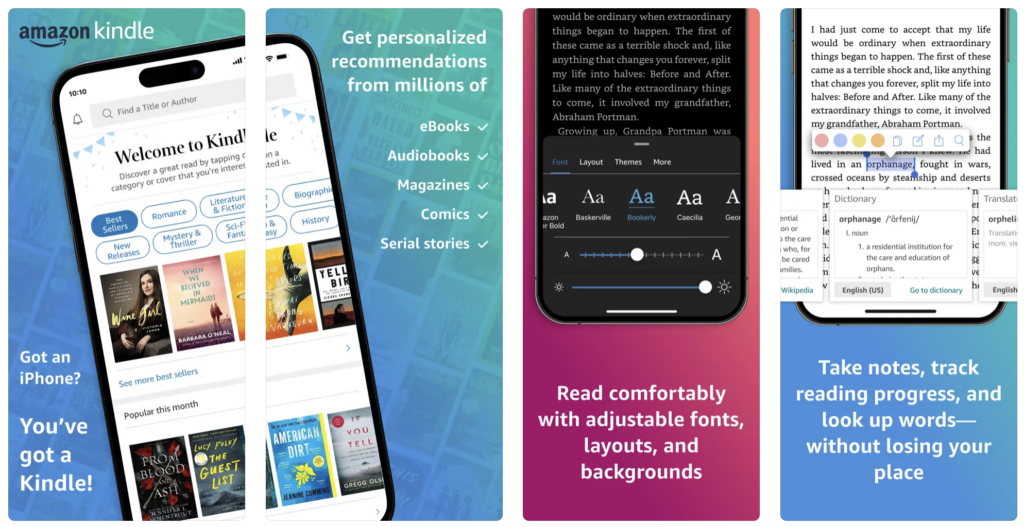 Amazon Kindle is one of the free book apps for iPhone. With Kindle, you can read anytime and anywhere, whether on the bus, taking a break, or snuggled up in bed. Users can directly access over six million Kindle books, magazines, and comics in the app, including bestsellers and titles across various genres. Kindle Unlimited members can enjoy unlimited reading and listening, while Amazon Prime members can access over 1,000 books, magazines, comics, and more.
Furthermore, the app allows users to customize their reading experience with adjustable text size, font type, and background colors. Users can look up words, people, and places while they read and easily track their reading progress. With Kindle, you can sync your books across devices and seamlessly switch between reading and listening with Audible integration. Go to Amazon Kindle's website to learn more.
Amazon Kindle on the App Store
Libby, by Overdrive
The award-winning app designed for libraries offers an easy way to access free ebooks and audiobooks from your local library. With Libby, you can browse your library's vast digital catalog, borrow bestselling books, and enjoy them anytime, anywhere. Users can download titles for offline reading or stream them to save space.
Also, the app offers features like sending ebooks to your Kindle (U.S. libraries only), audiobook support via Apple CarPlay, and the ability to create custom book lists with tags. Libby's intuitive ebook reader allows you to adjust text size, search for words, and add bookmarks, while the ground-breaking audio player lets you control playback speed and set sleep timers. Browse Libby's website to learn more information.
Libby, by Overdrive on the App Store
---
Also Read: The 6 Best Reading Apps for iPhone
---
Wattpad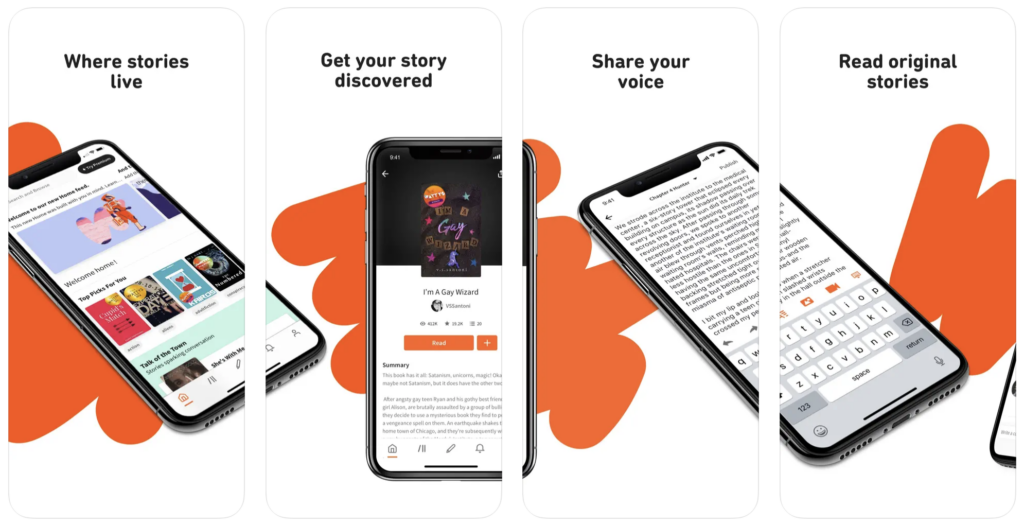 Wattpad is the captivating world of storytelling and the beloved social platform where stories come to life. With over 85 million readers and writers, Wattpad connects a global community through the power of story. Wattpad Studios discovers talented writers and connects them with entertainment companies worldwide.
Moreover, users can explore stories in various genres, from romance to science fiction, and connect with a passionate community of readers and writers. The app allows users to create their library, sync their accounts across devices, and discover the stories that inspired blockbuster hits. Wattpad stands out among the free book apps for iPhone. Check out Wattpad's website to learn more about the app.
Goodreads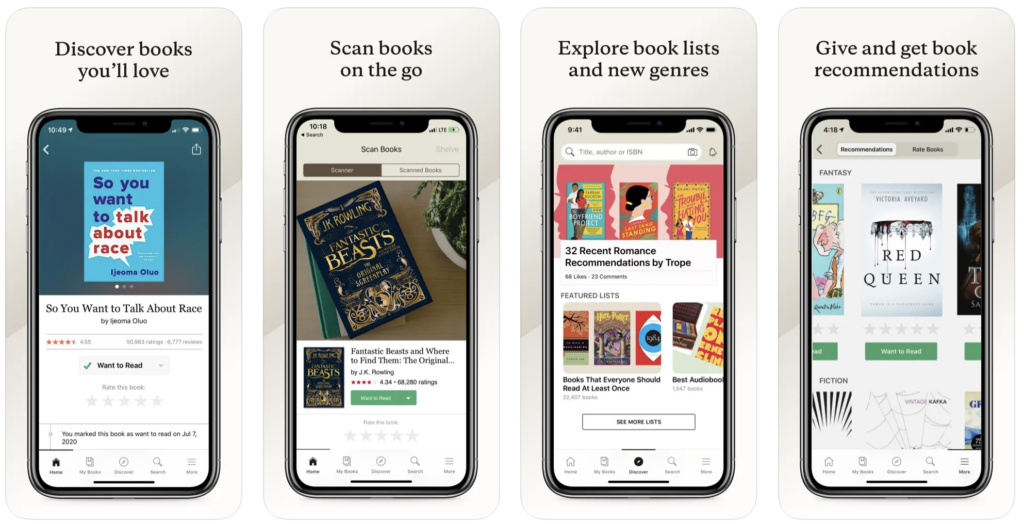 Goodreads ranks among the free book apps for iPhone. Users can explore new and intriguing books based on their reading preferences and favorite genres. The app allows users to stay connected with friends, write book reviews, and easily keep track of their reading wishlist. Goodreads offers a free service for book tracking, recommendations, and reviews.
Besides, Goodreads has a barcode scanner feature to add books to your 'Want to Read' shelf and browse insightful reviews before making a purchase. The app includes reading challenges, sharing progress updates, and more. Users can connect with other bookworms in online book clubs through Goodreads. Discover the website of Goodreads to learn more about the app.
---
Also Read: The 6 Best eBook Reader Apps
---
Blinkist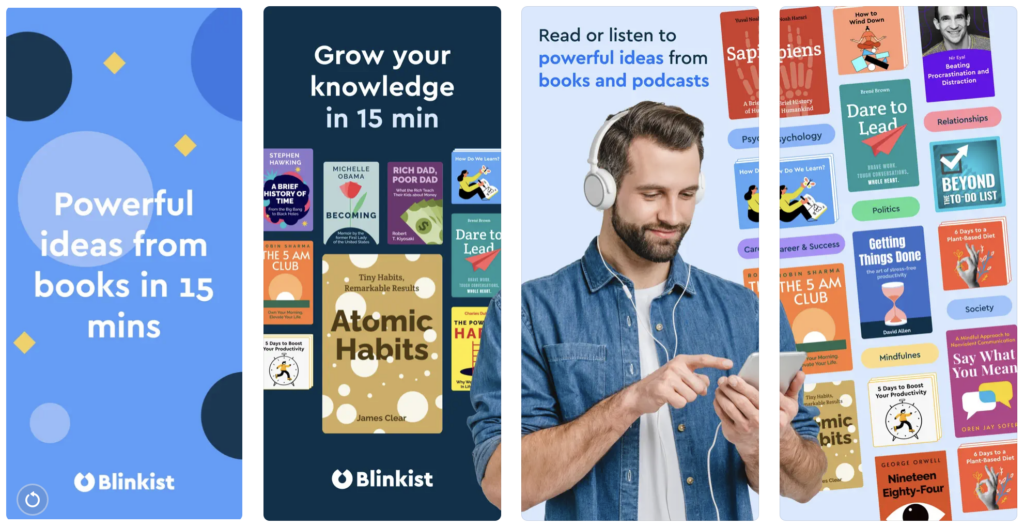 Blinkist is an ideal option for iPhone users looking for free book apps. Blinkist condenses insights from over 6,500 bestselling books and popular podcasts into 15-minute summaries, allowing easy access to knowledge. You can read or listen to the summaries at your own pace.
Additionally, offline access is available through the download feature of the app. With Blinkist Premium, you can access thousands of nonfiction audiobooks at discounted prices. Personalized recommendations and curated lists by experts are also among the app's advantages. For more information, browse Blinkist's website.
Scribd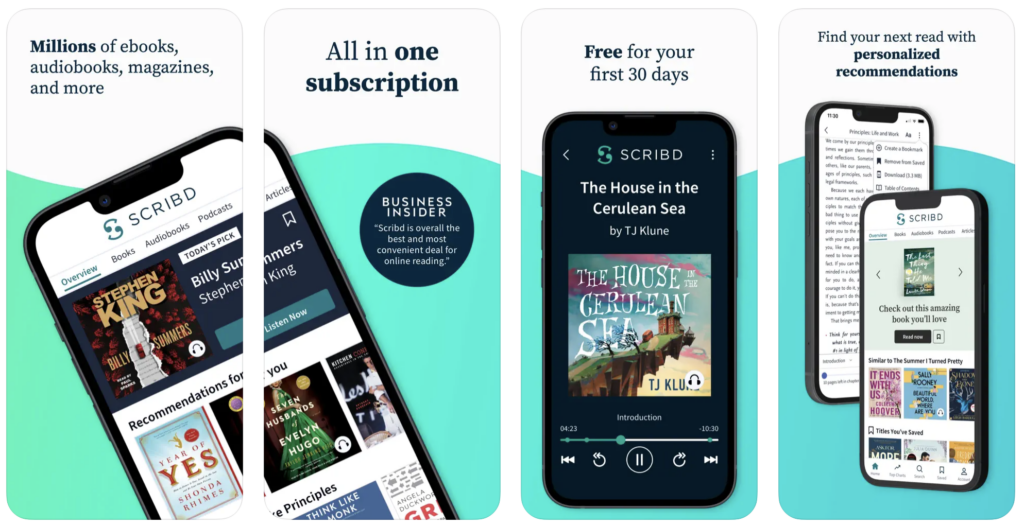 Scribd is an exceptional free book app for iOS, offering access to a vast digital library. With millions of audiobooks, ebooks, magazine articles, podcasts, sheet music, and research documents, Scribd is a haven for readers. From true crime to fiction, personal growth to romance, it covers a wide range of genres.
In addition, Scribd provides convenient features such as offline downloads, customization options, and seamless syncing across devices. Subscription pricing starts at $11.99 per month, offering unlimited access to its extensive collection. Scribd is one of the free book apps for iPhone with its unique features. Visit Scribd's website for more detailed information.
---
Also Read: The 6 Best Comic Book Apps for Android and iPhone
---
Kobo Books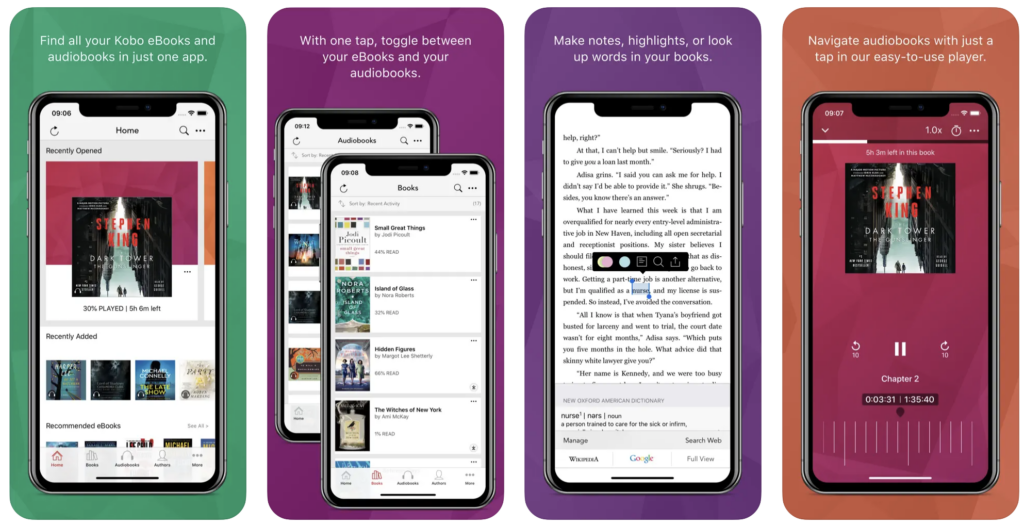 Kobo Books is an excellent free book app for iPhone. With over 6 million titles, the app allows users to customize their reading experience and switch seamlessly between devices. The app includes crisp text, audiobooks, and a night mode. Users can share their favorite quotes and thoughts on social media. Available in multiple languages, the app is perfect for all readers. Kobo Books deserves to be among the free book apps for iPhone with its handy features. Explore the website of Kobo Books to get more detailed information.
Google Play Books & Audiobooks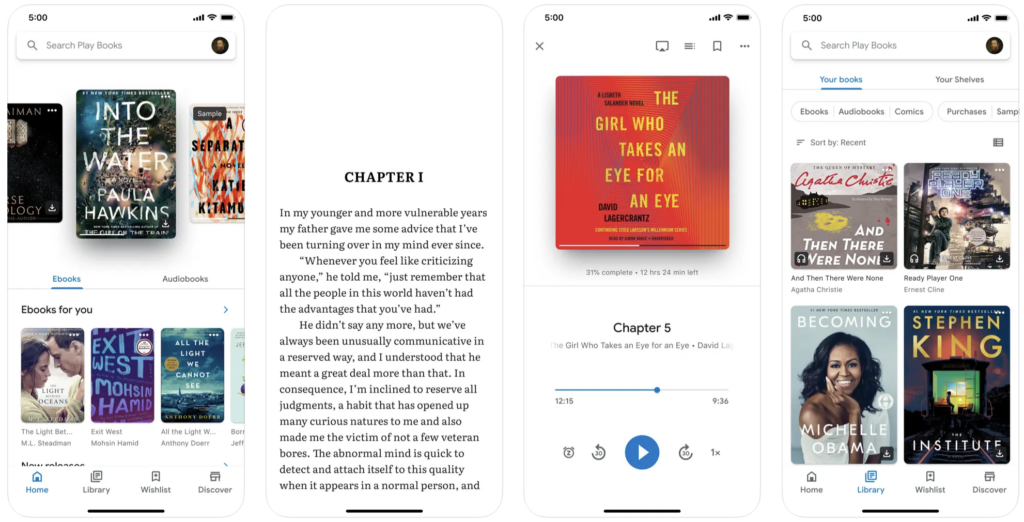 Google Play Books & Audiobooks is the ultimate app for book lovers. With millions of titles available, users can access a world of ebooks and audiobooks on their iPhone, iPod Touch, or iPad. The app offers the flexibility to download books and listen to audiobooks on the go. The personalized recommendations of the app make it easy to discover your next favorite book.
Moreover, the app has chapter navigation and the ability to pick up where you left off across devices, including CarPlay. Siri Shortcuts integration enables a hands-free listening experience. The app allows users to preview samples from a vast catalog of books and enjoy offline reading of books, comics, and textbooks. With the app, users can take notes that sync with Google Drive for effortless collaboration. Google Play Books & Audiobooks offers a comprehensive and user-friendly experience, making it one of the free book apps for iPhone. Go to the website of the app to learn more.
Google Play Books & Audiobooks on the App Store
---
Also Read: The Best Audiobook Apps for iPhone
---
50000 Books & Audiobooks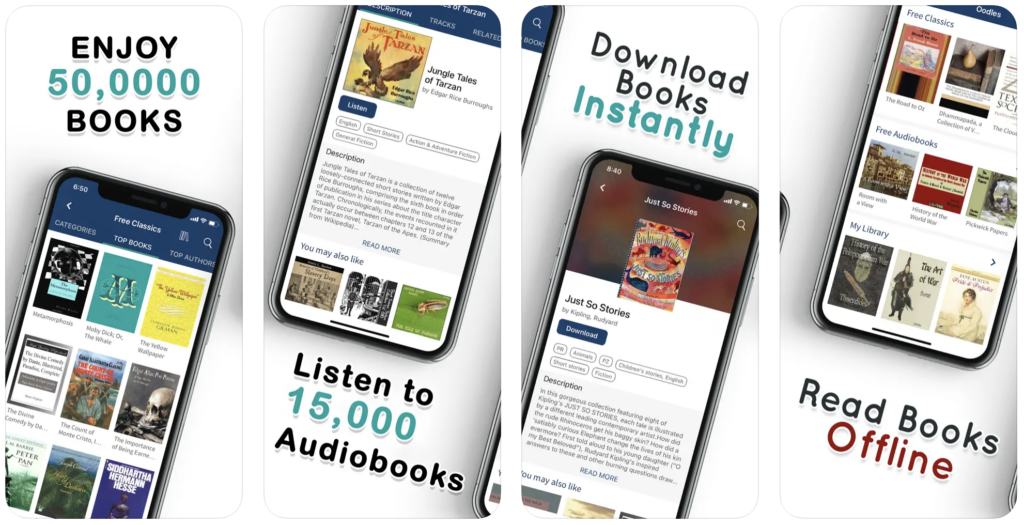 50000 Books & Audiobooks is a terrific book app for iPhone and iPad. The app contains offline reading and listening, with over 100 categories to browse. The app offers popular works by renowned authors like Jane Austen and Arthur Conan Doyle. From fiction and romance to adventure and horror, there's something for everyone. The app also offers books in multiple languages, including Hindi, Chinese, German, and more. 50000 Books & Audiobooks is an exhaustive and easy-to-use app for free literature on your iPhone. Check out Oodles' website to learn more.
50000 Books & Audiobooks on the App Store