Widgets are known as small information tools used in phones. It has some content such as weather, clock, calculator and calendar. Another definition of Widget In is tools usually found on android phones and designed to provide easy access to frequently viewed apps.
Widgets make our life much easier. The software developers who discovered this have developed and continue to develop many apps in this field. Especially clock widgets apps are pretty practical and are used frequently during the day. Widgets are making themselves even more popular with their customizable features. But which ones are the best clock widgets for Android? Read on for the answer.
Chronus Information Widgets
Price: Free
Chronus Info Widgets features a set of stylish and customizable News, Clock, Weather, Fitness, Tasks, Stock, and Calendar widgets for the home screen and locked screen. Also, this app uses less CPU and is battery friendly.
Moreover, the app has many features that will increase your productivity. The app sends Weather, Calendar, and Tasks notifications and helps news readers stay up to date with a news feed panel with a built-in RSS feed. If you're someone who likes to jot down your events, highlight upcoming calendar events with custom colors and bold font, and explore the calendar panel that displays a scrollable list of upcoming events.
Additionally, with Pro Features, you can get Unlimited DashClock Extension, full Chronus Wear watch face with the weather forecast, stock alerts, daydream screensaver, additional news providers (Feedly, Twitter, Reddit), additional tasks providers (Microsoft Exchange, Evernote, and Todoist)
Chronus Information Widgets on Google Play
---
Also Read: The Best Time Management Apps
---
Digital Clock Widget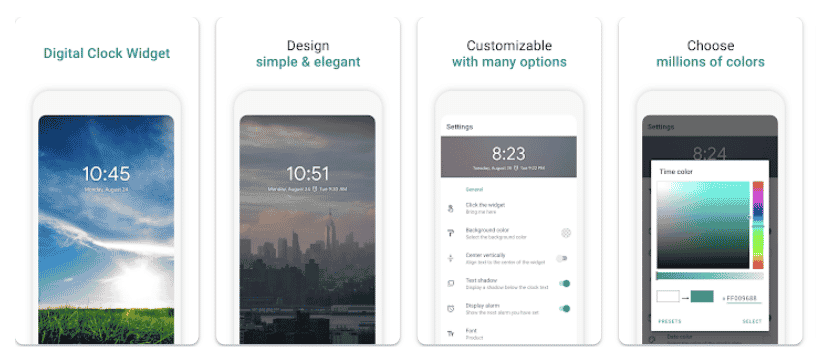 Price: Free
The Digital Clock Widget app, a home screen digital clock and date widget for Android, offers lots of customization possibilities. With the RGB color picker, you can choose the color that suits you for the time, date, and background among thousands of colors. Supporting different time and date formats, this app is tablet friendly. The material design UI of The Digital Clock Widget is liked by users and thus deserves to be among the best clock widgets for Android.
Digital Clock Widget on Google Play
ClockQ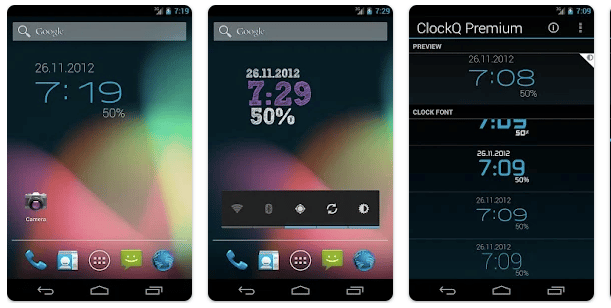 Price: Free
​​ClockQ is one of the best Android clock widgets and also attracts attention with its 26 large fonts and unique colors. The app provides practical information such as weather information °C/°F, and AM/PM indicators.
Also, if you want to customize your widget, you can take advantage of features such as shadow effect, rotation option, Holo theme, colors, font adjustment, and transparency options.
In addition, the premium subscription includes 38 large fonts, battery level information, and Layout Editor.
DIGI Clock Widget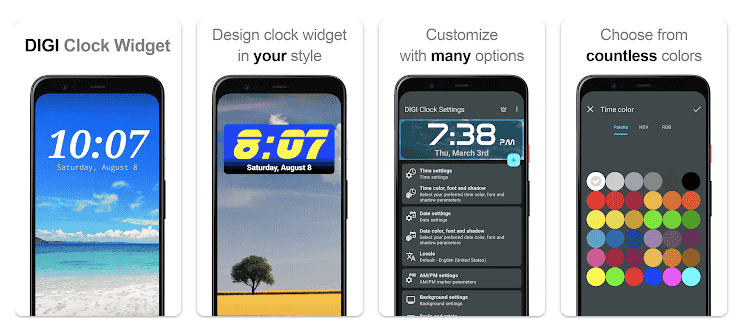 Price: Free
DIGI Clock Widget is a handy clock widget app. It makes your life easier with widget preview and widget click actions options during installation. There are multiple date formats and AM/PM indicators available in the app.
There are also a lot of customization options. There are 2×1 small size, 4×1 and 5×1 medium size, 4×2 big size widget size options, as well as 5×2 and 6×3 sizes for tablets. The opaque and transparent settings can be adjusted from 0% to 100%, and you can choose the font that appeals to your eyes with more than 40 fonts.
DIGI Clock Widget on Google Play
Weather & Clock Widget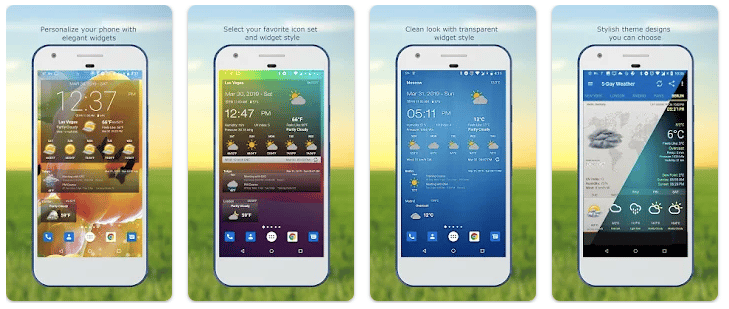 Price: Free
Weather & Clock Widget, one of the best clock widgets for Android, will surprise you with the data it offers. It gives fundamental data like current Weather hourly/daily forecast, 10-day future forecast, and also provides additional information such as celsius and Fahrenheit temperature unit, relative humidity percentage, atmospheric pressure, visibility range, precipitation, UV Index, and dew point. If you like to watch the sunrise or sunset, you can access the time information from this app.
Furthermore, if you are a frequent GPS user, you will love the app's automatic location detection and network/GPS features.
Additionally, you can make your widgets more personal with very elegant widgets, themes, and graphics.
Weather & Clock Widget on Google Play
---
Also Read: The 10 Best Weather Apps for Android
---
Circle Clock
Price: Free
Circle Clock makes a name for itself with its carefully selected designs. You can personalize your widget with features such as changing font styles, background colors, and text colors. You can also set the clock with a 12/24 hour setting and hourly beep/sound.