Hey everyone, I'm Jordan. We've introduced many Android and iOS apps to you in our Hot Apps category so far. And today we're going to be talking about an Android game, Draw Climber, which has been downloaded by more than 10 million Android users in just two weeks! Amazing, right?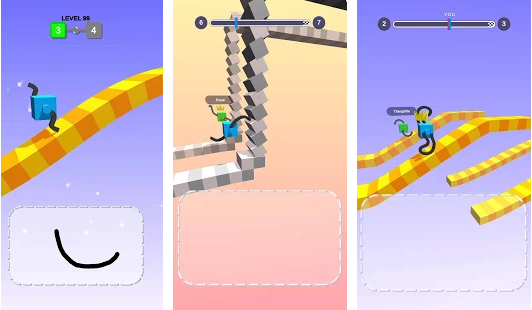 Now let's get started and get to know about the best Android game of the day in details.
Trending Android Game: Draw Climber
As we said above, the Draw Climber game is now one of the most popular games among Android users. The game, developed by VOODOO, asks you to draw your legs to win the race. Yes, that's it. However, just like most of the other games in the industry, it gets more addicting and you get access to more features as you level up.
Now, let's see how this trending Android game looks like.
Here is a Youtube video of Draw Climber:
Let's move on to the Google Play Store rankings.
Draw Climber – Google Play Store Rankings
Below you can see the Google Play Store rankings of the Draw Climber game, provided by AppBrain.
By the time I'm writing this, Draw Climber is the #1 app in the Overall / Top Free category in the United States, Canada, Germany, France, Australia, Switzerland, Spain, the United Kingdom and Italy. It is also in the first place in the Games / Top Free category in the USA.
App Ratings & Reviews of Draw Climber
As of 20th Feb, today's best Android game has 25,322 app ratings on the Play Store.

Draw Climber – Game Requirements

The app size of Draw Climber is 56MB. The current version is 1.1.2 and it requires Android 4.4 and higher.

How To Download Draw Climber
You can simply download Draw Climber from the Google Play Store by clicking here.
You can get more info about the game and the developer from Voodoo.io.
Have you ever played the best Android game of the day before? How was it? Let us know by leaving a comment below! You can visit our Hot Apps page to learn about the best Android apps and best iOS apps in the market!