Apple sent app developers an email saying that they're required to provide an approval number for their paid games or games that offer in-app purchases by July 31st. Otherwise, the company is going to remove the unlicensed games from the App Store in Mainland China, starting from August 1st.
---
According to AppInChina, first spotted by Youxixinzhi, Apple notified app developers that their games that are paid or provide in-app purchases would be removed from the App Store in Mainland China if they don't provide an approval number by the end of this month (July 2020).
''As you may know, Chinese law requires games to obtain an approval number from China's National Press and Publication Administration. In order to keep your paid game or game with in-app purchases available on the App Store in China mainland, enter your approval number and supporting documentation in the App Information section of your game's page in App Store Connect and submit an update to App Review by July 31. After July 31, your game will no longer be available on the App Store in China mainland until an approval number is provided with your next submission.'' said Apple.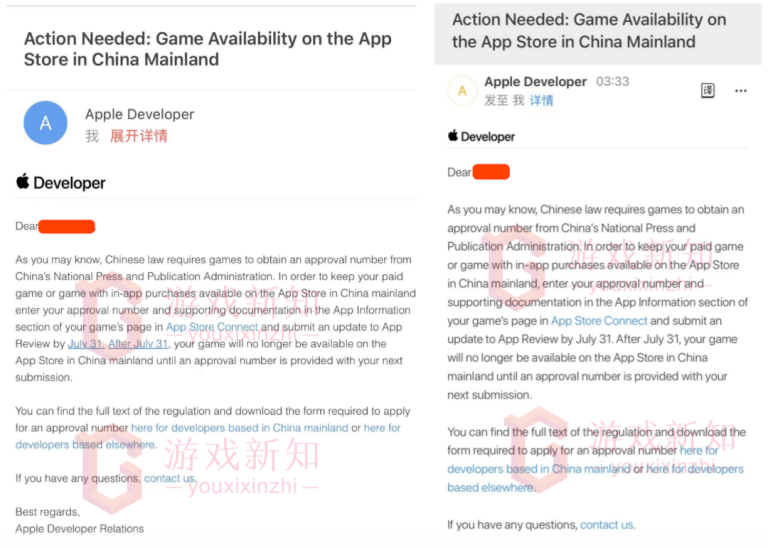 There are 3 possible solutions that developers can try: changing their games' category to something like ''education'' that doesn't require an app approval number, removing the game & applying for a license, creating a free version for the Chinese market.
However, according to AppInChina, changing the category might not be a good solution since they will still need Apple's approval and a category change is likely to affect their ASO in a negative way.
It looks like the second possible solution might not work either as applying for a license can take 6 to 12 months, which also doesn't provide a guarantee.
They can create a free version of their games for the Chinese market and support it with ads. But, it might not be suitable for some developers.
What do you think?