As iOS 14.5 is close to being released with the app tracking transparency feature, starting April 1st, Apple has started to reject app updates that don't comply with its app tracking transparency rules.
Potentially thousands of apps have been rejected so far, with Forbes listing Heetch, Radish Fiction, and an InnoGames app.
Developers seeing app rejections are getting a message saying: "Your app uses algorithmically converted device and usage data to create a unique identifier in order to track the user."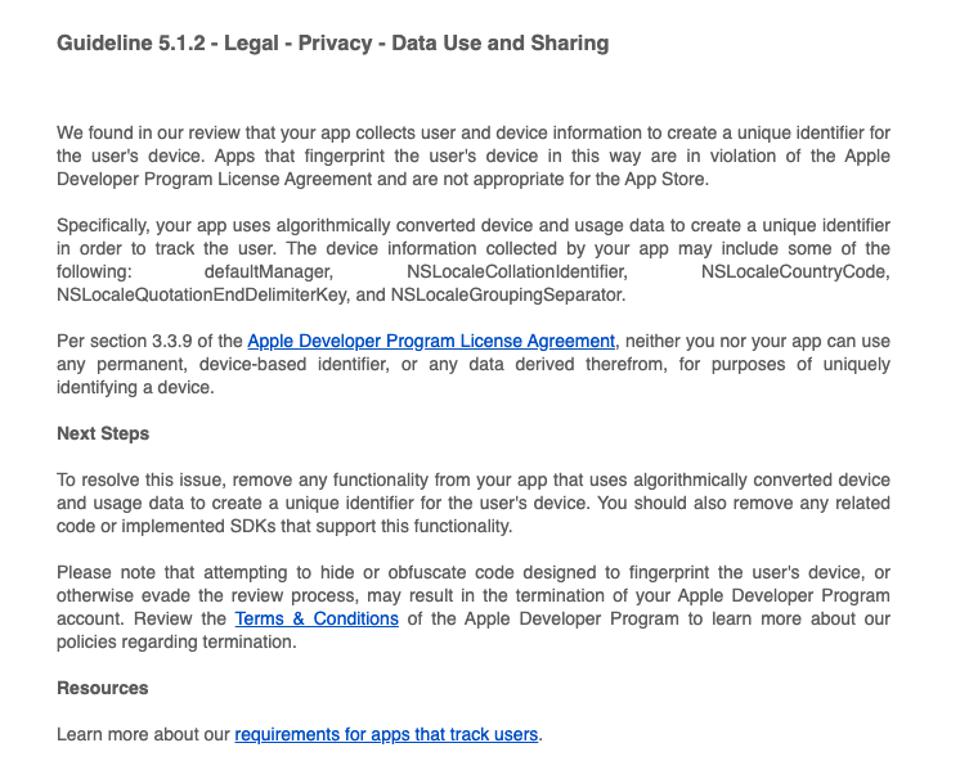 Mobile marketing analyst Eric Seufert said that an Adjust SDK causes the rejection related to its data collection of data used for device fingerprinting. If so, thousands of apps with Adjust SDK could have been impacted.
Per a number of developers, Apple has begun rejecting app updates that include the Adjust SDK related to its collection of data used for device fingerprinting.

— Eric Seufert (@eric_seufert) April 1, 2021
"Our app just got rejected by Apple's app reviewer, blaming the MMP SDK for building a fingerprint ID," says Aude Boscher, a growth marketing product manager at Heetch, a French transportation startup, in an industry Slack channel, John Koetsier covered in his blog post on Forbes. "I saw other people complaining … so it might soon come up for you as well!"
---
Recommended read: Dear App Developers: fingerprinting is not a viable workaround to ATT
---
Back in December, Apple warned developers that their apps could be blocked from the App Store if they don't comply with its App Tracking Transparency feature which allows iOS users to prevent advertisers from tracking their activities across mobile apps and websites.
Device fingerprinting is explicitly forbidden as part of the app tracking transfarency feature and apps should get permission from users for the purposes of device identification and attribution. Even if it looks good for the user, it is expected to impact an $80 billion industry.