Gmail becomes Google's second major app after Youtube to receive Apple's new app privacy labels which aims to help iOS users to understand the data types that apps may collect and use.
Last month, a Google spokesperson said that the tech giant would start adding Apple's app privacy labels to its apps within two weeks. Earlier this month, the company updated the Youtube app and added the new labels, and now Gmail became Google's second app to receive the iOS privacy label.
Here are the data types that the Gmail app 'may collect and link to your identity'.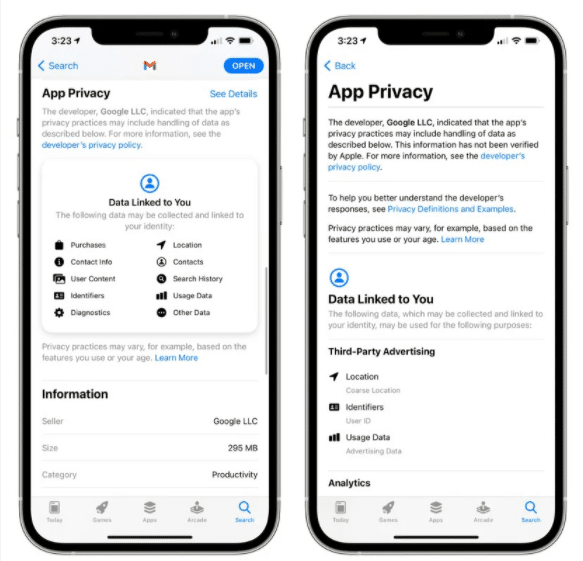 Although the app has been updated with the privacy labels, Google has reportedly done it on the server side and hasn't released an update directly to the Gmail app for over 2 months. 
In fact, most of Google's major apps including Google Maps, Google Search and Google Photos haven't been updated for months.
The company recently updated some other apps like Youtube Music, Youtube TV, Google Translate and Google Tasks with new features and bug fixes but these updates came after the updates aimed to add Apple's new privacy label updates.
Apple first announced the App privacy labels at the Worldwide Developer Conference where it also announced the controversial App Tracking Transparency feature which requires developers to get user permission to track their data and which will roll out in early spring. 
---
Also Read: Facebook shows prompt to encourage Apple users to allow ad tracking
---
In the beginning of November, Apple announced that developers would be required to submit their privacy info before December 8th. A month later, Apple's privacy labels went live on the App Store. Meanwhile, Apple also updated its App Store Review Guidelines requiring developers to comply with app privacy labels and App Tracking Transparency feature. 
---
Also Read: Google looking for alternative to Apple's 'App Tracking Transparency' feature
---
The labels are aimed to help iOS users to better understand the data that apps may use and collect, and "whether that data is linked to them or used to track them", in Apple's words.
However, a recent report released by the Washington Post suggests that the labels may not be completely accurate. "I checked Apple's new privacy 'nutrition labels.' Many were false." said Geoffrey A. Fowler, technology columnist.