Speaking with TechCrunch, a Google spokesperson confirmed that Google is planning to start adding Apple's App Store privacy labels to its own apps as soon as this week or next week. 
---
At the Worldwide Developer Conference (WWDC) 2020, Apple announced that app developers would be required to submit their app privacy information to provide users better understanding of the data types that mobile apps collect and "whether that data is linked to them or used to track them".
Last month, Apple released the controversial app privacy labels on the App Store and required app developers to submit their app privacy information before December 8th. And Google hasn't been updating most of its own apps since December 7.
In fact, Fast Company reporded that the tech giant hasn't updated 'not a single one of its iOS apps' including Youtube, Google Drive, Google Docs, Google Sheets, Google Duo, Gboard and more since the last month, suggesting that this could be because updating them would require the company to add privacy labels.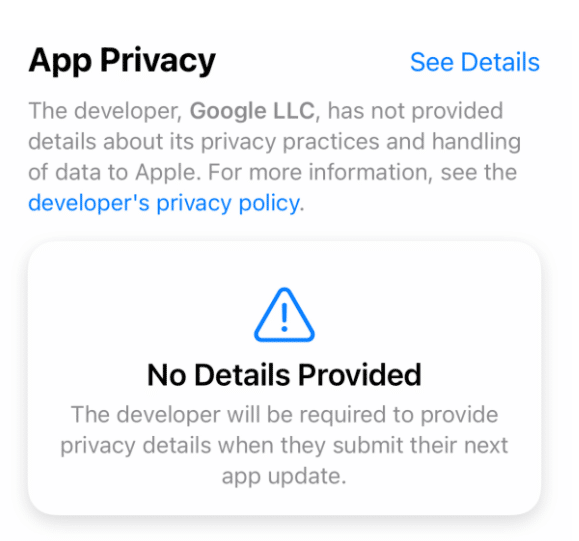 However, TechCrunch reported that Google has updated two of its apps, Google Slides and Socratic by Google, since the deadline of Apple's app privacy labels. But these apps still don't have the required app privacy labels.
A Google spokesperson confirmed Google is planning to add privacy labels starting this week or next week, however, didn't provide an exact date.
TechCrunch also reported that the delay in updates could be because of the holiday season, as Google usually avoids making changes to its apps during holidays to prevent problems that might iritate users.