According to Apptopia's new report, the average in-app purchase price on the US App Store has jumped 40% Y/Y since July 2021, while Play Store IAP prices have climbed only 9%.
Per report, the increase in iOS prices dates back to way before the inflation problem that mainly emerged in 2022, and this could be because of Apple's App Tracking Transparency feature that's enabled iOS users to opt-out of tracking if they want, making it more difficult for developers to reach new users.
The report also includes data from Adjust, which shows that there's a strong correlation between the rise in effective cost per install (eCPI) and the increasing IAP prices.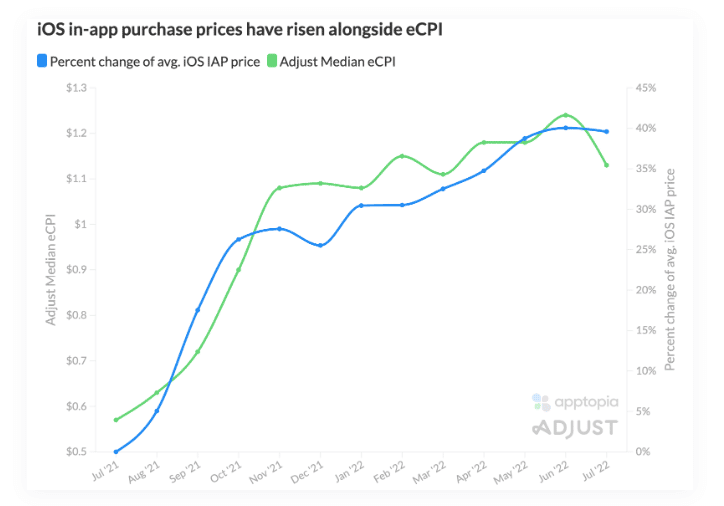 In addition, the company found that while the average price of single in-app purchases grew 36% Y/Y, annual and monthly subscription prices were up merely 19%, which could be a sign of developers' efforts to retain users in the long term.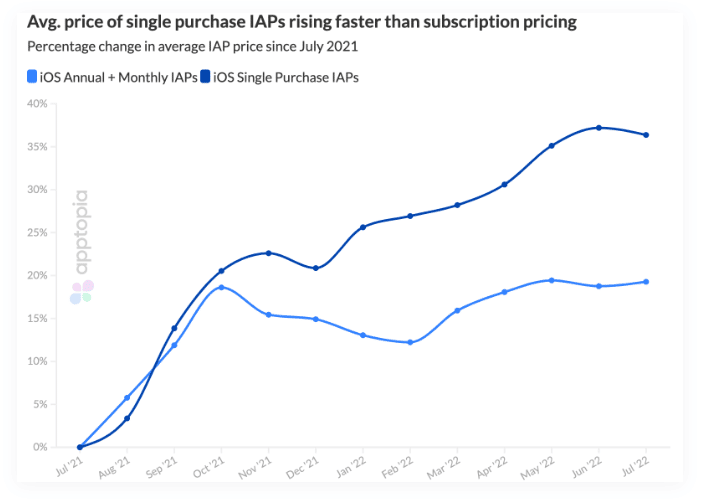 The iOS category that saw the highest Y/Y growth (88%) in average IAP prices was Navigation, and it was followed by Travel (79%), Photo & Video (74%), Sports (71%) and Books (66%) respectively.
On the Android side, the Top 5 categories with the largest increase were Food & Drink (50%), Beauty (47%), Events (39%), Books & Reference (23%), and Productivity (22%).
The study arrives a week after Appsumer's recent report which revealed that Apple's ATT helped boost its Search Ads adoption, which grew 4% Y/Y between June 2021-22.
The iPhone-maker's ad business is expected to grow even further with its new App Store ad slots that will be launched this holiday season.