Meta-owned WhatsApp, the most popular messaging app in the world, is reportedly down in multiple countries including India, Turkey, the United Kingdom, Germany, Spain, Pakistan, Malaysia, the United Arab Emirates, Israel, Singapore, Japan and Portugal.
While the company has yet to make an official statement, WhatsApp users immediately turned to other social media platforms, including Twitter, to find out if the app is really down and share the news with other users.
---
Also Read: WhatsApp Revenue and Usage Statistics
---
According to downdetector.com, nearly four thousands reports have been made about the problem so far. 74% of those users said they're unable to send any messages, 23% of them said they can not use the app, and 4% said they have trouble using the website.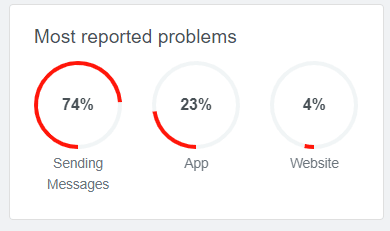 We'll update this post once the company makes an announcement regarding the outage. In the meantime, you can check out WhatsApp alternatives to keep in touch with your family and friends.
UPDATE: In a statement to TechCrunch, Meta said that it's aware of the issue and working to make the service available again. "We're aware that some people are currently having trouble sending messages and we're working to restore WhatsApp for everyone as quickly as possible," the company said.