TikTok announced on Monday that it's launching passkeys for iOS devices to let users sign into the popular short video platform in a quicker, simpler and more secure way by using their Face or Touch ID.
''Passkeys are password replacements that can confirm your identity based on encrypted biometric authentication methods already available on your device. When you use passkeys, all biometric authentication data remains on your device and cannot be accessed or processed by third party apps, like TikTok,'' the company said in its announcement post. ''If you are an iOS user, you may already use passkeys on other applications. For your TikTok account, you will now have the option to use passkeys instead of a password to sign into your TikTok account directly from your iCloud account across devices.''
The solution, which uses public-private key cryptography techniques to simplify the login process while enhancing security, offer more protection against, guessing, password reuse, phishing/social engineering, and server leaks when compared to traditional memorized passwords, which are more prone to be stolen and forgotten, the ByteDance-owned company said.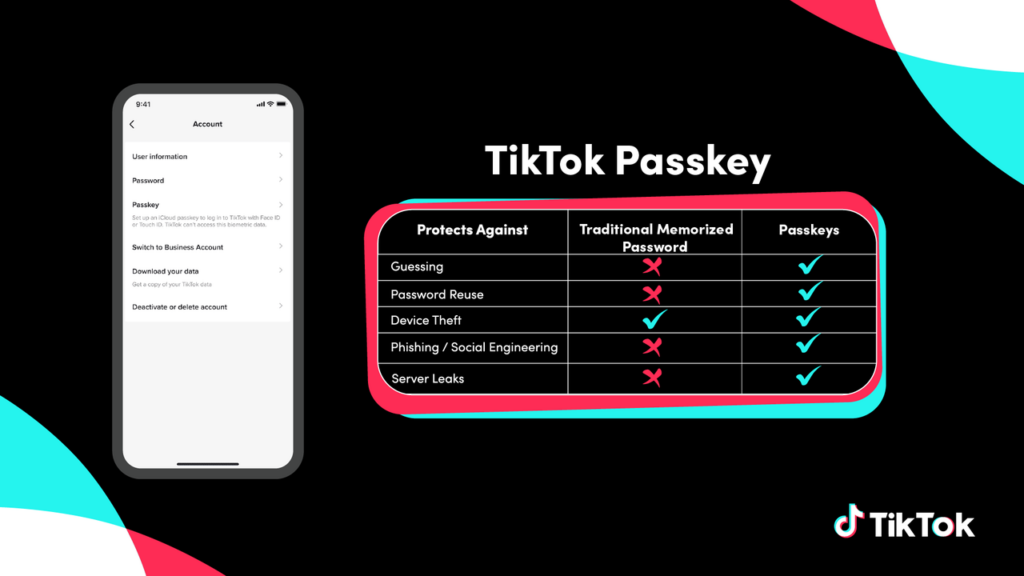 While the new TikTok Passkeys will initially be available to iOS users in Asia, Africa, Australia, and South America only, the company said that it's planning to expand it to other operating systems and countries 'over time'.
How to set up TikTok Passkeys on iOS
In order to set up TikTok Passkeys on iPhones, you first need to make sure that your device runs on iOS 16 or later, your iCloud Keychain is turned on in your Apple device settings, and two-factor authentication is turned on for your Apple ID.
Then you can head to your TikTok profile, click on the 'Menu' at the top, choose 'Settings and privacy', select 'Account', and you'll find the 'iCloud passkey' option there, which you can active by clicking on 'Set up' and following the instructions.
After completing the setup, TikTok will ask you if you'd like to use your saved passkey the next time you log in the app.
TikTok joins the FIDO Alliance
As part of the new passkeys launch, TikTok is also joining the FIDO Alliance, which was founded in 2013 to set ''open and free authentication standards to help reduce the world's reliance on passwords''.
The open industry association has received support from hundreds of tech companies including Apple, Google, and Amazon, which are updating their products for the passwordless future. Google, for example, introduced its new Credential Manager API earlier this year, to help developers integrate sign-in authentication into their apps.
Regarding their new membership in the FIDO Alliance, Kim Albarella, TikTok's Head of Global Security, said: "We are thrilled to join the FIDO Alliance as we begin to introduce passkeys for login, working with industry leaders to amplify secure passwordless technologies."