Technology keeps growing continuously and its impacts on our lives are very obvious beyond any doubt. As the mobile devices got in our lives, they brought so many new things along with themselves. Mobile Advertising is one of them.

Mobile Advertising is not the same as it was in the past. No more unwanted pop-up and other kinds of ads but the ones that help us to find what we're looking for. Millions of brands and product owners invest in mobile advertising and billions of mobile device users interact with them through their devices.

Have you ever wondered how the story of Mobily Advertising started? Keep reading! 🙂

The First Mobile Ads in the History

Once upon a time… Not that far from now, just in 1992, cellular devices were already in use for about 12 years. Then, a test engineer in the UK sent the first message that was celebrating the new year. In the next years, ad agencies realized that this form of communication is suitable for getting interaction with customers. This was mainly based on sending bulk messages to mobile device users. Just simple bulk messages. And by the year of 2002, SMS became the newest and biggest mass media channel.

But as the time passed, as all the ad agencies relied on this channel and started using it, SMS advertising became something not useful but irritating for mobile device users. Receiving tens of advertising messages in a day didn't make device owners buy something. SMS advertising didn't work anymore.

Then the release of smartphones opened a new gate for advertisers. Applications became the new place of mobile advertisements. They were in high-demand and users were looking for them. This brought to app stores to us.

Growing Popularity of Mobile Applications
High demand means more service. Apple App Store was opened on July 10, 2008 and Google Play Store was opened in 2012. Users were now able to reach applications in any kind of category.

Many of the first applications were free. but many of the owners of these applications monetized their apps through mobile advertising. Apps became more sophisticated and accordingly the ads shown on them became sophisticated too. New advertisement models got in our lives supported by new technologies. For example, the discovery of GPS technology allowed advertisers to show ads to users based on their locations. Many more developments followed this evolution.
Why Mobile Advertising is Important?

Here are some mobile marketing stats for you to understand the importance of mobile advertising.

Mobile Devices Surpassed TV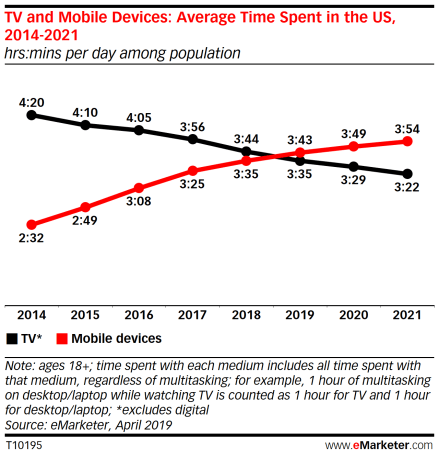 https://www.emarketer.com/content/us-time-spent-with-mobile-2019
Once televisions were the devices we spent most of our times on. But it looks like mobile devices already surpassed them by 2019. The average hour Americans spent on mobile devices is 3.44!

Number of Mobile Apps Keeps Increasing
As you can see above, the number of apps in Google Play and Apple App Store is more than 4 million already. This huge market keeps growing.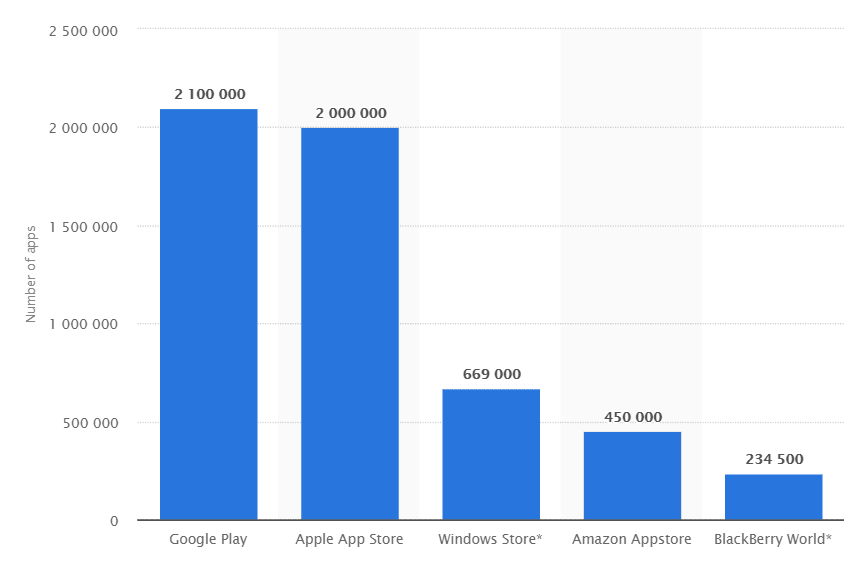 https://www.statista.com/statistics/276623/number-of-apps-available-in-leading-app-stores/
Number of Mobile Device Users Keeps Growing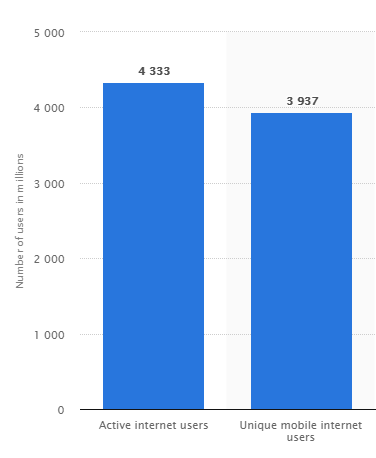 https://www.statista.com/statistics/617136/digital-population-worldwide/
According to Statista, the number of Unique Mobile Internet Users is 3.937 million in 2019 and this also makes up the most of the percentage of Active Internet Users.

I think these reasons are enough to emphasize the importance of Mobile Advertising.
Mobile world keeps growing and Mobile Advertising is a huge part of it. You can have a look around in our website and get to know more about mobile marketing. Don't forget to fill the form below to be updated for the latest posts. 🙂