Among the 10 highest-grossing markets (excluding China) in Q3 2021, Japan's average per capita spending on mobile apps surpassed other markets at around $149, an 18% increase from the previous year, according to a Sensor Tower analysis.
This was 5 percentage points lower than the 23% growth it saw between the same periods in 2019 and 2020.
According to the analysis, Japan, South Korea, US, Australia, Canada, UK, Germany, France, Thailand and Russia were the highest earning markets for mobile apps by combined Google Play and App Store spending between the first quarter of 2021 and the third quarter of 2021. China was not included in the analysis as Google's platform isn't available there.
---
Also Read: Apple Search Ads overtakes Facebook in power and volume rankings in iOS
---
Collectively, combined app spending in these 10 countries increased 22% year-over-year to $65.4 billion in the first three quarters of 2021. This figure was $53.8 billion in the same period of the previous year.
While Japan saw the highest average per capita spend from the first quarter of 2021 to the third quarter, U.S. app stores accounted for the most total spend among the markets studied, with an annual increase of 24% from $24.2 billion to $30.1 billion. Japan ranked 2nd with mobile game and app revenue reaching approximately $18.6 billion, an increase of 18% year-over-year from $15.8 billion.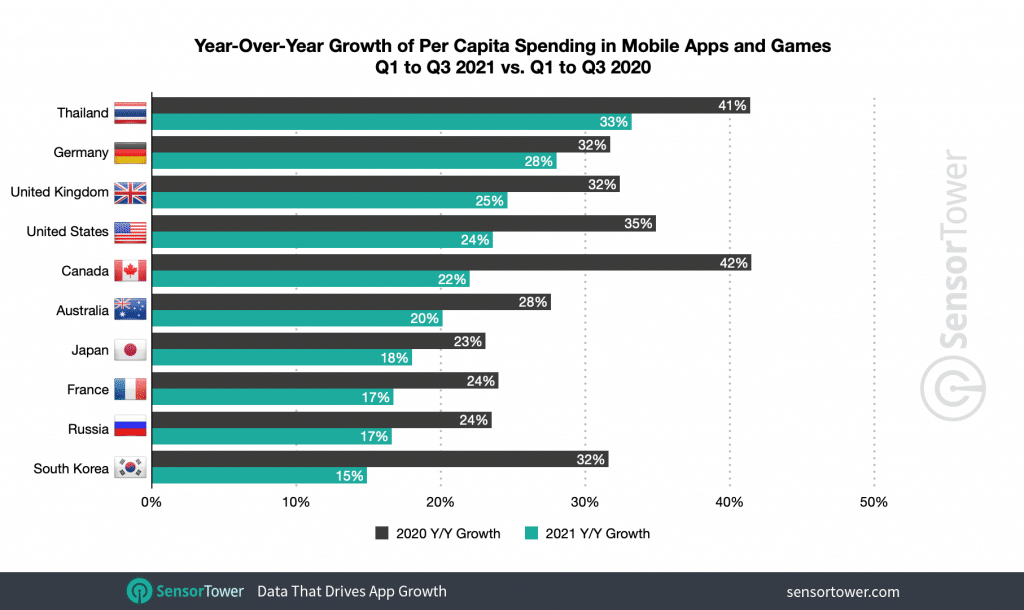 Thailand saw the largest year-over-year increase in per capita spending among the top revenue generating markets, climbing from 33% to an average of $12, up from $9 in the 1Q20 to 3Q20 period.