As both Google and Apple keep facing antitrust scrutiny around the world for their Play Store and App Store practices and allegedly harming competition, Microsoft said that it wants to rival them by building its own Xbox mobile game store where it plans to offer popular titles like Activision's Candy Crush Saga (developed by King) and Call of Duty: Mobile.
As reported by The Verge, Microsoft revealed the plans in recent filings as part of the ongoing investigation into its Activision Blizzard acquisition by the Competition and Markets Authority (CMA) of the United Kingdom. The watchdog first launched the investigation in July, and shared its findings last month saying that it could significantly harm competition and that they entered the second phase of their review.
"The transaction will improve Microsoft's ability to create a next-generation game store that operates across a range of devices, including mobile, as a result of the addition of Activision Blizzard's content. Building on Activision Blizzard's existing communities of gamers, Xbox will seek to scale the Xbox Store to mobile, attracting gamers to a new Xbox Mobile Platform," Microsoft said in its filings.
On its website created to provide information and the latest updates about its Activision Blizzard acquisition, the company shared a graph showing the rise of gaming revenue over the years. According to that graph, global mobile games generated $85 billion in revenue in 2020, slightly more than half of the overall gaming revenue which hit $165 billion in the same year, which clearly explains why Microsoft wants to get a more solid place in the mobile gaming industry with the $68.7 billion acquisition.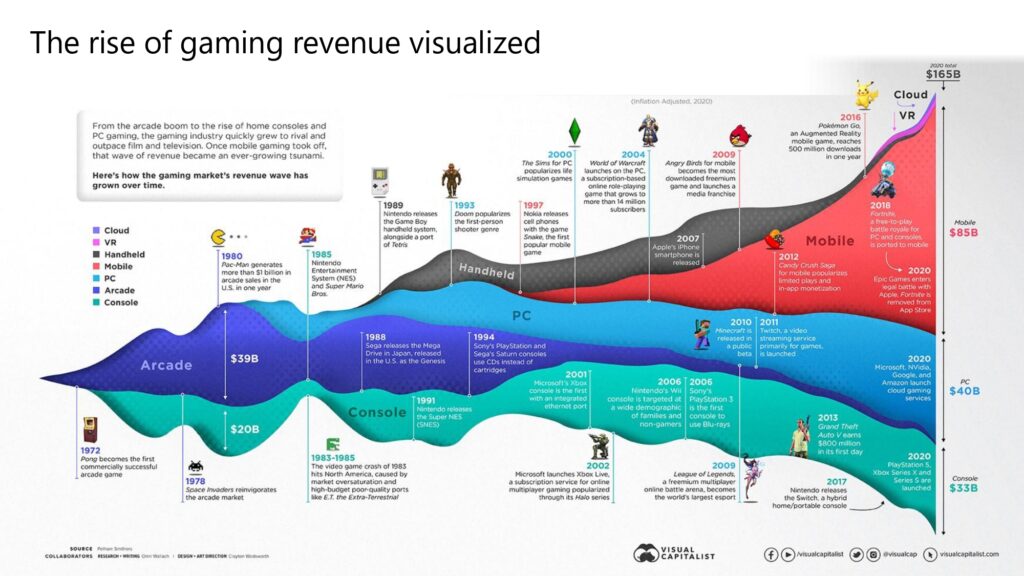 The company also wrote in the filings that "mobile gaming revenues from the King division and titles such as 'Call of Duty: Mobile,' as well as ancillary revenue, represented more than half of Activision Blizzard's revenues and in the first half of 2022."
Meanwhile, Microsoft is well aware that rivalling Google and Apple with its Xbox Mobile Platform won't be a simple process. In the first half of this year, App Store spending in mobile games reached $11.9 billion and Play Store spending hit $7.9 billion, according to recent data from Sensor Tower.
"Shifting consumers away from the Google Play Store and App Store on mobile devices will, however, require a major shift in consumer behavior,'' the company added. ''Microsoft hopes that by offering well-known and popular content, gamers will be more inclined to try something new."