Google's parent company Alphabet Inc's second quarter revenue reached new highs beating estimations, boosted by the increase in ad spending as more people are now shopping online to meet their needs without having to go out during the pandemic. Following the news, Alphabet's shares increased by 3.3% in extended trading.
"In Q2, there was a rising tide of online activity in many parts of the world, and we're proud that our services helped so many consumers and businesses.'' said Sundar Pichai, CEO of Google and Alphabet. ''Our long-term investments in AI and Google Cloud are helping us drive significant improvements in everyone's digital experience."
During the second quarter of 2021, Alphabet's total revenue reached $61.88 billion with a 61.6% increase. In addition, the net income for the quarter was $18.5 billion, or $27.26 per share.
''Our strong second quarter revenues of $61.9 billion reflect elevated consumer online activity and broad-based strength in advertiser spend.'' said Ruth Porat, CFO of Google and Alphabet. ''Again, we benefited from excellent execution across the board by our teams," he added.
For the first time in its history, the tech giant had reported a drop in its ad revenue in the second quarter of 2020. However, during the second quarter of this year ended June 30, the company's ad revenue increased approximately 70% Y/Y to $50.44 billion showing a significant recovery.
Meanwhile, YouTube ad revenue reached $7 billion with a 83.7% Y/Y growth and Google Cloud accounted for $4.6 billion.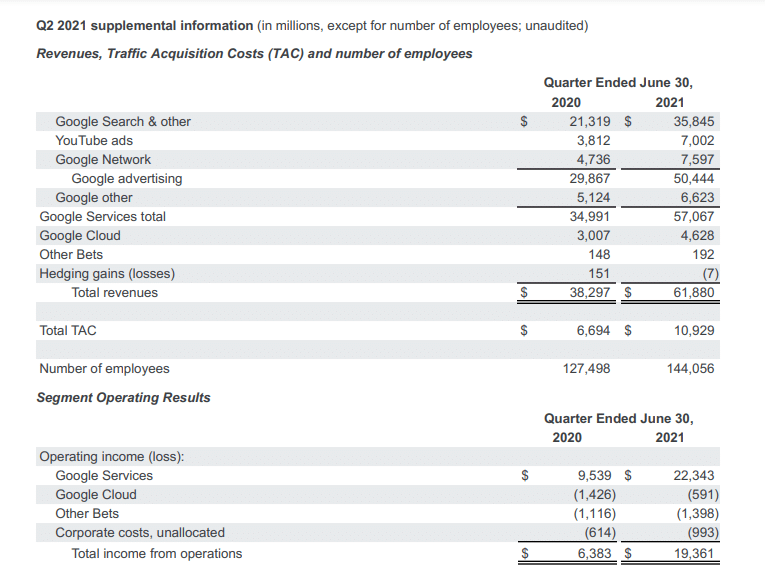 During a call with analysts, Google's SVP & Chief Business Officer Philipp Schindler said that retail brands made the biggest contribution to the growth in the ad business.
The news comes at a time when the tech giant is currently facing four different antitrust lawsuits by U.S. states and federal regulators.
In the beginning of this month, Utah, Washington DC and 35 other US states sued Google over its Play Store practices.