Cryptocurrency exchange Coinbase, preparing for the initial public offering next week, announced the first quarter results of 2021.
It outperformed the whole last year with the revenue it generated in this quarter alone. Coinbase generated total revenue of approximately $ 1.8 billion, with net income between $ 730 and $ 800 million. The total trading volume of the company is announced as $335 billion. Coinbase's revenue in the first quarter of this year has also nine-folded from $190.6 million last year.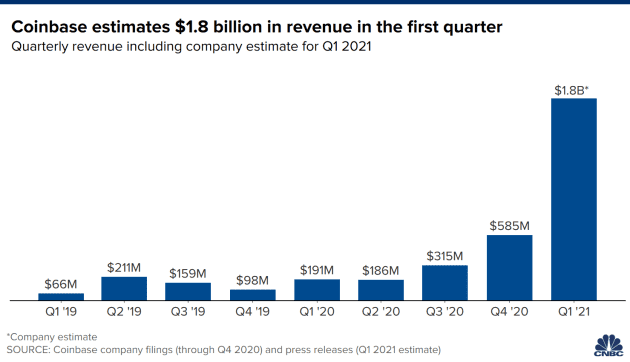 Coinbase also said it has 56 million verified users as of the first quarter ended March 31, 2021 as compared to 43 million reported in 2020.
The company expects "meaningful growth" in 2021 driven by transaction and custody revenue given the increased institutional interest in the crypto asset class.
Coinbase announced last week that the SEC approved its direct listing, set for April 14. It said it plans to register nearly 115 million shares of Class A common stock, which will trade under ticker symbol COIN.
---
Also read: Cryptocurrency trading platform Bitpanda raises $170M at a $1.2B valuation
---
In the second quarter of 2021, Coinbase expects approximately $35 million of one-time expenses related to the company's direct listing. Looking to full year 2021, in order to scale its operations and to continue to drive product innovation, it expects its technology and development expenses and our general and administrative expenses to be between $1.3 billion to $1.6 billion, excluding stock-based compensation, in 2021.
Although the pandemic affects everyone economically, Coinbase has benefited from the ongoing growth in the cryptocurrency industry despite these struggles. In this context, the company is preparing to be the latest technology company to be released with a great valuation. Trading in the private market valued the company at $ 68 billion, it is stated that this could increase to about $ 100 billion.