According to eMarketer, Google, Facebook and Amazon will account for 64% of all digital ad spend in the US in 2021. According to the projection, in 2023, Google is expected to lose its share in the digital ad market, Facebook will remain fairly stable and Amazon will increase its share.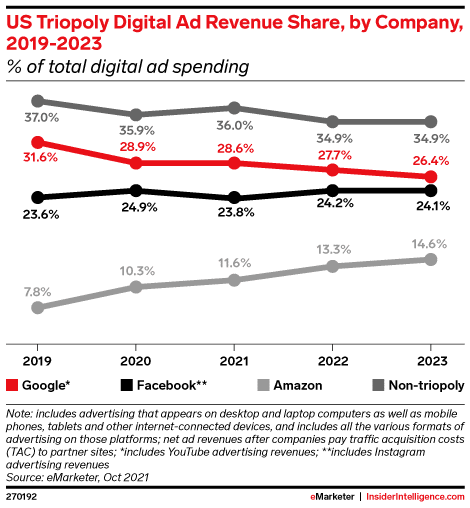 US digital ad spending will exceed $210 billion this year, marking 38.3% growth from 2020. It is forecasted to pass the $300 billion mark in 2025.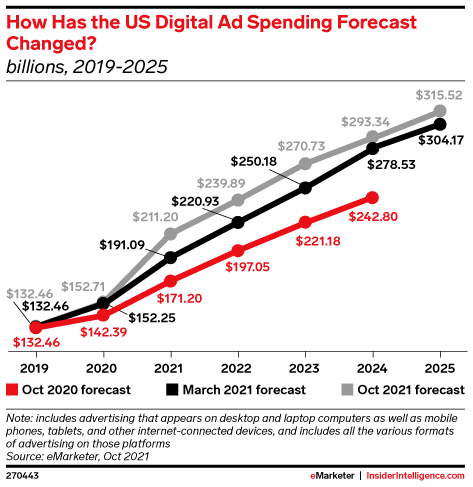 Display ads are expected to continue to gain share of the overall ad market while Search's share will remain about the same this year as in 2020, before falling slightly through 2025.
US influencer marketing spending is also expected to rise through 2023.It is projected to increase by over 30% to $3 billion in 2021 and surpass the $4 billion milestone in 2022.
As the time spent by users in mobile apps increases, so does mobile ad spending. Global mobile advertising spending is expected to reach $156.38 by 2023, according to the Mobile Advertising Outlook 2021 report by eMarketer. According to a new report from Adjust, mobile gaming remains the largest user acquisition-driven category, making up 50% of total UA ad spend across all verticals.