On Wednesday, at the Think Games China event, Google announced app campaigns for engagement, open bidding, rewarded interstitials, and more.
The average time mobile game users spend within an app has risen during pandemic. According to the latest App Annie data, monthly time spent in mobile apps saw a 40% year-over-year growth and increased to 200 billion hours in 2020 Q2. 
On Wednesday, Google revealed that 1.4 trillion minutes spent playing mobile games each month on Google Play. However, most of the game players are still avoiding making in-app purchases that will let developers generate revenue from mobile games. The Google Play data shows that, in the average app, 96% of app users will never spend on in-app purchases.
NEW –

Rewarded Interstitials
At the event, Google introduced a new ad format called Rewarded Interstitials to help app developers increase in-app engagement by showing rewarded ads during gameplay breaks.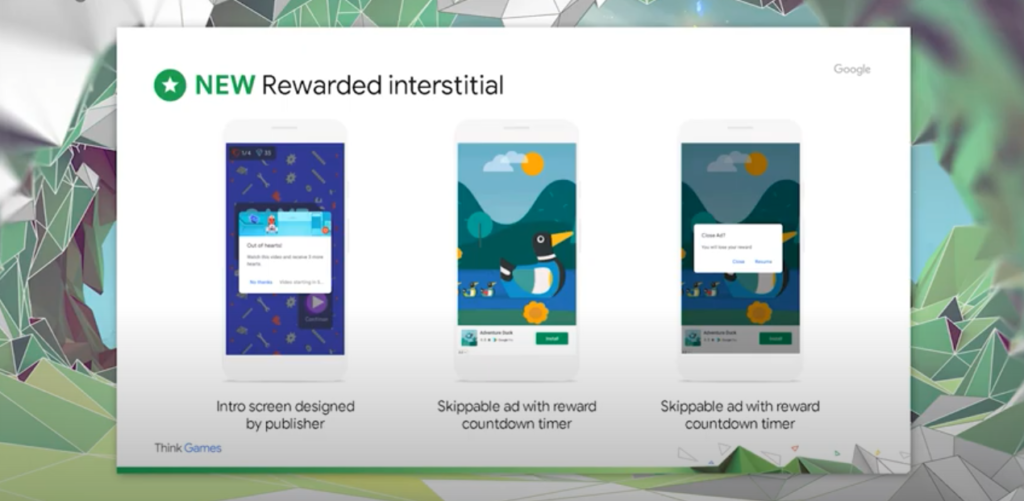 The problem with traditional interstitial ads is to have low engagement volume meaning low CPMs. On the other hand, rewarded ads have high CPMs but low impression volume. Rewarded Interstitials promise to avoid the negative outputs of interstitial and rewarded ads and to provide a more effective solution for in-app engagement.
Duke Dukellis, Director of Product Management at AdMob and Ad Manager also shared a case study of a beta tester of Rewarded Interstitials, Ilyon. According to the case study, after adding Rewarded Interstitials, they saw a 3x growth in eCPM, 2.5x growth in rewarded video revenue, and 80% lift in ARPDAU.
Dukellis said the Rewarded Interstitials will soon be available for app developers to test in beta.
UPDATED –

App Open Ads (Beta)
That is not a new ad type but Google made a couple of updates and changes in App Open Ads including standardizing the branding, clearing ad content, and simplifying user interface. It is a type of ad unit that appears when a user opens an app or switches back to an app.
App open ad units currently only show text, image, rich media, and video ads.
NEW –

Open Bidding in beta
Google also introduced their in-app bidding solution Open Bidding, as an alternative to traditional waterfall mediation, that will be available as a beta to all AdMob developers this fall.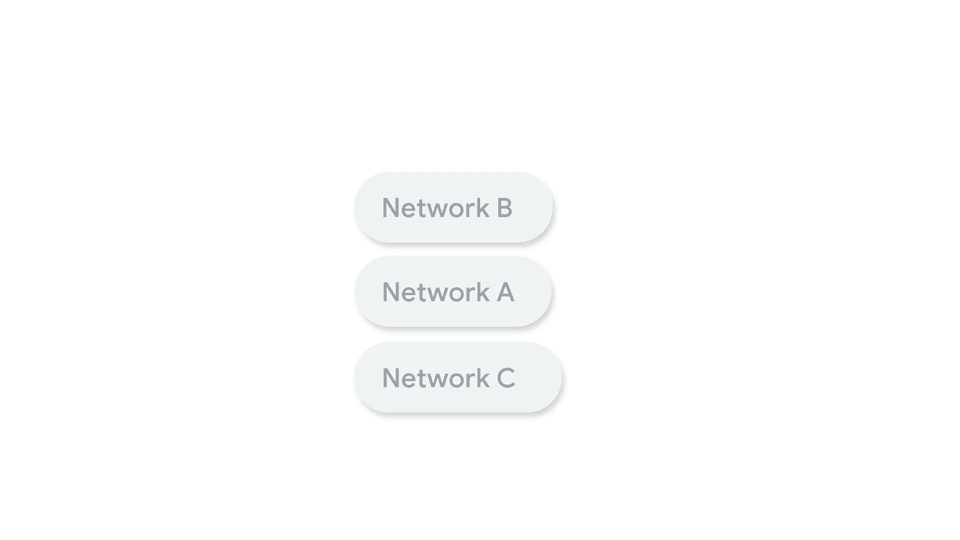 Because waterfall mediation uses historical CPMs instead of real-time pricing to prioritize ad networks, it misses out the price changes in real-time that causes to lose out additional revenue.
Open Bidding puts ad networks in a fair real-time auction in order to let the winner be always the highest paying ad network and that means getting the highest available revenue for an impression. It also helps to avoid setting CPMs manually and to decrease the number of SDKs integrated, and to eliminate the need to manage waterfalls.
According to the case study Dukellis shared during his presentation, CookApps, one of the early testers of Open Bidding saw 26% increase in ad revenue and 26% increase in eCPM.
NEW –

LTV Pingback from the AdMob SDK
Google announced LTV Pingback, a new feature that provides Real-time estimates of impression values to avoid guess work and to give a much more granular measure for lifetime value (LTV) of users across all user acquisition and revenue sources.
NEW – App Campaigns helping across the game lifecycle
App campaigns for pre-registration
It will app developers to promote their apps before their release on Google Play in order to gauge interest and to create demand. The campaign will be automatically stopped serving after the app is released. Players will also have a chance to choose to have the game automatically downloaded right after the launch.
According to the case study, FunPlus used the pre-registration campaign and they drove 93 thousands pre-registrations in just 9 days.
The app campaigns for pre-registration will be available globally later this year.
Maximize conversion bidding through app campaigns
It helps app developers to acquire users quickly after releasing a game by setting a target cost per install (tCPI).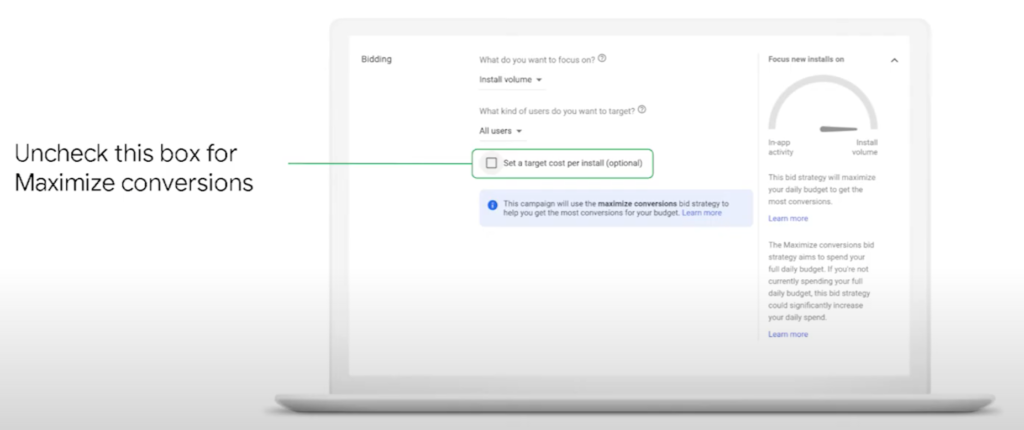 The feature is now available through app campaigns for installs.
Target ROAS (tROAS) bidding
Enable game developers to adjust their bids dynamically according to the return on ad spend (ROAS) they will set as a percentage of value per spend. The feature will let app developers choose how much dollar value they want back in return for every dollar they spend. For example, if a developer sets a daily budget for $300, and target ROAS is 20%, he is aiming for about $60 of value from the ads.
The case study says FunPlus increased ARPPU by 20% thanks to tROAS bidding strategy.Target ROAS bidding will be available later this year to all advertisers.
Image Simplification
Starting this month, Google is updating its requirements for image assets to make the creative process simpler and more scalable by shifting from size-based to ratio-based image specifications. It will help developers to create visuals in just 3 ratios instead of creating images around 30 different sizes.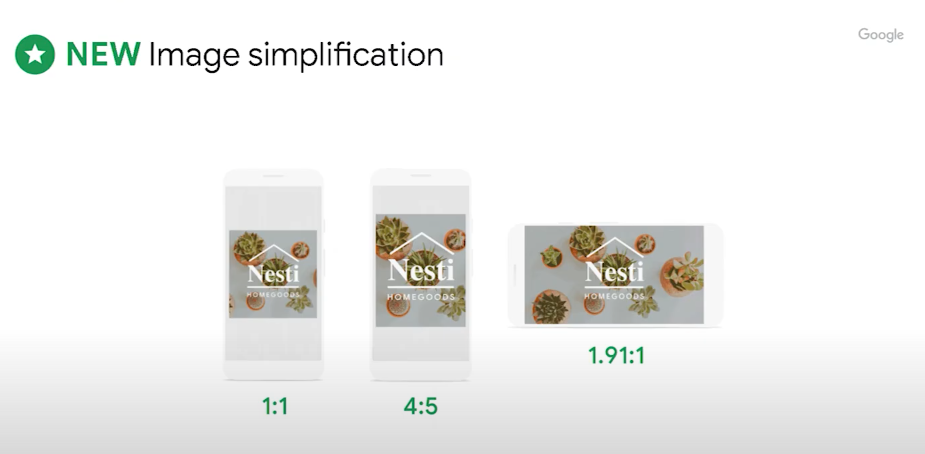 Google also introduced the Image Cropper tool to crop any image according to the accepted ratios.
App Campaigns for Engagement
It is designed to retain and reach users across the lifecycle of a mobile app and it will be available globally in September. It will soon also run in Google Play and support audiences from Google Analytics for Firebase.
According to the case study, FunPlus increased in returning high value players by 33.8% and they also saw an increase in Day 3 retention in re-engaged users by 10.3%.
To learn more about the new and updated mobile ad solutions Google announced at the Think Games China, below you can watch the Ads Announcement session.