The summer of 2023 witnessed an extraordinary surge in travel app usage, surpassing the heights of the previous year. According to the latest analysis from data.ai, travelers rely on their mobile devices more than ever during the summer of 2023. Between May and August 2023, users on Android phones spent an astounding four billion hours in travel apps, averaging more than one billion hours per month. This represents a substantial 14% year-over-year increase.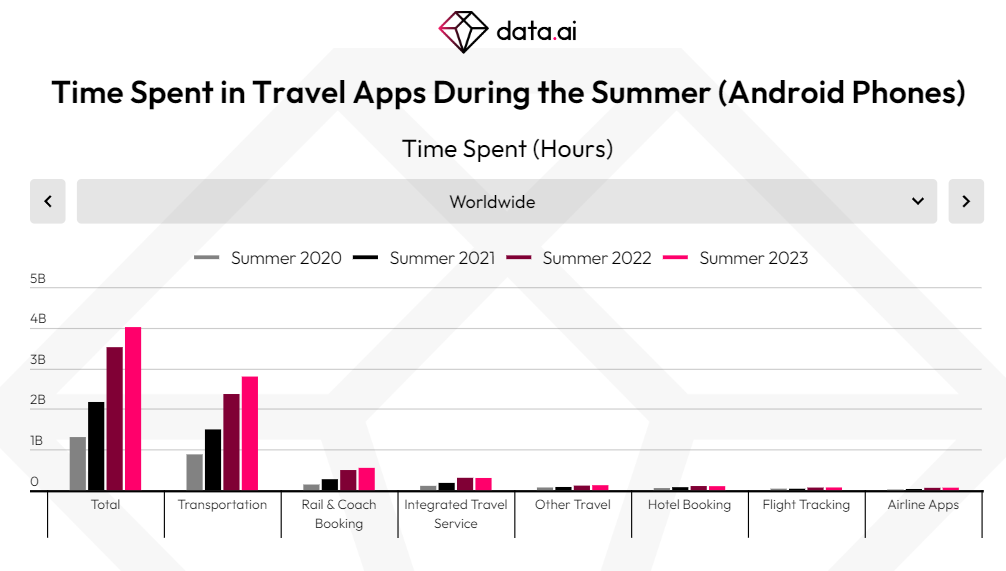 Delving deeper into the trends within travel apps, there is an interesting shift. Unlike 2022, where the surge primarily came from vacation-related apps, the growth between 2022 and 2023 was driven more by day-to-day travel apps. Transportation apps like Uber and InDrive, as well as rail and coach booking apps such as IRCTC Rail Connect, experienced significant increases in usage during the summer of 2023.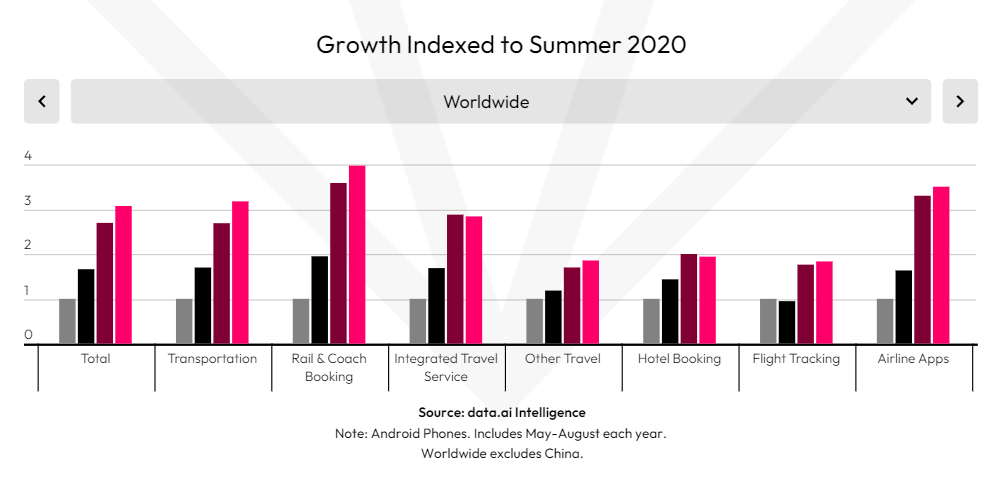 When examining the top breakout travel apps in terms of year-over-year growth during the summer of 2023, transportation apps dominate the list. Eight out of the top 10 breakout apps globally belong to the transportation subgenre. Notably, apps like "Where is my Train," "inDrive," and "Grab Driver" emerged as the top breakout apps in the summer of 2023.
Interestingly, despite the dominance of transportation apps, diverse apps outside this subgenre also secured top breakout rankings in key markets like the US and the UK. In the US, apps for flight tracking, airline services, and integrated travel services found their way into the top 10 breakout apps. Meanwhile, in the UK, apps for rail and coach booking, integrated travel services, and airline services claimed top positions in the breakout rankings.
In 2020, the COVID-19 pandemic brought about unprecedented challenges, wreaking havoc across various industries and impacting countless lives globally. Businesses faced closures, economies suffered, and daily life was disrupted as lockdowns and restrictions became the norm. One of the most affected industries was the travel industry. However, as vaccination rates steadily increased and hope emerged on the horizon, there was a noticeable shift.
Travel app installs saw a 123% increase year-over-year. It continued to accelerate, in Q2 2022, US travel app installs reached 137 million (grew 8%). Meanwhile, at the same time period, travel app downloads in Europe reached 130 million (grew 56%).