Are you tired of burning through your mobile data just to listen to music on the go? Are you looking for the best free offline music apps for your iPhone to keep the tunes flowing without a Wi-Fi connection? Look no further! In this article, we covered the top-notch offline music apps that let you enjoy your favorite tracks anytime, anywhere. Without further ado, here are the free offline music apps for iPhone!
Pandora Radio
Pandora Radio offers a personalized listening experience that evolves with your musical tastes. Create stations from your favorite songs, artists, or genres. Explore recommended stations for your mood and discover podcasts tailored to your interests. Stay updated on the latest singles and releases, from rap and pop to rock and country. Pandora is your gateway to enjoying a personalized music experience.
Also, with CarPlay integration, Pandora accompanies you on your daily commute or road trips. Enjoy voice commands for searching, playing, pausing, and skipping music. Start streaming your favorite artists, songs, genres, or podcasts effortlessly, even in your car. Additionally, Podcasts on Pandora provide personalized recommendations and access to over 1,400 podcasts. For more detailed information, go to the website of Pandora Radio.
Pandora Radio on the App Store
Apple Music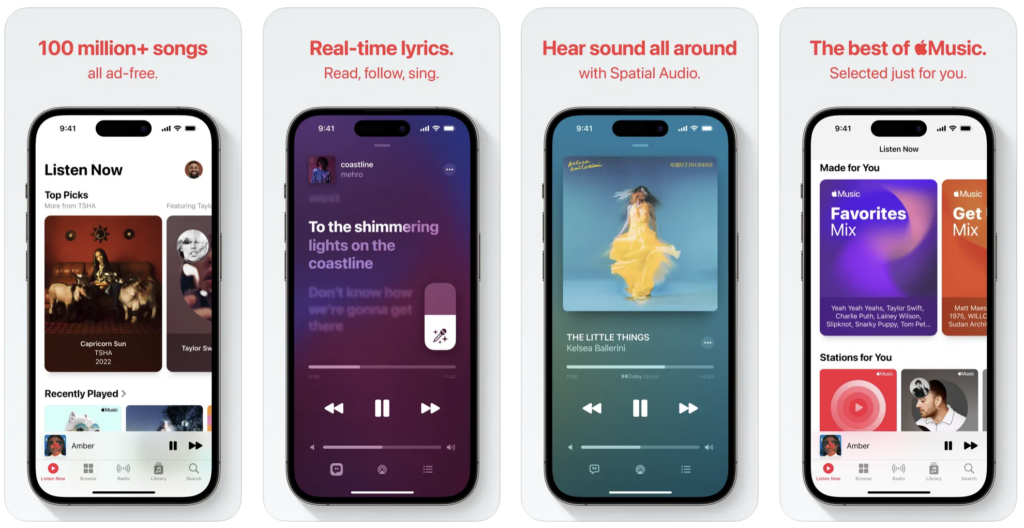 Apple Music offers unlimited access to 100 million songs, curated playlists, and original content, all ad-free, and it ranks among the free offline music apps for iPhone. Enjoy spatial audio with Dolby Atmos for an immersive sound experience. Sing along to precise, beat-by-beat lyrics, share your favorite song parts, and explore millions of songs with real-time lyrics.
Moreover, Siri can play songs by artist, mood, or genre, and you can search by lyrics. SharePlay lets you listen with friends in real-time. Download music for offline listening, create and share playlists, and get personalized recommendations. Dive into exclusive radio shows, interviews, and daily charts, and follow friends to discover new music. Visit Apple Music's website for more detailed information.
---
Also Read: The 5 Best Music Apps for Apple Watch
---
Deezer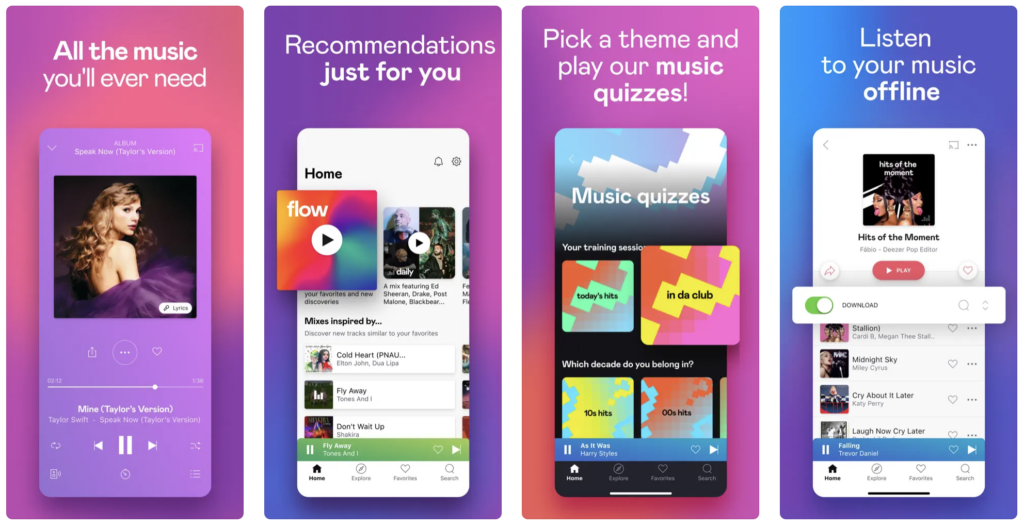 Deezer offers a massive music catalog with algorithms that learn your preferences, and it stands out among the free offline music apps for iPhone. The Deezer music player provides access to artists, songs, and communities you love. Discover and create playlists in your favorite genres and enjoy offline listening without Wi-Fi.
Deezer Free includes Flow for personalized mixes, SongCatcher for identifying songs around you, and more. Discover Deezer Premium for ad-free listening, unlimited skips, HiFi sound quality, and FLAC-standard quality on millions of tracks. Browse Deezer's website for more.
TIDAL Music: HiFi, Ad-Free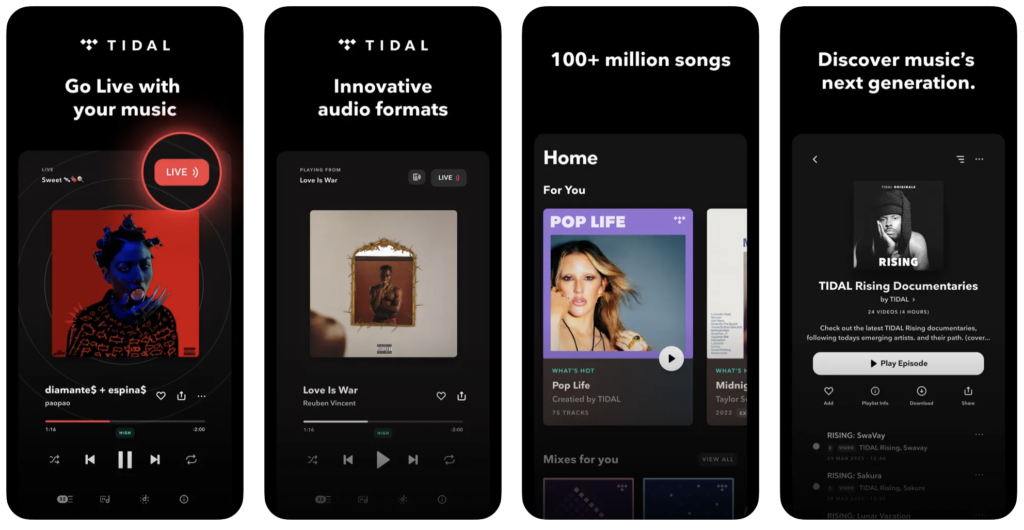 TIDAL is a global music streaming platform that offers unique experiences and high-quality sound. Enjoy millions of songs, videos, and playlists curated by TIDAL editors and fans. Try TIDAL free for 30 days and choose from various plans.
Besides, HiFi and HiFi Plus plans provide sound quality up to 24-bit, 192 kHz (lossless), Dolby Atmos, and more. Benefit from ad-free listening, unlimited skips, and offline mode. Explore exclusive radio shows, interviews, and daily charts. Follow friends and find new tracks worldwide. To learn more, check out TIDAL's website.
TIDAL Music: HiFi, Ad-free on the App Store
---
Also Read: The 8 Best Music Players for iPhone
---
Spotify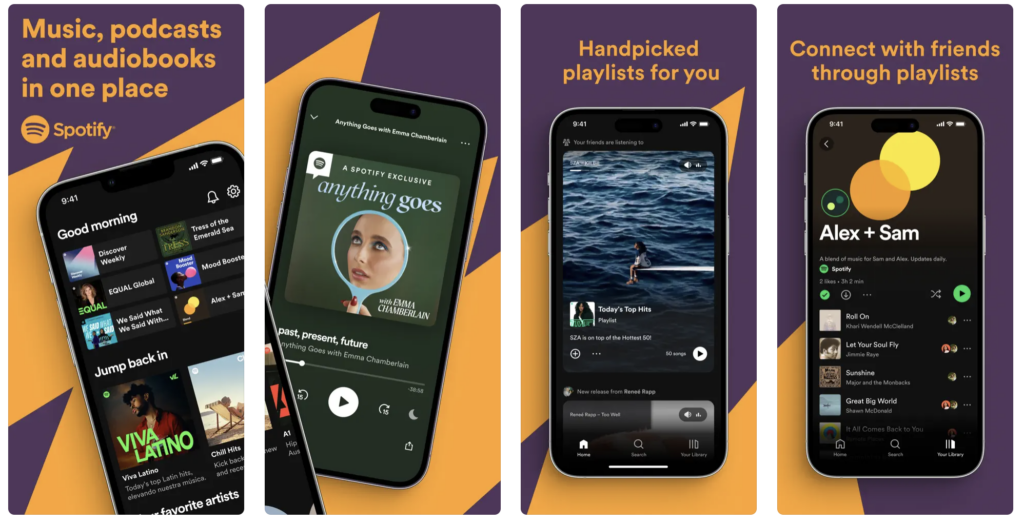 Spotify lets you play millions of songs, albums, and podcasts for free. Discover new music, create playlists, and share your favorites. Listen to daily music mixes, explore top songs, and enjoy real-time lyrics. Subscribe to Spotify Premium for offline listening and ad-free music.
In addition, users can listen to popular and exclusive podcasts, such as The Joe Rogan Experience and Call Her Daddy. Explore over 40 genres and sort your playlists by preference. Spotify is your go-to music and podcast app for a seamless listening experience, and it is considered to be one of the free offline music apps for iPhone. Explore Spotify's website to learn more.
Spotify – Music and Podcasts on the App Store
Music Cloud Offline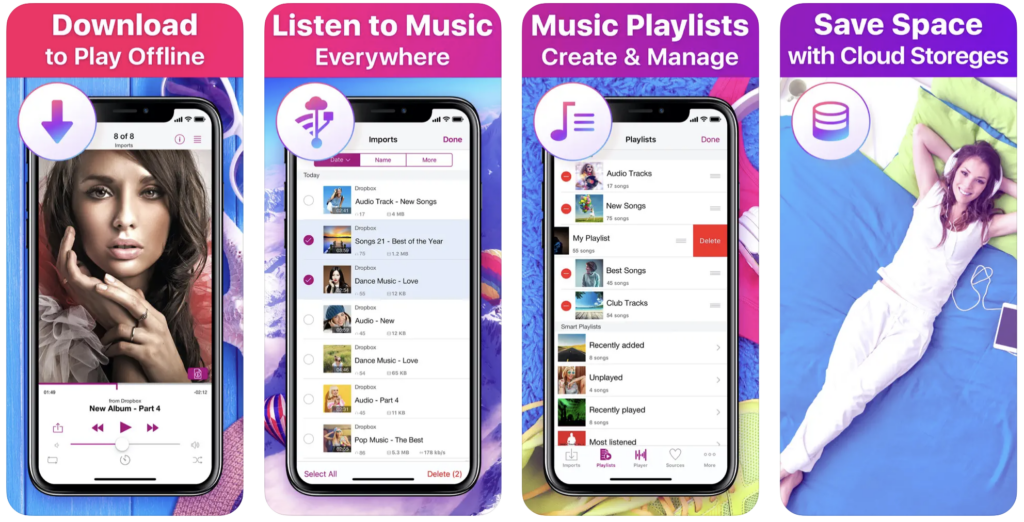 Sync and manage your MP3 files across all your devices with Music Cloud Offline. Enjoy full-featured music playback, unlimited music storage, and an easy-to-use playlist manager. Access music from cloud storage services like Dropbox, Google Drive, and iCloud Drive, even offline. Additionally, the app allows users to listen to their favorite music without internet connectivity. Music Cloud Offline provides a convenient way to keep your music library accessible on all your devices.
Music Cloud Offline on the App Store
---
Also Read: The 9 Best Music Streaming Apps
---
jetAudio Hi-Res Music Player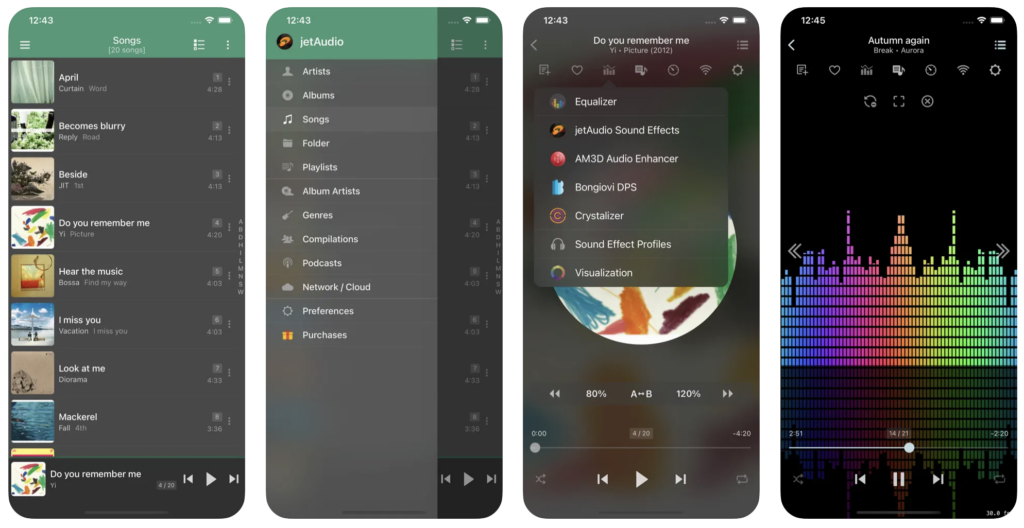 JetAudio is a versatile music player with a 10/20 band graphic equalizer, sound effects, and visualization plugins. Play various digital music files with high-quality sound and customization options. Stream music from shared folders on your local network or cloud storage services like Google Drive, Dropbox, and more.
Also, upgrade to JetAudio Plus for additional features, including a 20-band graphic equalizer, themes, album art customization, and an ad-free experience. Enjoy precise control over your music playback and a wide array of listening experiences. JetAudio is one of the free offline music apps for iPhone because of its handy features.
jetAudio Hi-Res Music Player on the App Store