Navigating your way through the digital world is easier than ever with a trusty compass app right in the palm of your hand. If you're an Android user looking for the best free compass apps, you've come to the right place. In this guide, we'll take you through the top compass apps available for Android devices. Whether you're an outdoor enthusiast, a traveler, or someone who wants to ensure you're always heading in the right direction, these apps have covered you. Without further ado, here are the free compass apps for Android!
Smart Compass
Smart Compass, a valuable addition to the Smart Tools collection, offers precise navigation on your Android device. This online compass, equipped with embedded magnetic sensors, ensures accuracy in determining your bearings. It maintains a stable heading, regardless of your phone's orientation, and utilizes a camera view for a lifelike experience. With a built-in metal detector and support for GPS and maps, Smart Compass is a versatile tool for various situations. Ensure your device's sensors are in optimal condition for the best performance, and utilize the calibration options to address any inaccuracies.
Digital Compass

Digital Compass is a high-precision, visually appealing compass app for Android users, and it stands out among the free compass apps for Android. The app provides essential features like latitude, longitude, address, full-screen map, true heading, magnetic heading, magnetic strength, and a slope level meter. To ensure accurate results, calibrate your phone if you encounter any direction errors by waving your device in a figure-eight pattern. Please note that using magnetic covers may affect accuracy. Download Digital Compass to access a powerful and reliable compass tool.
Digital Compass on Google Play
---
Also Read: The 7 Best Navigation Apps for iPhone and Android
---
Compass Level & GPS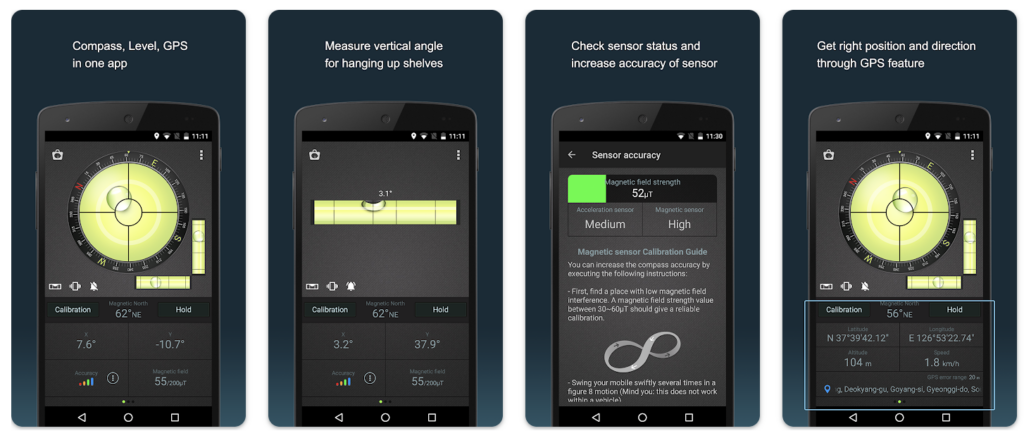 Compass Level & GPS combines an accurate compass, level, and GPS tools in one convenient app. Whether you're a DIY enthusiast or an outdoor enthusiast, this app makes tasks like furniture placement, shelf installation, and navigation a breeze. Enjoy features like an automatic level display, sound and vibration alerts, manual compass and level calibration, and a powerful GPS feature to find your way. For improved accuracy, calibrate your device first. This app is your go-to solution for precise navigation and leveling tasks, and it deserves to be among the free compass apps for Android.
Compass Level & GPS on Google Play
3D Compass Plus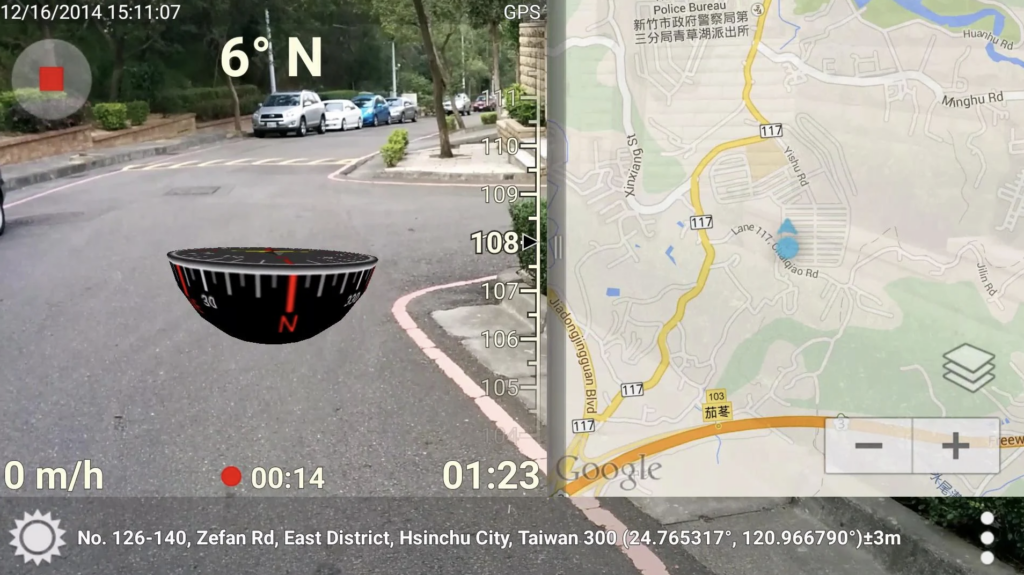 3D Compass Plus is a compass app with an augmented reality view and real-time map updates, offering GPS information. This fun and practical app is a fantastic tool for travelers. It's perfect for various adventures with features like video recording, augmented reality view, 3D compass, map display, coordinates, and altitude information. 3D Compass Plus is free of ads and designed to provide an innovative navigation experience.
3D Compass Plus ​​on Google Play
---
Also Read: The 8 Best Apps for Camping
---
Compass Free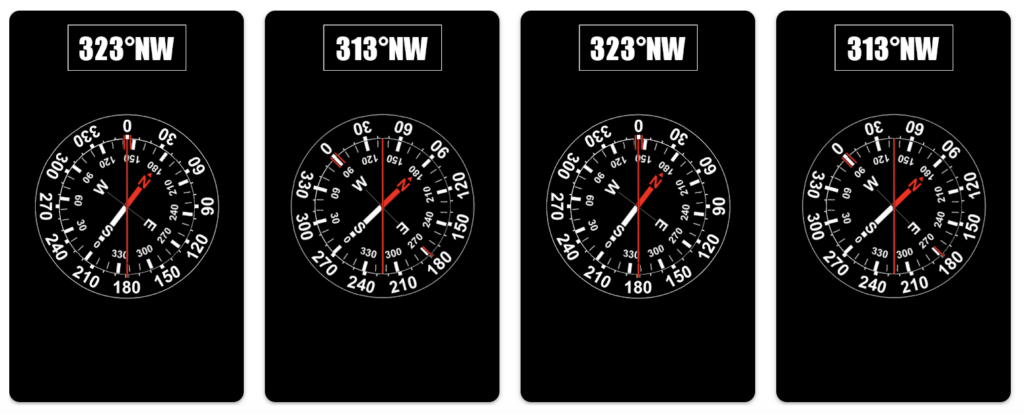 Compass Free is a professional compass that accurately records north, south, east, and west directions. Its rotating bezel and easy-to-read design make it a valuable tool for navigation. To use Compass Free effectively, align the lubber line with your desired direction. Remember that holding your phone flat and away from magnetic fields is crucial for accuracy. Compass Free offers a simple and user-friendly interface, making it an essential app for your Android device.
Compass Galaxy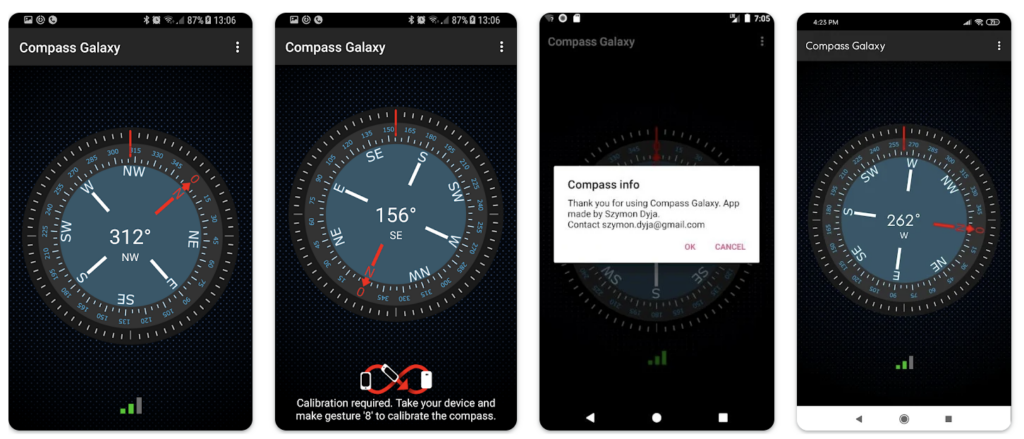 Compass Galaxy is a functional and straightforward compass app that requires no unnecessary permissions, and it is one of the best free compass apps for Android. Designed for ease of use and error-free operation, it's a reliable tool for navigation. This app is continuously improved to ensure user satisfaction. Feel free to share your ideas and feedback to help make Compass Galaxy even better.
---
Also Read: The 10 Best Apps for Backpackers
---
Compass

Compass is an excellent tool for outdoor enthusiasts, hikers, and adventurers seeking precise navigation. This app's standout features include its ability to point to the true north, provide accurate latitude and longitude data, offer real-time altitude and speed information, monitor sensor status, feature a built-in level for balance, and display magnetic field power. Whether you're hiking, camping, or simply exploring, this app enhances your navigation accuracy and helps you stay on course. Plus, the app offers the added convenience of connecting to Google Maps for comprehensive location information.
GPS Compass Navigator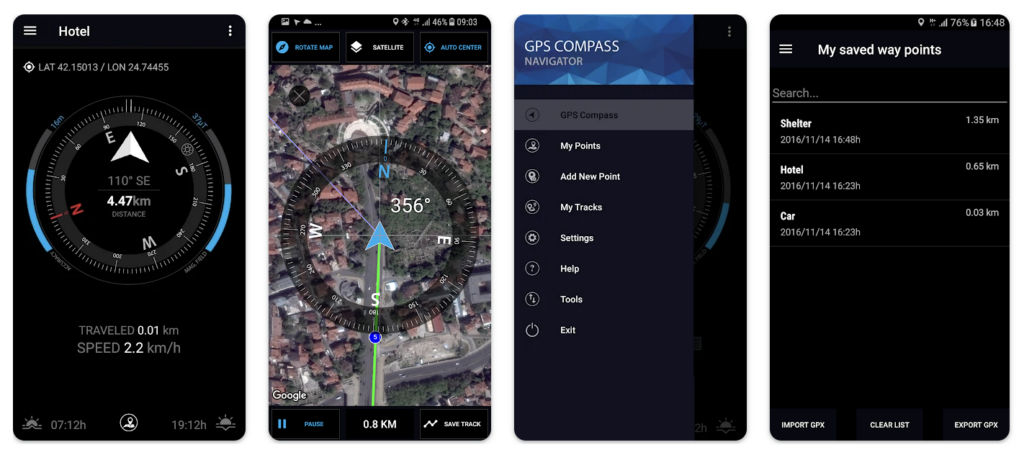 GPS Compass Navigator is a versatile navigation app that serves as a compass, GPS, and level meter. Whether you're traveling, hiking, fishing, or needing to save your current location, this app has you covered. It offers features like voice navigation, track recording, and trip information. You can view your current location in various formats, including decimal, DMS, and MGRS. GPS Compass Navigator is a powerful and user-friendly navigation tool for outdoor enthusiasts and travelers.
GPS Compass Navigator on Google Play