After months of trying to terminate it, Elon Musk has now proposed to close the Twitter deal for $44 billion, the original price he agreed to pay for the acquisition of the social media company in the first place.
First reported by Bloomberg, Musk's lawyers sent a letter to Twitter on Monday, saying that he intends to continue closing the transaction at the original price of $54.20 per share, and bring an end to their legal dispute.
Twitter said on Tuesday that they received the letter and that their intention is ''to close the transaction at $54.20 per share''.
The news, which led Twitter shares to rise over 20%, comes less than two weeks before Musk and the social media company are due in court on October 17th.
---
Also Read: Twitter Revenue and Usage Statistics
---
Tesla CEO first made his offer to buy Twitter for $44 billion back in April, which was accepted by the social media company soon after. However, Musk declared the deal ''temporarily on hold'' in May, raising questions about the spam and bot accounts on the platform.
In early June, he threatened to end the deal accusing Twitter of not being open about spam accounts and eventually notified Twitter about the termination a month later. Twitter sued Musk soon after for attempting to walk away, and Musk countersued the company accusing it of misrepresenting metrics related to bot accounts.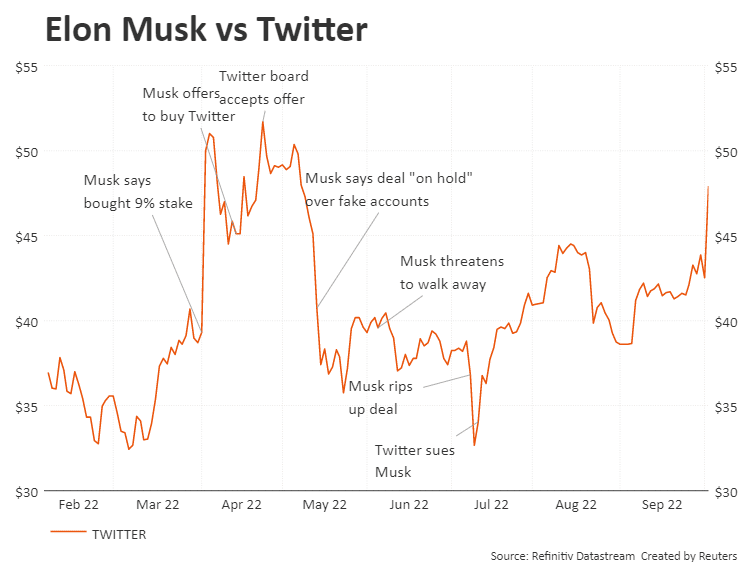 Musk sent his second termination letter in late August citing the claims of whistleblower Peiter Zatko, and third letter in early September accusing the company of violating the terms by paying the whistleblower $7 million to keep him ''quiet''. Twitter said that, just like the previous two letters, the third termination letter was invalid.
Just days before the parties will face-off on October 17, which Musk's lawyer previously asked the judge to delay but was rejected, Musk has now sent another letter saying he wants to close the deal.
He also shared a tweet earlier today, saying that the acquisition will accelerate the creation of ''X, the everything app''.