According to a recent report from data.ai, consumer spending on mobile apps is on pace to hit $21.4 billion in the second quarter of 2022, up 30% as compared to Q2 2019. 
The company said mobile gaming is on target to exceed $136 billion in 2022. 
Per the report, the highest growth subgenres quarter over quarter are poised to be: #1 MMORPG (RPG) Games, #2 MOBA (Action) and #3 4X March-Battle (Strategy). MMORPG (RPG) alone is set to generate an additional $380 million in consumer spend over Q1 2022, bringing the Q2 total to over $2.4 billion — up 20% QoQ.
The report also finds that games are set to account for 65 cents of every $1 spent in the App Store and Google Play in Q2 2022. Games are poised to contribute 72% of consumer spending on Google Play, and 62% on the iOS store. Genshin Impact and Honor of Kings lead consumer spending during Q2 2022. 
The consumer spending on the App Store is set to hit $13.3 billion in the second quarter, while Google Play is set to reach $8.2 billion. App Annie sees the removal of app stores payment processing in Russia as one of the reasons for the slight softening in Google Play spending. Russia was the 11th largest gaming market in the world by consumer spend in 2021. Games contributed 66% of total spend in Russia with 68% coming from Google Play. 
The report also found that mobile gamers are set to download more than 13.5 billion games in Q2 2022. In Q2 2022, Subway Surfers was the most downloaded game. 
In the Q2 period, Google Play games downloads grew 5% year over year to 11 billion new installs. India and Brazil were the two largest Google Play markets, while India, Pakistan and Indonesia fuelled the highest rates of absolute growth. Gaming downloads on iOS surpassed 2.1 billion in Q2 2022, although it saw slight softening from a yearly high of 2.4 billion downloads in Q2 a year prior. The US and China were its largest markets, with India, Vietnam, and Indonesia posting the biggest year over year gains.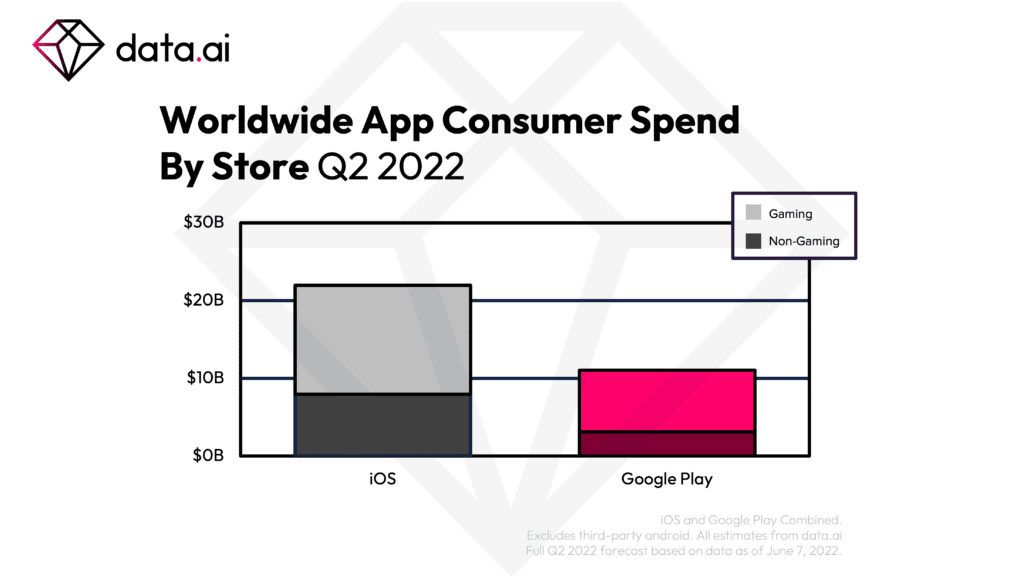 Total consumer spending on mobile apps is set to hit $33 billion in Q2 2022, App Annie says. iOS users upped the consumer spend quarter-over-quarter by 4% to $22 billion in Q2 2022, while Android users' consumer spend stayed consistent quarter-over-quarter, matching the $11 billion in Q1 2022.
Global consumer spending on mobile apps reached $32.5 billion in the first quarter of 2022, up 0.6 percent from $32.3 billion in Q1 2021, according to Sensor Tower. 
Per the analysis, App Store revenue was more than double that of Google Play, growing 5.8 percent YoY from $20.6 billion to $21.8 billion. Google Play reached approximately $10.7 billion in global consumer spending, down 8.5% YoY from $11.7 billion in Q1 2021.