Pilates has become an essential part of a healthy lifestyle. However, if you're looking to take this exercise a step further than simply lying on your yoga mat, wall pilates might be just what you need. Wall pilates enhances traditional pilates movements by adding wall support, helping you build more endurance, achieve a balanced posture, and gain strength. However, finding the wall pilates app that best suits your needs can be challenging. That's where this review comes into play. Comparing the best wall pilates apps and exploring the features and advantages of each will assist you in selecting the one that's most suitable for you. It's time to go beyond an ordinary yoga mat to maintain a healthy lifestyle. Discover the best wall pilates app now!
BetterMe
Price: Free/In-App Purchase: Up to $149.99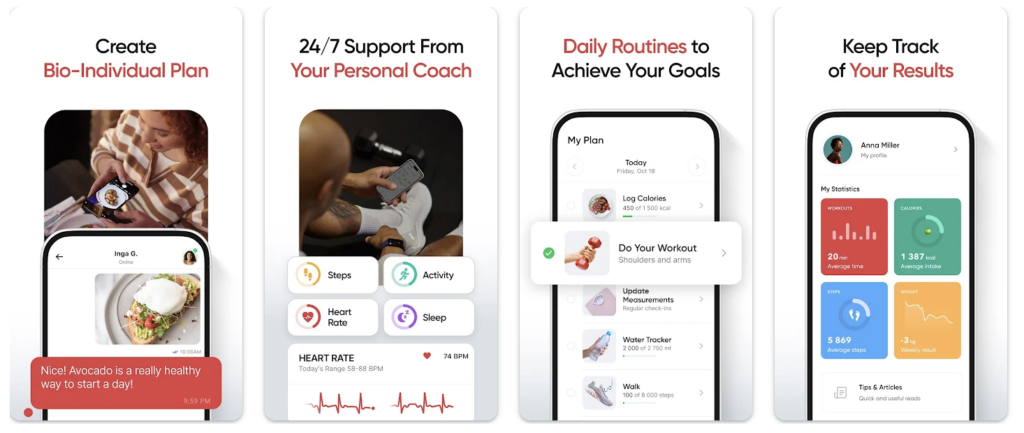 BetterMe is the best wall pilates app with its great features. This all-in-one fitness solution offers a customized approach to weight loss and gain that adapts to your busy schedule and lifestyle. Whether you're a beginner or a seasoned pro, BetterMe provides a variety of exercise sets for both home and gym sessions, with clear instructions to prevent injuries. Nutrition is key, and the app offers expert-designed meal plans, including options like intermittent fasting, keto, and vegan. BetterMe even encourages you to try 16:8 intermittent fasting, focusing on when you eat. The app also integrates with the BetterMe Band for accurate health and fitness tracking, including steps, heart rate, and sleep data. It's your personal fitness guide, complete with workout programs, meal plans, fasting guidance, calorie tracking, and more. With over 1,500 home workouts, BetterMe ensures that everyone can find their ideal way to get in shape quickly. Browse BetterMe's website for more information.
Wall Pilates Workout at Home
Price: Free/In-App Purchase: Up to $17.99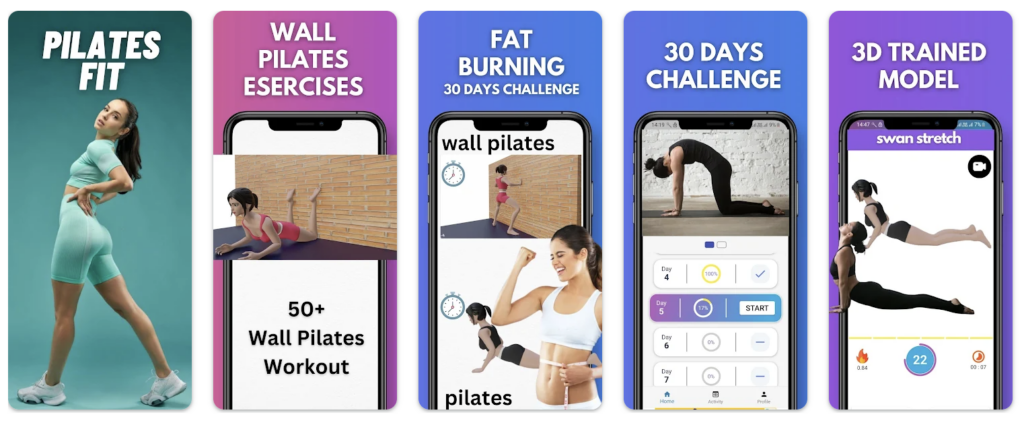 Welcome to the Wall Pilates app, where you can discover an effective way to exercise, improve your posture, and achieve your fitness goals. Suitable for all levels, from beginners to advanced practitioners, this app offers a range of workouts designed to make the most of your Pilates practice. Utilizing a wall for support, these exercises promote weight loss, core strength, better posture, and balance. Whether you're looking for a quick 5-minute routine or a 30-day Pilates challenge, this app has something for everyone. The best part? You can do it all from the comfort of your home with minimal equipment. Improve your fitness, posture, and balance with Wall Pilates at Home.
Wall Pilates Workout at Home on Google Play
Wall Pilates Workout at Home on the App Store
Also Read: The 6 Best Pilates Apps
Pilates Anytime Workouts
Price: Free/In-App Purchase: Up to $239.99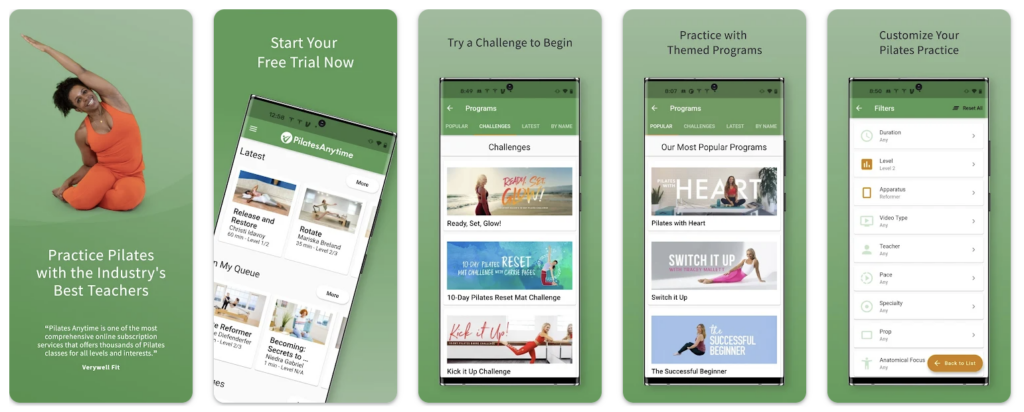 Pilates Anytime offers the largest and most varied collection of Pilates content, ensuring a rich and rewarding experience for enthusiasts of all levels, and it is the best wall pilates app. With over 3,700 high-quality Pilates workouts available for streaming or download, you can practice anywhere, anytime. The app features 200+ world-class instructors to guide your practice, making it suitable for both beginners and advanced practitioners. It's not just about workouts; the app also provides workshops, Pilates history, talks, and tutorials, enriching your understanding of this discipline. You can even download videos for offline viewing on your Android device. Start your free 7-day trial today and explore the world of Pilates. Try Pilates Anytime and take your Pilates practice to the next level!
Pilates Anytime Workouts on Google Play
Pilates Anytime Workouts on the App Store
Sweat: Fitness App For Women
Price: Free/In-App Purchase: Up to $119.99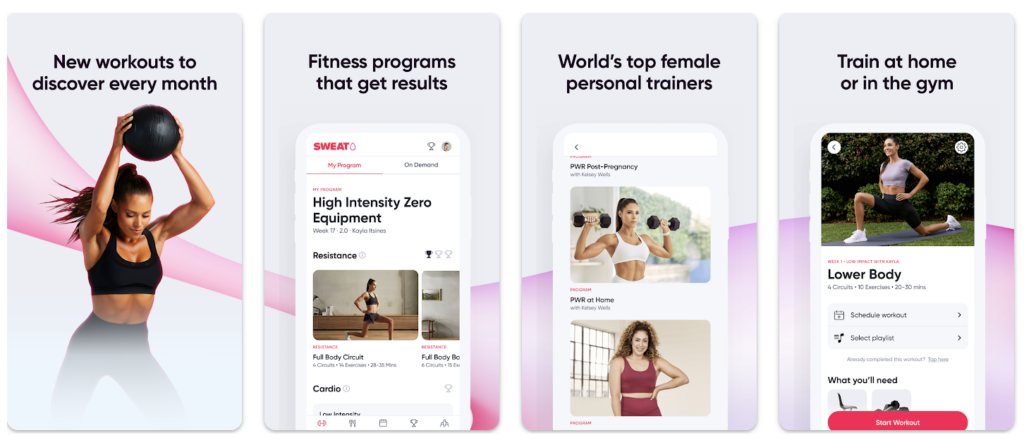 Empower your fitness journey with Sweat, a personal training app featuring elite trainers like Kayla Itsines, Kelsey Wells, Britany Williams, and Cass Olholm. Whether you prefer HIIT, yoga, strength training, or Pilates, Sweat offers workouts you can do at home, outside, or in the gym. It's a supportive community of women helping you reach your fitness goals. Enjoy easy-to-follow workouts and a wealth of features, including exercise descriptions, trainer audio cues, progress tracking, and access to the Sweat Community. You can even explore meditation sessions for mental well-being.
Sweat: Fitness App For Women on Google Play
Sweat: Fitness App For Women on the App Store
Also Read: The 8 Best Yoga Apps for Beginners
Wall Pilates by Fit & Lean
Price: Free/In-App Purchase: Up to $29.99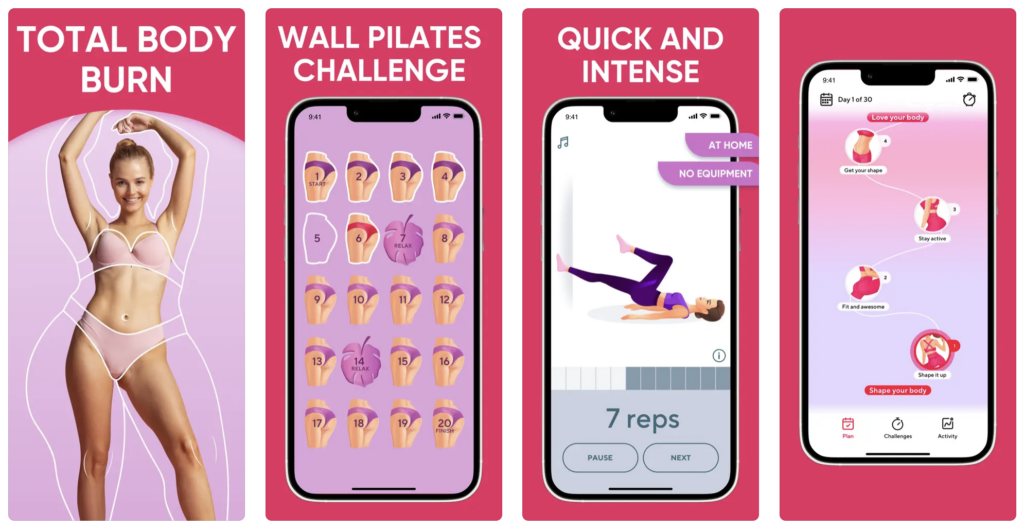 Discover a new and trendy way to diversify your workouts with Wall Pilates by Fit & Lean. Using a wall adds resistance and elevation to your regular exercise routine. These slow and controlled movements target problem areas, improve posture, and strengthen your core and back muscles. Wall Pilates is perfect for those new to Pilates or seeking a low-impact workout. Find a wall nearby and give Fit & Lean a try. You'll feel the difference as the wall supports some movements and adds challenges to others.
Wall Pilates by Fit & Lean on the App Store
FitOn Workouts & Fitness Plans
Price: Free/In-App Purchase: Up to $119.99
Get fit anytime, anywhere, with FitOn, offering free home exercise workout videos, personalized fitness plans, and guided meditations. Enjoy cardio, HIIT, yoga, Pilates, and more led by celebrity trainers like Jeanette Jenkins and Cassey Ho. FitOn provides personalized workout plans, exercise videos, and a range of fitness categories to choose from. With features like exercise descriptions, substitutions, a planner, and a supportive community, FitOn keeps you motivated and on track. Explore FitOn's website for more detailed information.
FitOn Workouts & Fitness Plans on Google Play
FitOn Workouts & Fitness Plans on the App Store
Also Read: The 8 Best Stretching Apps
Peloton: Fitness & Workouts
Price: Free/In-App Purchase: Up to $240.00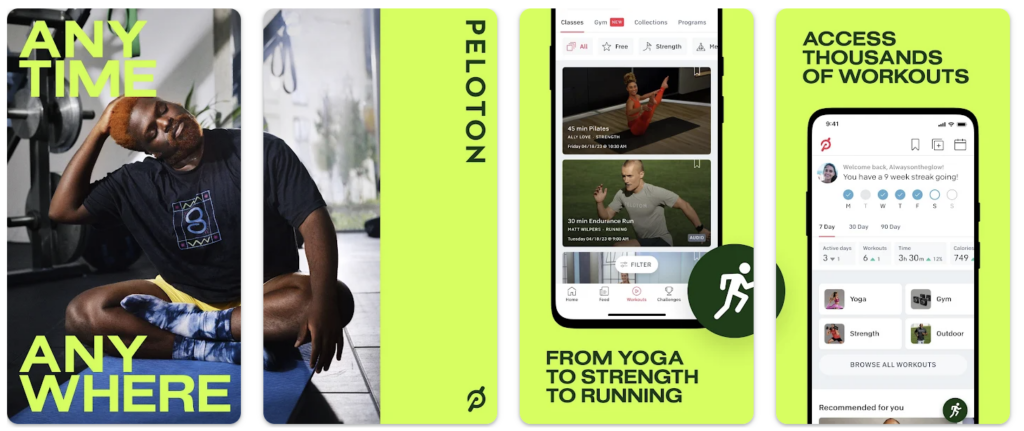 Work out on your terms with the Peloton App, which offers a wide range of fitness classes and workout tracking. From strength and meditation to running and yoga, Peloton makes fitness enjoyable and convenient, and it is considered the best wall pilates app. With thousands of workouts available on your device, you can exercise wherever and whenever you like. Peloton keeps you motivated with artist series, goal-based programs, and challenges. Whether you're a beginner or advanced, Peloton offers workouts suitable for everyone. Achieve your fitness goals with Peloton and enjoy a 30-day trial to experience the fun and exhilaration of working out with this top-notch app.
Peloton: Fitness & Workouts on Google Play
Peloton: Fitness & Workouts on the App Store