Soundboard apps let you play all kinds of audio tracks, including audio memes, sound effects, song episodes, comics, nature sounds, and video game sounds.
These apps are pretty practical for live theatre, workshops, wedding planners, choreographers, magicians, stage managers, dance recitals, events, and podcasts. In addition, you should try soundboard apps to create a personal playlist of sound effects and sound clips. You can joke with your friends or even scare them thanks to these fun apps. We have reviewed and listed the best soundboard apps for you. Here are the best soundboard apps!
---
Also Read: The 7 Best Equalizer Apps for Android
---
Meme Soundboard 2016-2022
Price: Free
Meme Soundboard 2016-2022 is an app with an archive of memes from 2016 to 2022. The app is among the best soundboard apps with 999+ audio and 499+ video archives. New sounds are added almost every day to the "Community" section of the app, which is full of innovations.
In addition, users can be informed about innovations by opening "Push Notifications". With the "Search Bar", you can find the audio and videos you are looking for in a short time and share them with your friends. You can easily add your favorite sounds to the "Favorite Section" of the app and even set your favorite meme as a ringtone. You can also use "Censored Mode" for abusive words in memes.
Furthermore, you can customize the app with Playback modes ( Simple, Normal, Multiple) and sorting sound modes (A-z, Z-a, Most Played, Most Popular, Recently added).
Meme Soundboard  2016-2022 on Google Play
Meme Soundboard  2016-2022 on the Apple Store
Custom Soundboard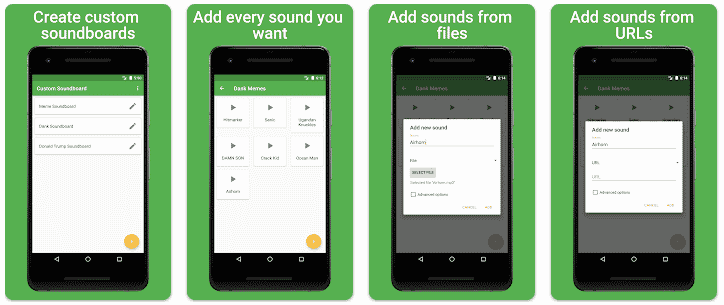 Price: Free
Custom Soundboar is a handy free app that helps you create your soundboard. The app allows its users to create as many sound panels as they want.
Moreover, app users can add sounds effortlessly to Custom Soundboard with files or URLs, and also they can customize the start and end times of the added sounds.
Custom Soundboard on Google Play
---
​​Also Read: The Best Voice Changer Apps for iPhone
---
Soundboard Studio Pro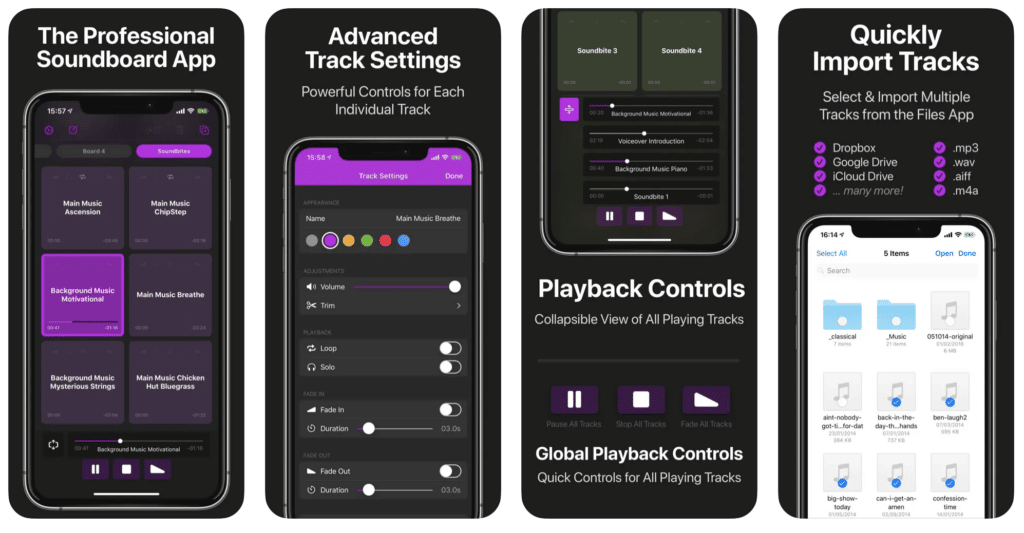 Price: $64.99
Soundboard Studio app is the perfect professional audio playback app for music, sound effects, and sound recordings! When you buy the app, you can benefit from all the features of the app, so there is no in-app purchase option. If you're looking for a professional app for iOS, this app is the right app for you.
Furthermore, the app has many features such as unlimited board creation, six color options for tracks and boards, and movement between boards.
Additionally, it is a fact that using Soundboard Studio is versatile. The app is available for many, such as Podcasts, Church Services, Wedding Planners, Stage Managers, and Live theatre.
Plus, you can have more detailed information from the app's website.
Soundboard Studio Pro on the Apple Store
Meme and Vine Soundboard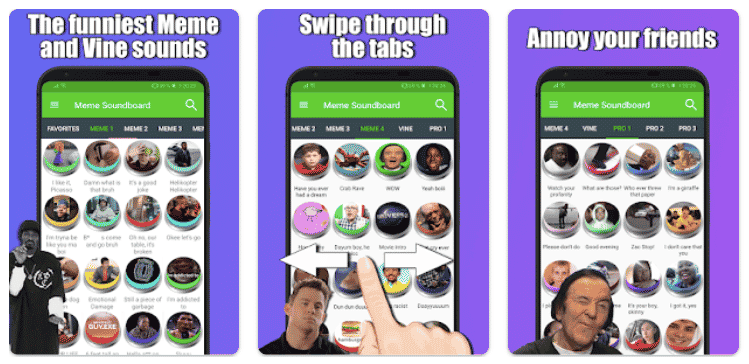 Price: Free
A fun app, Meme and Vine Soundboard guarantee its users to laugh and have a good time. The app's archive brings together the funniest and most popular memes and sounds of recent years. You can share this fun with your friends or surprise them by setting funny sounds as ringtones!
Meme and Vine Soundboard on Google Play
Live Streamer Soundboard
Price: Free
Live Streamer Soundboard is one of the best soundboard apps as it is a versatile app. Live Streamer Soundboard gathers four apps like a soundboard, voice changer, oofinator, and meme mixer under one app.
The Meme Mixer has a volume knob for each meme and is adjustable. Users can play with nine different memes at different times or simultaneously.
Oofinator has features such as four band Equalizer, time range changer, speed variable, low pass filter, and high pass filter. Play the "Oof" sound and enjoy applying the effects!
Voice Changer allows you to apply six different effects (slow, fast, high pitch, low pitch, echo, reverb) to change your voice after recordings and is very effortless to use.
The app's soundboard features Roblox OOF and Minecraft damage soundboard and has nearly 100 popular MLG SOUNDS for games like Fortnite.
Live Streamer Soundboard on Google Play
Live Streamer Soundboard on the Apple Store
Soundbox – Custom Soundboard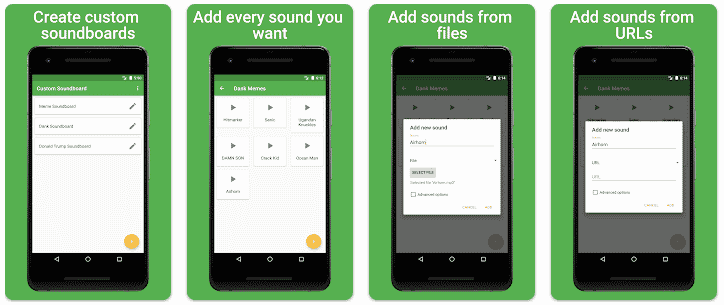 Price: $0.99
Soundbox – Custom Soundboard is an affordable, customizable iOS soundboard app. This app, which is compatible with Apple Watch, makes users addicted to itself with its effortless use.
Plus, this app offers many memes and nature sounds, and you can create your custom soundboard by uploading your sound effects.
Soundbox – Custom Soundboard on the App Store
Instant Buttons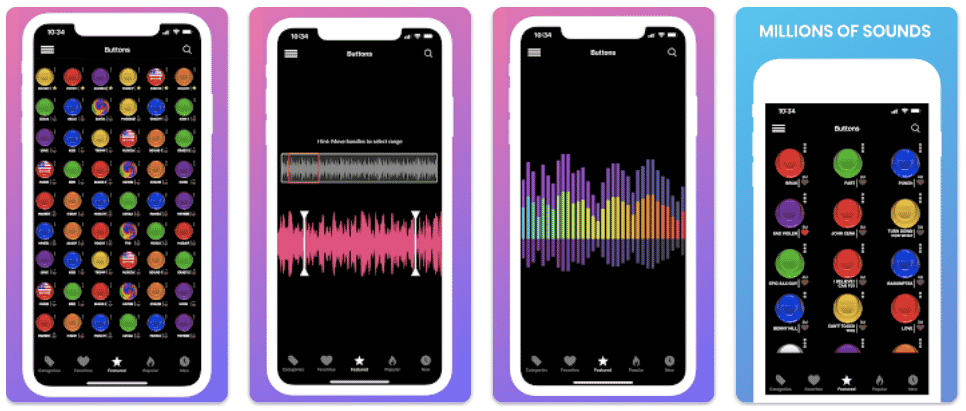 Price: Free
Instant Buttons is a unique soundboard collection for your mobile device with 400 different effects sounds. The app deserves to be among the best soundboard apps with its various categories such as the most famous memes, dialogues of your favorite series, legendary video game sounds, anime sounds, laughter, and funny sounds.
Moreover, users can edit the app by saving their preferred sound effects in their favorites tab and personalize the app by recording their voices and adding their own buttons.
Additionally, Instant Buttons has sound effects for kids! users can have a pleasant time with their children with features such as cartoon phrases, children's songs, funny sounds, noise, and sounds in the app.
Instant Buttons on Google Play