In the dynamic world of digital content, visual storytelling has become an essential means of communication. Slideshows, with their blend of images, videos, and music, offer a captivating way to convey messages, memories, and ideas. Whether you're an aspiring influencer looking to engage your audience, a business professional aiming to make impactful presentations, or simply someone who wants to craft memorable moments, the realm of slideshows has a lot to offer.
In this article, we covered 'The Best Slideshow Apps for Android,' exploring a selection of apps that empower you to curate stunning visual narratives right from your mobile device. From seamless user experiences to creative features, let's uncover the tools that can transform your moments into unforgettable stories. Without further ado, here are the best slideshow apps for Android!
Scoompa Video
Price: Free/In-App Purchase: Up to $11.99
Scoompa Video is a user-friendly app that empowers you to create dynamic slideshows on the go, and it is considered one of the best slideshow apps. The app's simple yet effective tools let you add photos, videos, music, and text to your presentations. Moreover, the app's real-time preview feature allows users to fine-tune their slideshows before finalizing them. Scoompa Video offers a convenient platform to bring your ideas to life.
VivaVideo
Price: Free/In-App Purchase: Up to $59.99
VivaVideo is not just a video editor—it's also an excellent slideshow maker. With its wide array of editing tools, you can craft visually stunning slideshows by combining photos, videos, and music. The app's creative options are virtually limitless, letting you add text, stickers, and effects to enhance your presentations. Thanks to its handy features, VivaVideo empowers users of all skill levels to produce professional-grade slideshows right from their Android devices.
---
Also Read: The 5 Best Free Android Office Apps
---
MoShow Slideshow Photo & Video
Price: Free/In-App Purchase: Up to $54.99
MoShow Slideshow Photo & Video is a fantastic option for creating captivating slideshows on your Android device. With a user-friendly interface and a wide range of effects and templates, it's easy to turn your photos and videos into stunning presentations.
Also, the app offers seamless integration of music and transitions, allowing you to personalize your slideshows according to your preferences. Whether you're a casual user or a professional content creator, MoShow provides the tools you need to make impressive slideshows effortlessly.
MoShow Slideshow Photo & Video on Google Play
SlidePlus
Price: Free/In-App Purchase: Up to $59.99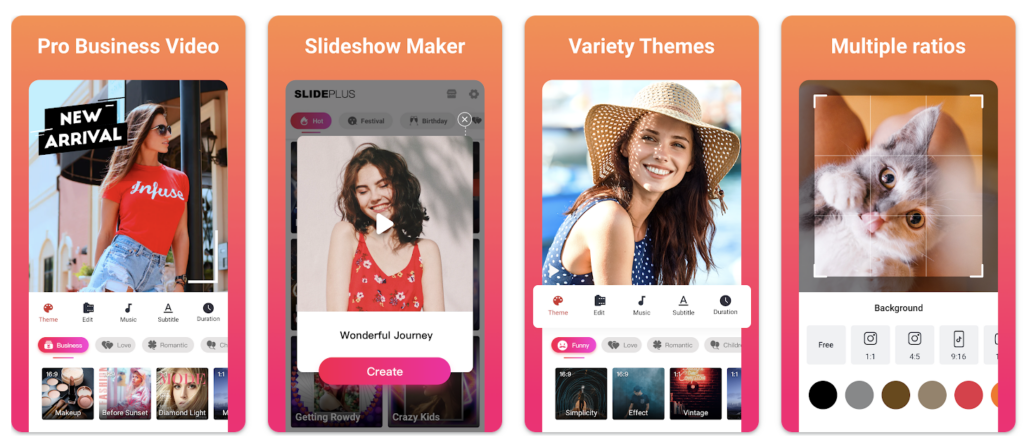 SlidePlus is a powerful tool that lets you craft dynamic slideshows with ease, and it stands out among the best slideshow apps for Android. The app comes loaded with features like customizable templates, filters, and animations that add flair to your presentations.
In addition, the intuitive drag-and-drop interface makes it simple to arrange your media elements in the desired order. With its quick sharing options, you can easily showcase your creations on social media platforms. If you're looking for a user-friendly app to create polished slideshows, SlidePlus is a top choice.
---
Also Read: 14 Education Apps for Students
---
Slideshow Maker
Price: Free
When it comes to creating slideshows on Android, Slideshow Maker stands out for its simplicity and functionality. This app offers a variety of themes and layouts to choose from, ensuring that your slideshows match your style.
Furthermore, adding music and captions is a breeze, allowing you to convey your message effectively. Slideshow Maker's straightforward approach makes the app suitable for both beginners and experienced users who want quick results without compromising quality.
Slideshow Maker on Google Play
Pixgram
Price: Free/In-App Purchase: $1.99
Pixgram is a versatile app that transforms your photo and video collection into engaging slideshows. Its intuitive interface allows you to arrange and customize media elements effortlessly. The app offers an impressive selection of transitions and filters, enabling you to infuse your slideshows with personality. Sharing your creations on social media platforms is seamless, making Pixgram an excellent choice for those who want to share their memories in an interactive way, and it ranks among the best slideshow apps for Android.
---
Also Read: The 13 Best Small Business Apps
---
Videoshop
Price: Free/In-App Purchase: Up to $39.99

Videoshop is more than just a video editor—it's a versatile app for creating engaging slideshows as well. The app's intuitive timeline interface lets you arrange and edit your media seamlessly. You can enhance your slideshows with filters, transitions, and text effects to convey your message creatively. With its comprehensive set of features, Videoshop provides a holistic solution for users seeking to create impressive multimedia presentations, and it is one of the best slideshow apps for Android.
Google Slides
Price: Free
Google Slides is a part of the Google Workspace suite and offers a collaborative platform for creating presentations, including slideshows. It stands out among the best slideshow apps for Android. While it's not a traditional slideshow maker, its web-based interface lets you design and customize slides with ease.
Moreover, you can add images, videos, and text to each slide, creating a cohesive presentation. Plus, since it's integrated with Google Drive, you can access and edit your slideshows across multiple devices, making it a practical choice for teamwork and remote collaboration.