Invented in Italy by Bartolomeo Cristofori around 1700, the piano fascinates music lovers from past to present with its magnificent sound. Have you ever wished you knew how to play the piano while listening to the unique and fascinating sound of the piano? Today, our time is precious, and most of the time, there is no time left for hobbies from school, work, or taking care of our family. If there was a simple way to learn piano, would you like to try it? If your answer is yes, check out the best piano learning apps for Android that we have listed for you.
---
Also Read: The 7 Best Equalizer Apps for Android
---
Flowkey
Price: Free
Flowkey attracts the attention of piano lovers with its archive of more than 1500 songs. The app provides information on piano pieces, sheet music, chords, reading sheet music, and proper technique for users. Piano lovers can study both acoustic and digital with a real piano and keyboard in Flowkey. Play or make your songs from all genres, including classical, rock, pop, and jazz and browse videos recorded by professional pianists and learn techniques.
Also, Flowkey is suitable for everyone and the app has beginner, intermediate, advanced, or professional levels. The app provides an introductory course (learning the basics) for starter music lovers. Thanks to the direct feedback from the application, users can work more effectively and improve themselves. Complete courses and improve your skills. You can track your achievements with the learning progress indicator in the app. Flowkey also allows testing eight songs and select tutorials for free.
Also, a Premium membership is required for unlimited access to all songs. The subscription is $19.99 for a month, $83.99 for six months, and $119.99 for one year. For more information, you can browse the app's website.
---
Also Read: The Best DJ Apps for Android and iPhone
---
Simply Piano
Price: Free
Created by music educators, Simply Piano ranks first among the best piano learning apps for Android and was developed by the creators of the award-winning Piano Maestro and Piano Dust Buster apps. Also, Simply Piano has been selected as one of the best Google apps.
In addition, the app is preferred by thousands of music teachers around the world with its archive of more than 5000 songs. From classical to popular pop music, you can easily use the app with or without piano experience, and piano lovers can attend starter courses designed by musicians.
Additionally, to get full access to All songs, new courses added every month, and songs, you need to upgrade to premium. Premium offers a 7-day free trial. For more detailed information about Simply Piano, browse the app's website.
---
Also Read: The 9 Best Music Streaming Apps
---
Skoove
Price: Free
Skoove is among the best piano learning apps for Android, with an extensive music catalog including pop, classical, and movie soundtracks. Moreover, the app listens to the notes played using artificial intelligence and helps users improve by giving personal feedback. When music lovers are confused, they can meet one-on-one with piano instructors and get support. The app monitors the development level of the users and informs them frequently.
Plus, for additional information, you can visit skoove's website.
Piano by Yousician
Price: Free
Playing the piano with step-by-step instructional videos is pretty easy with Piano by Yousician! It is possible to improve your piano knowledge by dedicating only 15 minutes of your time to Piano by Yousician every day. The app motivates music lovers with its fun and engaging courses and videos, and also gives you the chance to compete with your friends and thousands of pianists around the world with the "weekly challenge"!
Plus, for more information about Piano by Yousician, check out the app's website.
Piano by Yousician on Google Play
Piano Academy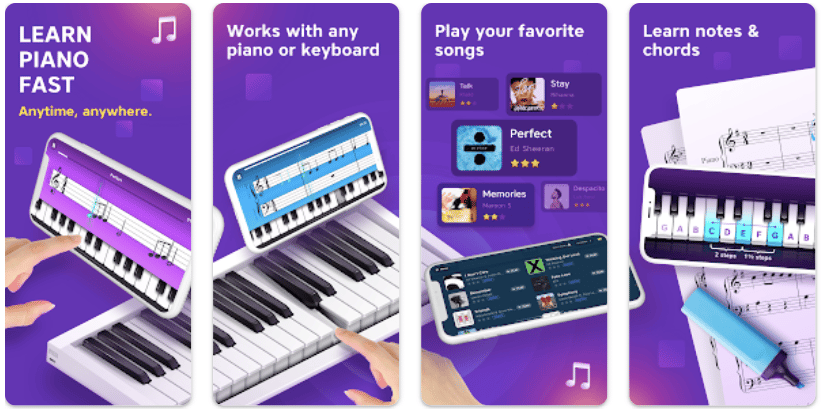 Price: Free
Supporting MIDI connectivity, Piano Academy makes learning piano effortless. Discover notes, chords, theory, and more with a private tutor! This app also helps you improve your hand coordination, sense of rhythm, and musical hearing. The app tracks your progress and sends notifications. Also, the app's staff player shows the musical notes and accompanies you with the background music.
Plus, to view the application in detail, browse the app's website.
Perfect Piano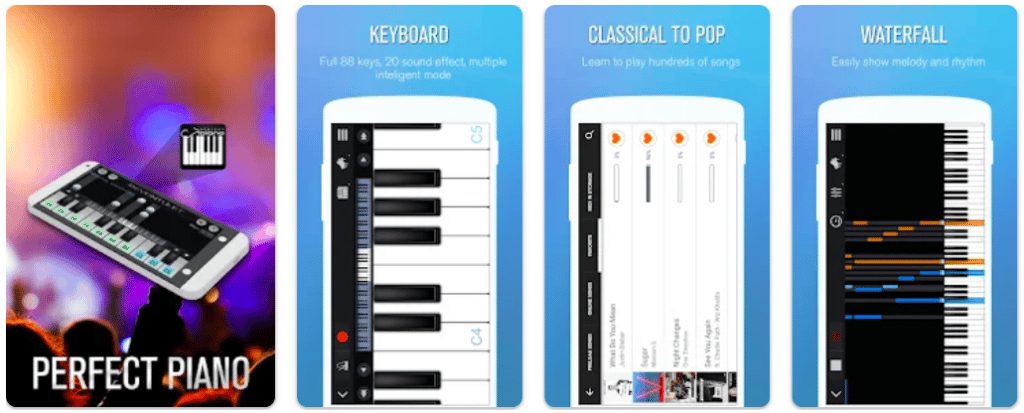 Price: Free
Perfect Piano is a smart piano simulator designed for Android. The app has many impressive features such as an 88-key piano keyboard, force touch, multi-touch screen support, and keyboard width adjustment. Also, you can adjust your pace as you practice with the practice metronome and record your practice with MIDI and ACC audio recording. Three play modes (auto, semi-auto, and note pause) in Perfect Piano help you speed up your development and learn more easily. This app, which has many more features, deserves to be one of the best piano-playing apps for Android with its unique features.
Real Piano Teacher
Price: Free
Real Piano Teacher is an interactive and very simple to use the digital piano app. Also, the app helps you develop related senses such as hand coordination, musical hearing, sense of rhythm, and many other skills. If you have a piano, you can connect and play the piano with the guidance of the app.
In addition, Real Piano Teacher has a game mode and offers the opportunity to compete with your friends and family. You can play the magic piano game with any song. Follow and compete with world record breakers on the leaderboard.
Real Piano Teacher on Google Play