Physics games have long been a favorite among mobile gamers, offering a unique blend of brain-teasing challenges and engaging gameplay. If you're on the lookout for the 'best physics games for Android,' you've come to the right place.
In this review, we'll dive into a selection of Android games that not only put your problem-solving skills to the test but also deliver hours of entertainment. Whether you're a fan of shattering glass, engineering bridges, or embarking on epic Viking adventures, there's something here for everyone. Without further ado, here are the best physics games for Android!
The Best Physics Games for Android
Brain It On!
Price: Free/In-App Purchase: Up to $3.49
Brain It On! is among the best physics games for Android that will challenge your cognitive skills. With dozens of mind-bending puzzles, it's more than just child's play. Your task is to draw shapes to overcome intricate physics puzzles that become increasingly complex as you progress. What sets this game apart is its replayability—you can solve puzzles in various ways, keeping you engaged. Compete with friends, share your unique solutions, and unlock levels as you advance. The best part? You can remove ads and access extra hints with in-app purchases. Brain It On! is a must-try for puzzle enthusiasts.
Where's My Water? 2
Price: Free/In-App Purchase: $16.99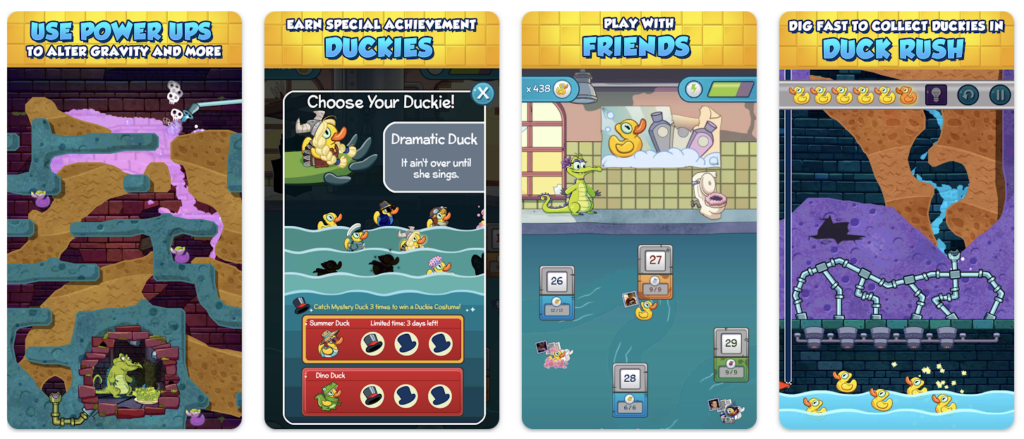 Where's My Water? 2 is one of the best physics games for Android. This game offers over 100 levels of challenging physics-based puzzles, all wrapped up in a visually stunning package. New challenge modes add a fresh twist to the gameplay. Collect special-themed duckies, unlock achievements, and use hints when you're stuck.
Where's My Water? 2 on Google Play
---
Also Read: The 17 Best Single-Player Games for Android
---
Angry Birds 2
Price: Free/In-App Purchase: $99.99
The beloved birds are back in action in Angry Birds 2, which is undoubtedly one of the best physics games for Android. Featuring daily challenges, character leveling, and competitive arena gameplay, it's a bird-flinging extravaganza. Collect quirky hats, tackle multi-stage levels, and compete for the top spot on global leaderboards. While the game is free, in-app purchases are available for power-ups and extra content. Challenge your friends, strategize your bird choices, and prove your skills in this feathered showdown.
Leo's Fortune
Price: $4.99
Embark on a visually stunning platform adventure in Leo's Fortune, a game renowned for its award-winning design and captivating storyline. Play as Leo and chase down the thief who swiped your gold across diverse, handcrafted levels. Survive vicious traps and solve physics-based puzzles through 24 challenging stages. Compete with friends for the fastest completion times and embrace the Hardcore Mode for an extra challenge. Leo's Fortune supports game controllers, cloud saves, leaderboards, and achievements, making it a must-play for platformer aficionados.
---
Also Read: The 9 Best Arcade Games for Android
---
Bridge Constructor Portal
Price: $4.99/In-App Purchase: $1.99
In Bridge Constructor Portal, the worlds of Bridge Constructor and Portal collide, resulting in an intriguing physics-based puzzle game. As an employee in the Aperture Science test lab, your mission is to construct bridges, ramps, and slides to guide Bendies safely to the finish line. Utilize portal gadgets, like portals and propulsion gel, to outwit sentry turrets and navigate laser barriers. Ellen McLain, the original voice of GLaDOS, serves as your guide. With 60 test chambers to conquer, this unique fusion of genres is a true brain teaser for puzzle enthusiasts.
Bridge Constructor Portal on Google Play
Smash Hit
Price: Free/In-App Purchase: Up to $1.99
Smash Hit is a game that blends physics, music, and precision into a mesmerizing experience, and it ranks among the best physics games for Android. Your objective is not only to travel as far as possible but also to shatter beautiful glass objects that obstruct your path. This game demands intense focus, impeccable timing, and a keen sense of rhythm as you move in harmony with the music. With over 50 rooms featuring 11 graphic styles, it offers a visually stunning journey. While it's free to play, you can enhance your experience with optional in-app purchases for new game modes and features.
---
Also Read: The 12 Best High Graphics Android Games
---
Build a Bridge!
Price: Free/In-App Purchase: Up to $34.99
If you're an engineering enthusiast, Build a Bridge! is your playground. Test your construction skills in this puzzle game where you're tasked with building bridges for various vehicles, including cars, trucks, and even monster trucks. Plan your bridge using different materials like wood, metal, and cables, and then watch as vehicles navigate your creation. With 86 levels, multiple environments, and realistic physics, it's a captivating challenge. Whether you aim for efficiency or go for wild, creative designs, there's something for every player.
Build a Bridge! on Google Play
Shatterbrain
Price: Free/In-App Purchase: Up to $2.49
In Shatterbrain, your intellectual and physics-solving abilities will be put to the test. Featuring dozens of brain-busting physics puzzles, this game offers multiple solutions to each challenge. Compete on leaderboards for the fastest time or most elegant solution, pushing your creativity to the limit. If you enjoy manipulating physics and watching things shatter, this puzzle game offers a unique experience. It's easy to learn but challenging to master, making it an ideal choice for fans of brain teasers.
---
Also Read: The 10 Best Bike Racing Games for Android
---
Sunset Bike Racer
Price: Free/In-App Purchase: Up to $29.99
Are you up for a motocross challenge on Android? Sunset Bike Racer offers thrilling offroad adventures where you'll test your motorcycle skills to the max. With realistic bike physics and a fast-paced gameplay style, this game provides an exhilarating racing experience. Compete against your own ghost or challenge friends for the fastest time. Perform breathtaking stunts, including frontflips and backflips, and discover secret paths on each track. With a variety of bikes, each with its unique characteristics, you'll have plenty of opportunities to master the art of motorcycle racing.
Sunset Bike Racer on Google Play
Icebreaker: A Viking Voyage
Price: Free/In-App Purchase: Up to $23.53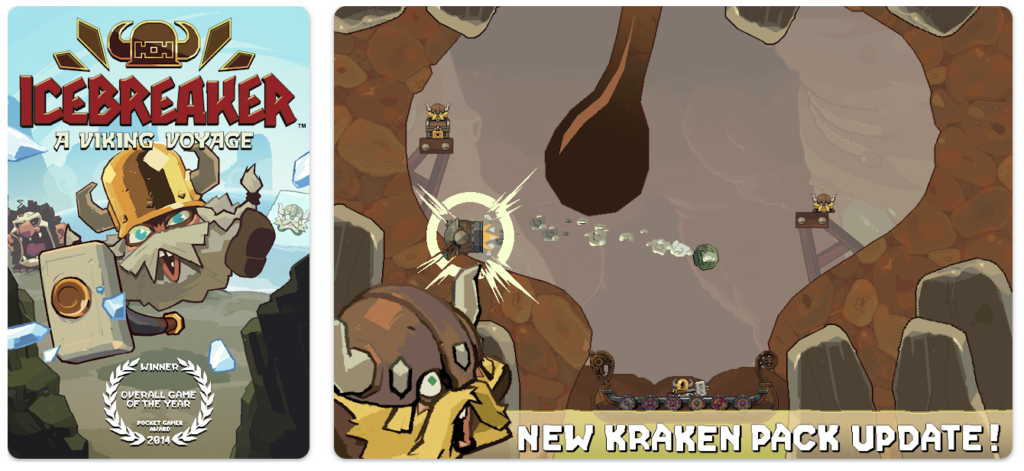 Icebreaker: A Viking Voyage is an epic physics puzzler, and it deserves to be among the best physics games for Android. The Vikings are stranded and surrounded by trolls, traps, and troll snot. Your mission? Save them! Cut your way through ice, ropes, explosives, and more to get your Viking clan safely back to the longboat. With 140 action-packed levels, side quests, and unlockable secrets, it's a puzzle lover's dream. Use god powers and solve puzzles in this visually immersive world filled with quirky characters.
Icebreaker: A Viking Voyage on Google Play
---
Also Read: The 7 Best WWE Games for Android
---
HEXASMASH
Price: $0.99
Swing the pendulum and release the wrecking ball with precision in HEXASMASH. Your goal is to destroy hexagonal jewels using as few moves as possible. This game challenges your brainpower and timing as you figure out how to efficiently shatter blue and green hexagons. With 180 exciting levels and a realistic physics environment, HEXASMASH offers hours of engaging puzzle-solving. Combine objects strategically to minimize moves, and watch as the destruction unfolds. It's a perfect time-killer with its intuitive controls and smooth gameplay, and HEXASMASH is one of the best physics games for Android.
Bad Piggies
Price: Free/In-App Purchase: Up to $44.99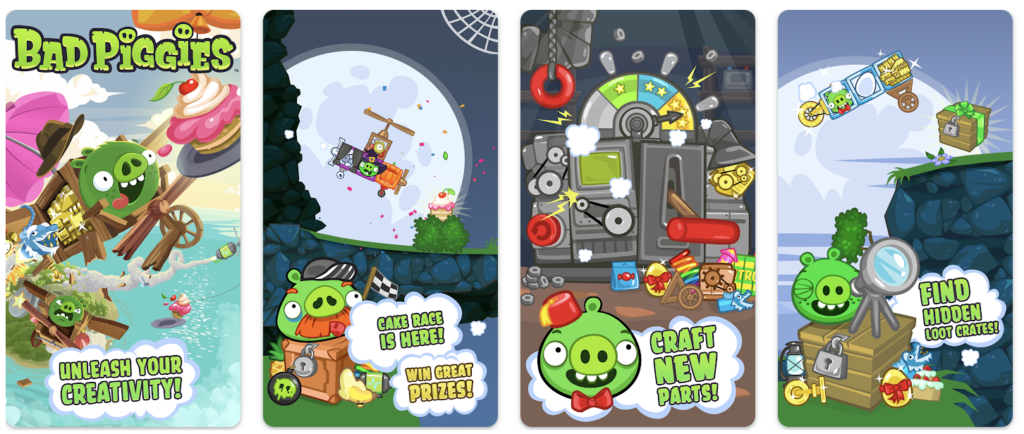 The Bad Piggies are on another adventure in this game that flips the script. Instead of launching birds, you create contraptions to transport the pigs safely to their destination. With over 200 levels, free updates, and sandbox levels for creative experimentation, Bad Piggies promises hours of fun. Build the ultimate flying or rolling machine from an assortment of parts, including motors, wings, and more. It's all about engineering and creativity in this physics-based puzzle game that offers a fresh take on a familiar universe.
---
Also Read: The 14 Best Battle Royale Games for Android
---
Poly Bridge 2
Price: Free
In Poly Bridge 2, your engineering creativity takes center stage. With new levels, mechanics, and a custom physics engine, this game offers even more puzzling fun. Create bridges with added cushion using the new Spring material, making your structures more flexible. A custom physics engine ensures that every player experiences the same simulation outcome, maintaining the competitive aspect of the game. Challenge yourself across various levels and discover the perfect balance between creativity and engineering.