Welcoming a newborn into your life is a profoundly joyous experience, but it also comes with its fair share of challenges. From sleepless nights to ensuring your baby's health and development, navigating the world of parenthood can be both rewarding and overwhelming. Fortunately, in this digital age, there's a wide array of newborn apps designed to assist you every step of the way. These apps act as your parenting partners, offering valuable insights, resources, and tools to help you sail smoothly through the first few years of your child's life.
In this comprehensive review, we covered "The Best Newborn Apps" that aim to be your trusted companions in the journey of parenthood. We'll explore each app's unique features, their benefits, and how they cater to the needs of both new and experienced parents. Whether you're seeking guidance on your baby's developmental milestones and sleep patterns or simply looking for some peace and tranquility during those challenging nights, these apps are here to provide the support and reassurance you need. Without further ado, here are the best newborn apps!
BabySparks
Price: Free/In-App Purchase: Up to $119.99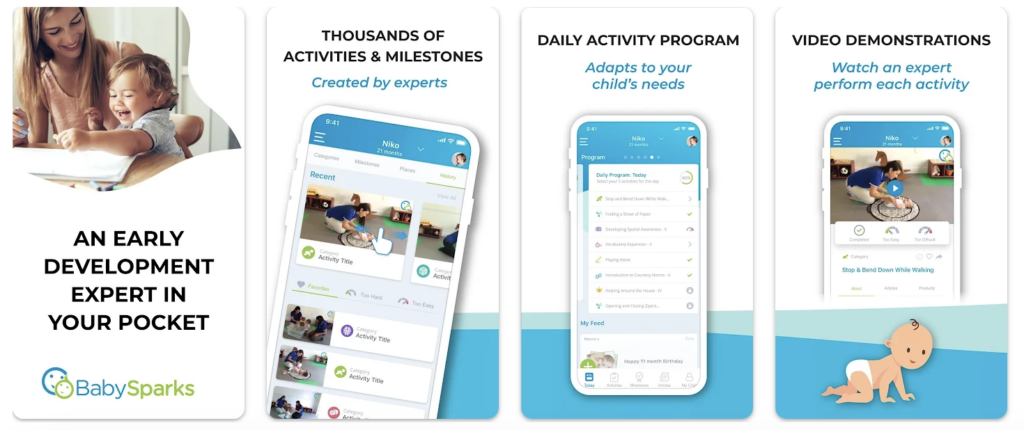 BabySparks stands out as the ultimate tool for parents seeking to support their child's development through meaningful play. Developed by child development experts and embraced by millions of parents worldwide, BabySparks offers a personalized development program driven by smart adaptive technology that caters to your child's unique needs. In the critical first years of life, a child's brain forms over a million new neural connections every second.
Also, BabySparks plays a pivotal role in nurturing optimal brain development by providing a wide range of activities covering areas like cognition, language, motor skills, social-emotional growth, sensory experiences, and self-care. What sets BabySparks apart is its expertly created daily play program that ensures parents are doing the right things at the right times in the right way, all while bonding and spending quality time with their child. If you're in search of the best newborn apps, BabySparks is one of the great choices that will guide your child's development in an enjoyable and meaningful way.
Pregnancy App & Baby Tracker
Price: Free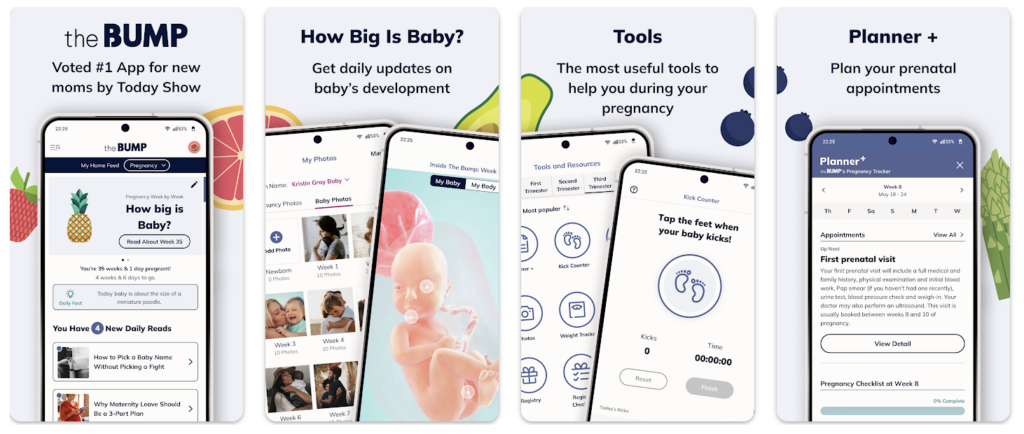 The Bump's Pregnancy & Baby Tracker app is a must-have for expectant and new parents, and it stands out among the best newborn apps. Offering features that go above and beyond, The Bump is your comprehensive resource for a happy and healthy pregnancy. Its standout feature, "How Big is Baby," beautifully illustrates your baby's growth with produce size comparisons, making it easy to visualize your baby's development and stay on track throughout your pregnancy.
Moreover, the app offers a baby name feature, 3D interactive visualizations of your baby's growth, and tailored daily advice. Access timely articles on various pregnancy topics and utilize helpful tools like the pregnancy countdown, baby growth tracker, due date calculator, and more. With Planner+, the app even suggests questions for prenatal doctor visits. The Bump also helps you track your baby's first year with pregnancy and baby photos.
Pregnancy App & Baby Tracker on Google Play
Pregnancy App & Baby Tracker on the App Store
---
Also Read: The 5 Best Apps for Parents
---
Glow Baby: AI Newborn Tracker
Price: Free/In-App Purchase: Up to $99.99
Glow Baby, an AI-powered tracker, is the ultimate companion for parents seeking support in all aspects of their baby's care, and it ranks among the best newborn apps. From tracking diaper changes and breastfeeding sessions to monitoring sleep schedules and baby milestones, Glow Baby offers a comprehensive solution for every moment of motherhood. The Diaper Tracker eliminates guesswork, allowing you to log diaper changes and maintain your baby's hygiene throughout the day.
Besides, as your dedicated breastfeeding companion, Glow Baby helps you track nursing sessions, feeding durations, and pumping activities, all while offering expert advice on newborn care, development, and health. The Feeding Log keeps a detailed record of your baby's feeding habits, supporting breastfeeding, bottle-feeding, and the introduction of solids. With insights into your baby's development and soothing techniques, Glow Baby guides you through the challenges of newborn care.
Additionally, document your baby's milestones, from the first smile to the first steps, and establish healthy sleep habits with the Sleep Tracker. Glow Baby provides valuable insights into your baby's cognitive, physical, and emotional development at each stage. What sets Glow Baby apart is its AI-powered capabilities, offering personalized insights and recommendations that adapt to your baby's unique needs. It's not just a baby tracker; it's an all-in-one companion for fulfilling motherhood.
Glow Baby: AI Newborn Tracker on Google Play
Glow Baby: AI Newborn Tracker on the App Store
The Wonder Weeks
Price: $5.99 for iOS, $6.49 for Android/In-App Purchase: Up to $33.99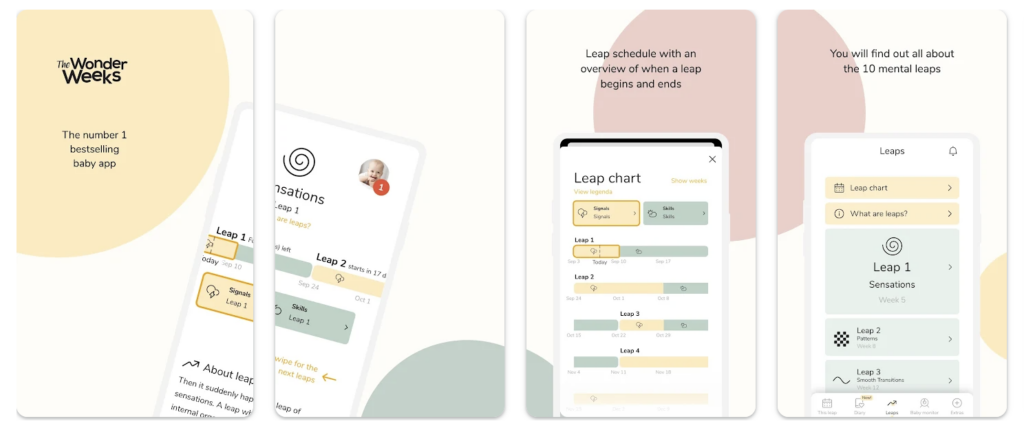 The Wonder Weeks is globally recognized as the number one baby app. It helps parents understand why and when their baby might cry more than usual, act differently, and how to provide support. When your baby suddenly cries more and clings to you, it's a sign of progress in their brain development. The app provides valuable insights into your baby's mental development, offering tips, tricks, and mind-blowing insights for the first 20 months. The unique personalized leap schedule shows when each leap starts and ends, counting down for you. Keep track of your baby's development and milestones in the diary, and gain insight into your baby's perception of the world.
The Wonder Weeks on Google Play
The Wonder Weeks on the App Store
---
Also Read: The Best Pregnancy Apps
---
KidPass
Price: Free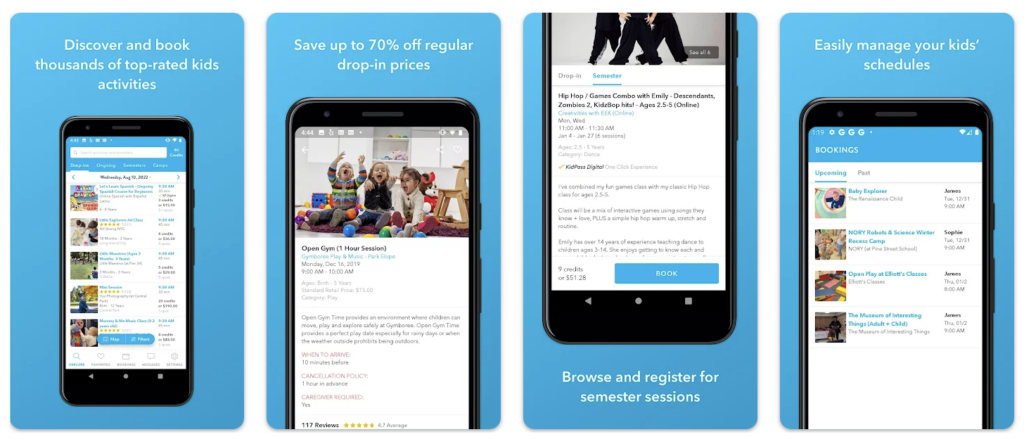 KidPass is the world's number one app for parents to discover and book online classes and activities for kids aged 0–18. With over 10,000 online kids' classes spanning subjects like art, music, dance, yoga, language, STEM, sports, coding, and more, KidPass has something for everyone. Members enjoy savings of up to 70% on drop-in activities, online summer camps, and semester programs. The app allows you to browse schedules, view photos, read reviews from other parents, and book classes on the go. KidPass has gone global, providing families worldwide access to live interactive online classes from the comfort of their homes. As a comprehensive platform, it is one of the best newborn apps.
Sound Sleeper White Noise Baby
Price: Free/In-App Purchase: Up to $45.99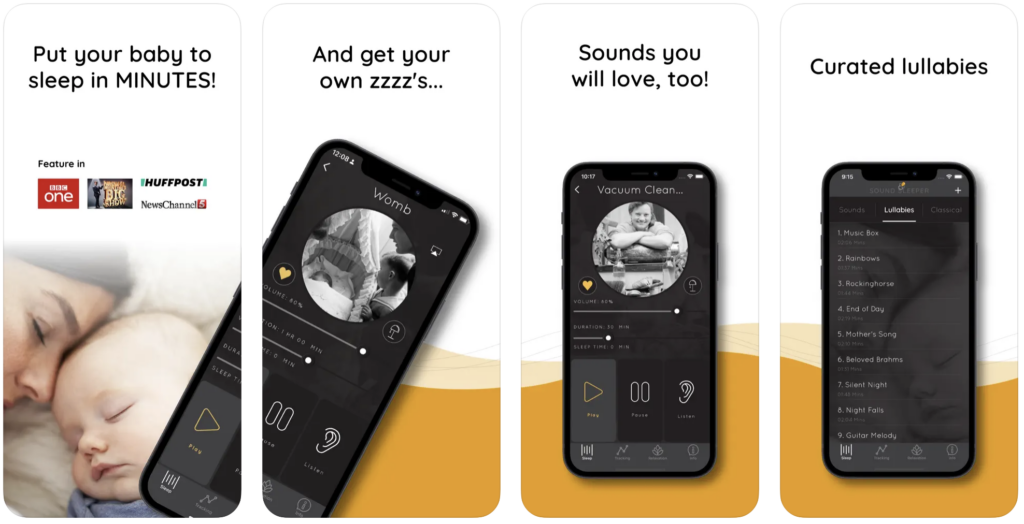 Sound Sleeper White Noise Baby is a unique app created by parents for parents, utilizing music and physics to craft sound patterns that work like magic to soothe babies and provide relaxation. The app offers sounds like the womb, vacuum, fan, shhhh, hush, lullabies, and classical music to block outside noise, calm your baby, and induce sleep in a matter of minutes. It even allows you to track your baby's sleep. Moreover, there's a handpicked collection of sounds for exhausted parents, including Rain, the Bubbling Brook, and Calming Guitar, to help you get the sleep you deserve after your baby falls asleep.
Sound Sleeper White Noise Baby on the App Store
---
Also Read: The 6 Best Co-Parenting Apps
---
Sound Sleeper – White Noise
Price: Free/In-App Purchase: Up to $15.99
Sound Sleeper – White Noise is your go-to app for quick sleep and a peaceful night, and it is considered one of the best newborn apps. Offering various white noise sounds like a fan, vacuum cleaner, rain, womb, and more, it helps block outside noise and lull your baby to sleep. What sets it apart is its self-activation feature; the sound activates when your baby cries, potentially soothing your baby without requiring you to get out of bed. You can even record your lullabies, track your baby's sleep patterns, and learn about their sleep patterns to help them sleep through the night. Sound Sleeper is a three-in-one sleep solution for both you and your baby, offering Play Mode to put your baby to sleep, Listen Mode to help them stay asleep, and Sleep Tracking Mode to develop healthy sleep habits. It's not just a baby app; it's a lifelong companion for every parent, ensuring peaceful nights and restful sleep.
Sound Sleeper – White Noise on Google Play