Pregnancy is a very difficult and exciting time for both expectant mothers and fathers. Especially for women who are pregnant with their first child, this process can sometimes be much more difficult.
There are many pregnancy apps developed by experts that can be used by expectant mothers during pregnancy, and that you can download to your mobile devices with iOS and Android operating systems from Google Play and App Store.
Here are the best pregnancy apps and their prominent features that will eliminate all the question marks in your mind during pregnancy.
P.S. The apps we include in this list have been developed so that parents can obtain information during pregnancy. We recommend that you consult your doctor first if you experience any health problems during the process.
---
Also Read: The Best Apps for Parents
---
The Best Pregnancy Apps
Pregnancy Tracker – Baby Center
Ovia Pregnancy Tracker
Hello Belly: Pregnancy Tracker
Prenatal Yoga | Down Dog
Contraction Timer & Counter 9m
Pregnancy & Baby Tracker WTE
Pregnancy+
Pregnancy Tracker – Baby Center
BabyCenter's Pregnancy Tracker app is one of the best pregnancy tracker apps, allowing you to learn much challenging information about before, during, and after pregnancy with fun tools.
You can start using the Pregnancy Tracker – BabyCenter mobile app before you even get pregnant. Fertility and ovulation period information in the app will be your guide in the process of getting pregnant.
By counting down to your baby's birth date, you can access pregnancy tips and development videos for every stage of your pregnancy. In the pregnancy app where you can learn what to expect during your pregnancy, you can also access the articles of experts on baby development.
The app also includes features such as a photo diary, finding baby names, a kick counter, contraction timer, and a birth plan checklist. The app, which turns into a parenting guide after your baby is born, supports you for two years.
Pregnancy Tracker on Google Play
Pregnancy Tracker on the App Store
Ovia Pregnancy Tracker
As one of the best pregnancy tracker apps, Ovia allows you to watch your baby grow weekly, track your pregnancy symptoms and get instant feedback, and access to expert articles for your questions.
Used by millions of women worldwide, Ovia also offers different tools including fertility tracker, calendar, baby name suggestions, and safety lookup tools. With its safety lookup tools you can look up food safety, symptoms, and medications to stay safe through your pregnancy. 
In the app, which is designed to facilitate the work of doctors and pregnant women and includes 3D fetus design, there are also articles on food, medicine, and other areas that affect infant health.
Ovia Pregnancy Tracker on Google Play
Ovia Pregnancy Tracker on the App Store
---
Also Read: The Best Learning Apps for Kids
---
Hello Belly: Pregnancy Tracker
The Hello Belly: Pregnancy Tracker mobile app provides information about pregnancy using fun language instead of overwhelming expectant mothers and fathers with complex medical information.
You can follow your baby's development weekly with 3D and AR visuals. In addition to yoga and meditation classes for pregnant women, you can also learn about nutrition, preparing a maternity bag and shopping for newborns through this pregnancy tracker app.
Prenatal Yoga | Down Dog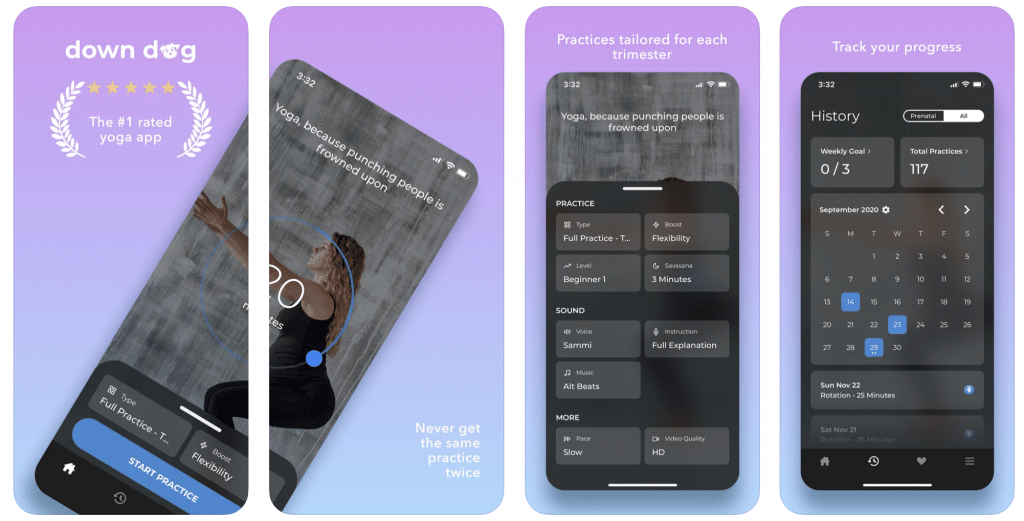 Now on our list of best pregnancy apps, there is an app recommendation for those who want to practice yoga during their pregnancy. Down Dog is a very successful app in yoga. Prenatal Yoga | Down Dog is a mobile app developed by the same team exclusively for pregnant women.
You can access many different meditation and yoga techniques for pregnant women through the app. With these meditation and yoga techniques, expectant mothers can get their bodies ready for birth step by step.
Prenatal Yoga on the App Store
---
Also Read: The Best Yoga Apps for iPhone and Android
---
Contraction Timer & Counter 9m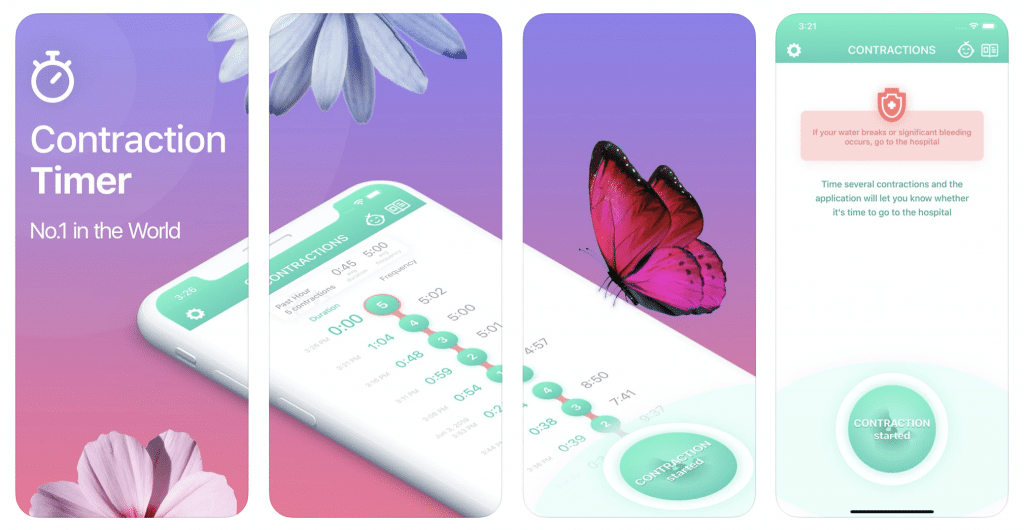 As its name suggests Contraction Timer is for the ones looking for a contraction timer app to calculate the contractions experienced just before the birth, which is the end of the pregnancy period and the beginning of the motherhood period.
You tap into a button during each contraction on the app, so the app records the contractions. This simple-to-use app determines whether you will go to the hospital according to the frequency, length and other information of the contractions and saves you from possible false alarms.
Contraction Timer on the App Store
Contraction Timer on Google Play
Pregnancy & Baby Tracker WTE
What to Expect's popular pregnancy tracker app, which is used by over 15 million parents, offers everything you can expect from a pregnancy app with a simple interface. The pregnancy tracker app provides you different features such as a due date calculator, weekly pregnancy tracker, baby feeding tracker, expert articles, an ovulation calculator, and much more.
If you are looking for a very simple and yet best pregnancy tracker app, you can give it a try.
Pregnancy & Baby Tracker WTE on the App Store
Pregnancy & Baby Tracker WTE on Google Play
---
Also Read: The Best Fertility Tracker Apps
---
Pregnancy+
Being downloaded by more than 40 million parents, Pregnancy+ is one of the best free pregnancy tracker apps that allows you to track your pregnancy week by week with its fund baby size guide and interactive 3D models.
Suggesting you daily pregnancy articles and guides covering different topics from twins to breastfeeding, Pregnancy+ also provides different features including kick counter, due date calculator, contraction timer, birth plan and baby shopping list.