YouTube has introduced 'Super Thanks', a new way to tip a content creator while watching a standard video. The company said that its new tipping option will allow fans to tip at four price points between $2 and $50 or a local currency equivalent.
Tipping a creator using With Super Thanks, which is similar to the way Super Chat and Super Stickers are used to support live streamers, will also highlight your comment to make it stand out in the comment session in a video.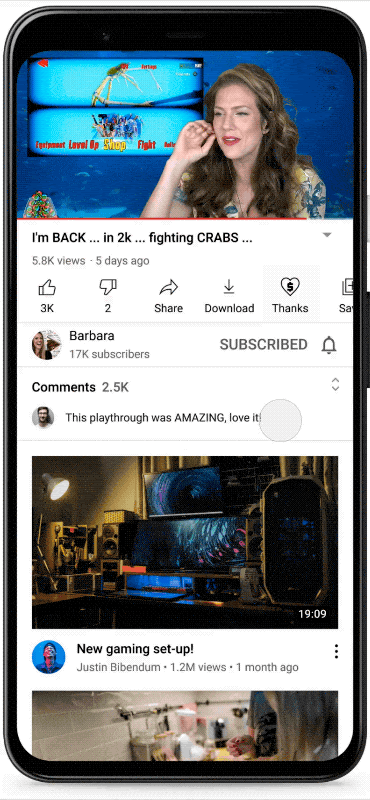 Barbara Macdonald, a product manager of paid digital goods at YouTube, told The Verge that the ability to manually input other dollar amounts for the feature is ""definitely something that we would be interested in looking to add in."
Content creators will be able to see their total and per-video Super Thanks earnings as well as who purchased a Super Thanks on their videos. The company said Super Thanks uses the same revenue split as Super Chat where revenue share is calculated after Apple service fees (if applicable) and other charges like sales tax.
Super Thanks is still in beta but with the expansion, it's now available to thousands of monetizing creators and viewers in 68 countries on desktop and mobile devices. YouTube was testing the feature under a different name, Viewer Applause, over 2020. The company plans to roll out Super Thanks to all Youtube Partner Program members later this year.
The company also provides different options for content creators to monetize their efforts including Channel Membership for monthly subscriptions, and Super Chat and Super Stickers for making money during livestreams.
In May, YouTube also announced a $100 million Youtube Shorts Fund for content creators  whose "unique" Shorts received the most views and engagements to be distributed over the course of 2021-2022. 
Providing new tools and funds to encourage content creators to use their platforms and monetize their content has been on the agenda of social media giants for a while.
Facebook CEO Mark Zuckerberg announced last week that Facebook will start new programs to invest more than $1 billion to reward creators on Facebook and Instagram through 2022.
In May 2021, Twitter began to roll out a new feature called 'Tip Jar' in its Android and iOS apps that allows users to send money directly to their favorite accounts.