Digital advertising in the United States is experiencing a notable shift in 2023, with growth expected to decelerate to 7.8% YoY, according to Insider Intelligence's recent report. This marks the slowest pace of growth in the past 14 years. While this trend is affecting various industries, the timing and extent of this slowdown vary across sectors. Despite the overall deceleration, some industries are showing promising signs.
Among the industries that were tracked, the travel sector is anticipated to exhibit the fastest spending growth in 2023. This is particularly noteworthy given the challenges the travel industry faced during the pandemic. It signifies a resurgence in advertising investments as travel-related activities pick up.
The automotive sector is poised to witness a substantial rebound in ad spending. This recovery is significant, as the auto industry faced disruptions in recent years, including supply chain issues and chip shortages. The resurgence in advertising indicates a renewed focus on promoting automobiles.
While no industry is expected to experience booming ad growth in 2023, several sectors are demonstrating positive trends. Travel, retail, healthcare, pharmaceuticals, and the auto industry are all projected to outperform the national growth rate. Additionally, the entertainment industry is expected to slightly surpass the average growth rate.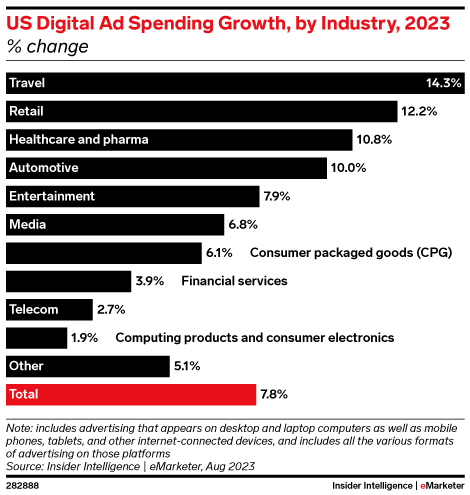 Industries that experienced a decline in spending momentum in 2022 are set for significant rebounds. The auto and consumer packaged goods (CPG) industries are expected to accelerate their ad spending in 2023 and 2024 compared to the previous year. Financial services will see a modest uptick this year, followed by a more substantial rebound in 2024.
The outlook for 2024 appears brighter across industries. Nine out of ten sectors are projected to witness faster growth in digital ad spending in 2024 compared to 2023. The exception is the healthcare and pharmaceutical industry, which is expected to see a slight decline. Most verticals are poised for low double-digit growth, with computing products and consumer electronics experiencing a notable surge of 11.6% in 2024.
It's worth mentioning that the variations in growth patterns, slowdowns, and rebounds are influenced by industry-specific factors. Each sector has its unique drivers for these fluctuations. Overall, while challenges persist, there are pockets of resilience and recovery, offering hope for a more robust advertising environment in the coming years.
In Q4 2022 digital ad spending in the US reached $25.6 billion and advertisers generated 2.7 trillion ad impressions, both up 13.7% and 8.6% from Q3 2022 figures.
Additionally, a recent study revealed that the global ad spend is projected to surpass $1 trillion for the first time in 2024.