Karaoke, which has become one of the most popular activities of friend meetings, has taken its place on our mobile phones over time. In this list, we have brought together the 5 best karaoke apps that you can use on Android and iOS devices that also function as a social media app.
---
Also Read: The 10 best multiplayer iPhone games to play with friends
---
Yokee
At the top of our list of the best free karaoke apps is Yokee, an app that has a large database of songs and lets you share your record with others. The app, which has been used by more than 100 million people so far, has different features such as applying effects to your voice and video. It also has an auto-tune feature that auto-enhances your voice with echo and a little reverb.
The free version of the app, which also offers a paid subscription option, is quite sufficient for those who want to have a pleasant time doing karaoke.
Smule
Here is the most popular one of our list of the best free karaoke apps: Smule. Smule is more than a karaoke app, it is a social networking platform where you can get followers by singing. It allows you to sing karaoke, create recordings and videos, and most importantly perform with popular celebrities. You can either sing karaoke on your own or by joining someone to sing in a duet or a group recording.
The popular karaoke app also allows you to use studio effects, visual effects, and filters to get the most out of your video and audio recording. You can both share your records on popular social media platforms or on your Smule account to get discovered.
---
Also Read: The Best Music Recognition Apps for iPhone and Android
---
The Voice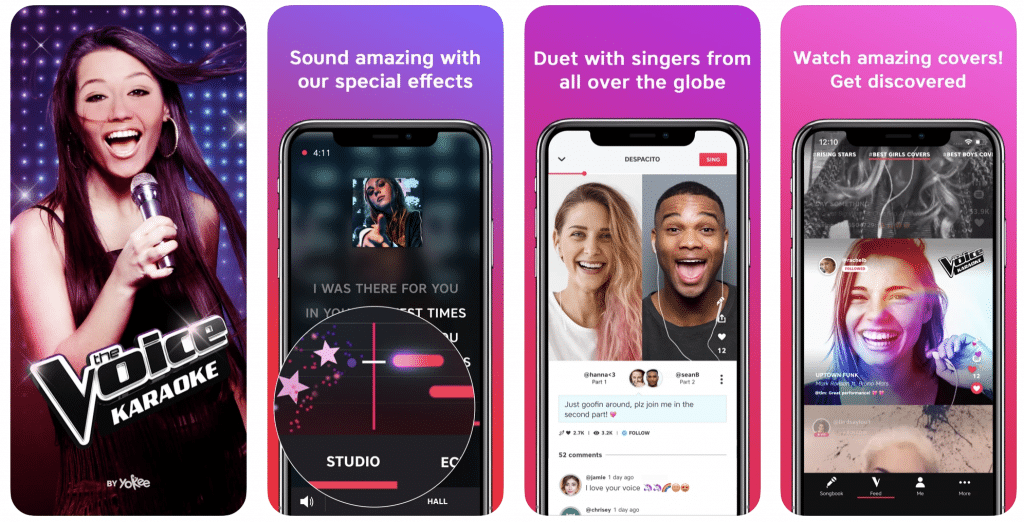 Having a huge library of songs, The Voice is another best free karaoke app that allows you to sing karaoke at no cost. The app offers a monthly subscription too but you don't need to pay for singing karaoke by using its music library.
The app allows you to record your song, share it with others using the app, and watch other users' covers. Like in social media apps, you can react to other users' covers by liking, commenting, and interacting with. You can also duet with other users from around the world.
StarMaker
StarMaker, one of the most popular karaoke apps with over 50 million users, is also one of the best karaoke apps with more than 2 million songs in its database and the features it offers.
Using the app, you can sing karaoke along with the high quality backing music and rolling lyrics, edit your recordings with voice effects and video filters, and share your recordings on almost all social media platforms. The app also allows you to duet with top artists and sing together with a group of friends, or go Live to broadcast your music concerts and win likes and fans. Another good feature of StarMaker is Hook, which allows you to sing the best part of your favorite songs.
WeSing
Last in our list of the best karaoke apps is WeSing from Tencent. As with other karaoke apps on the list, you can sing, record and share karaoke in WeSing, as it is actually a music-based social networking app.
In the app, you can edit your karaoke videos with tons of voice effects and video filters to get fans and win likes. You can also duet with friends, watch or join KTV party rooms, and watch others' covers by using the app.