It's no secret that we turn to digital resources instead of traditional books and magazines to get recipes. As a result of this trend, many mobile apps have come to life and new ones are coming fast.
In this article, we've brought together the best recipe apps for Android that are designed based on different themes, age groups, and difficulty levels. All of the recipe apps on our list host different features, and each one stands out from different angles. If you are ready, let's start!
The Best Recipe Apps for Android
Tasty
BuzzFeed's popular app is one of the best recipe apps for Android with more than 3000 recipes, step-by-step instruction mode, and recipes it recommends based on the time of day, day of the week, or major holidays.
You can filter vegan, gluten-free, low-carb, or comfort foods according to your preference in the app, where you can search for recipes by social plans, ingredients, dietary requirements, difficulty, speed, cuisine and more.
Yummly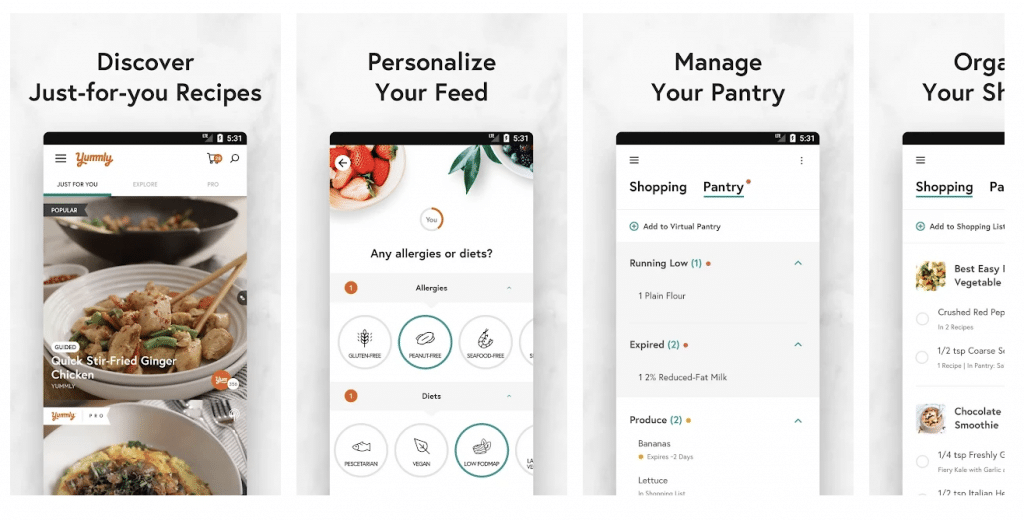 Starting by asking you to identify your personal tastes and nutritional preferences so that it can create a profile for you and find matching recipes, Yummly contains close to 2 million recipes.
One of the best features of the app is a regular scheduling feature that lets you set when you want to eat and reminds you when it's time to start cooking. Having the basics of recipe apps like saving favorites, grocery lists and more, the app is one of the best recipe apps for Android with advanced customization options and various recipes for diets.
---
Also Read: The Best Keto Apps
---
Cookpad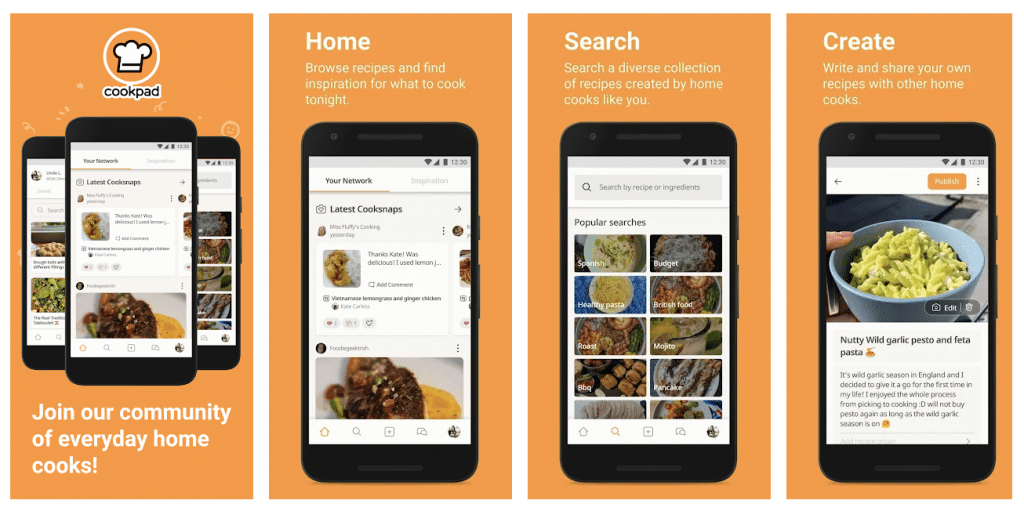 Rather than a classic recipe app, Cookpad is a global recipe sharing platform that people like you use to browse, search, create and share thousands of homemade recipes every day.
In the app with thousands of different recipes, you can find hundreds of different options, whether vegetarian, dairy-free, gluten-free or Keto, based on your and your loved ones' preferences or what your diet requires.
BBC Good Food
You can ask your questions to the experts, comment on the recipes and rate them on BBC Good Food, which is an app full of more than 13,000 recipes, how-to videos and master classes. You can test the app, which you can use ad-free, with a 3-month free trial.
---
Also Read: The Best Apps for Grocery Lists
---
Paprika Recipe Manager 3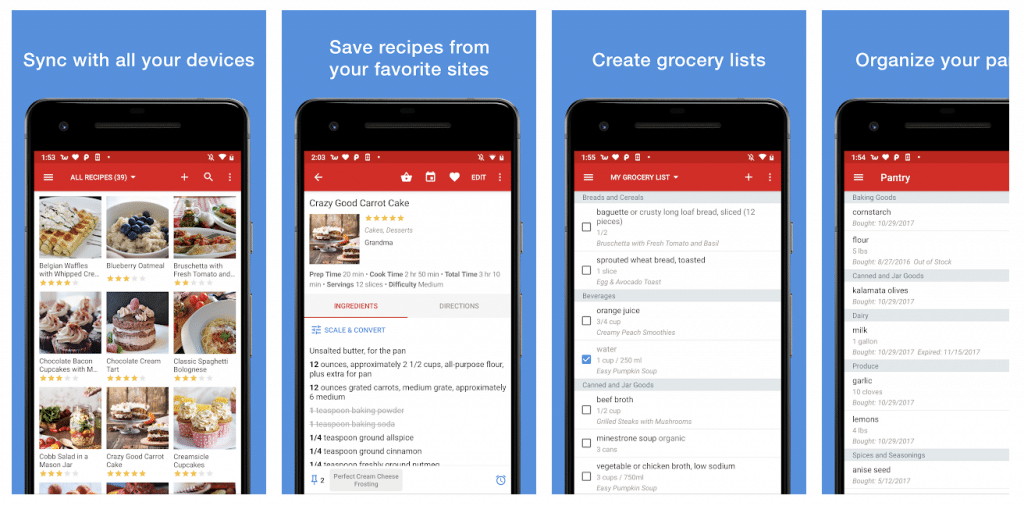 In Paprika, a recipe manager, you can download recipes from your favorite websites, create grocery lists, track the pantry, plan your daily, weekly or monthly meals and access all of them synchronously on all your devices.
You can scale the ingredients to your desired portion size for the recipe you want, keep the screen on while cooking, strikethrough the ingredients, and highlight your current step.
Paprika Recipe Manager 3 on Google Play
Allrecipes Dinner Spinner
Allrecipes, which contains almost everything you would expect from a good recipe app, contains more than 1000 mobile-friendly recipe videos with step-by-step cooking instructions. In the app, you can tap to add entire recipes or ingredients to your shopping list.
Allrecipes Dinner Spinner on Google Play
---
Also Read: The Best Meal Planning Apps
---
Oh She Glows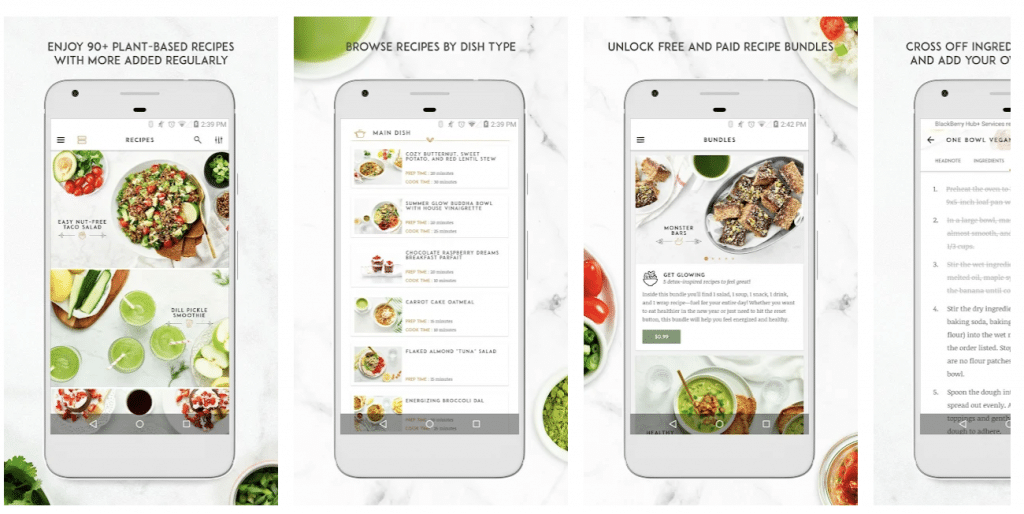 Presented by New York Times bestselling author Angela Liddon, the Oh She Glows Recipe App features over 160 fan-favorite plant-based recipes from the recipe blog OhSheGlows.com, along with live food photos for each recipe. In the app where there are recipes in English and French, you can also find detailed nutritional information for each recipe.
BigOven
As one of the best recipe apps for Android, BigOven includes more than 1 million recipes and features to complement your cooking experience such as grocery list and meal planner. In the app, you can see what your friends, family and favorite bloggers are up to, and get inspired by seasonal collections on your home screen.
---
Also Read: The 8 Best Cooking Apps
---
Cookmate
As a recipe manager, Cookmate allows you to create your own digital cookbook and create your own database of recipes by collecting recipes from the web and using the import features. The app, which allows you to easily import a digital cookbook you already use and create a shopping list, also allows you to share your recipes with your friends or from your social media accounts.
SideChefs
In SideChefs, which contains more than 15 thousand recipes with step-by-step instructions, you can find the recipes that are suitable for you with filters or content searches according to your diet or nutritional preferences, make a shopping list, and quickly buy the ingredients on your list on Walmart or Amazon Fresh.