Snap Inc today announced on Monday that it is launching a new game inside of Snapchat called Bitmoji Paint.
Built by Snap Games Studio, Bitmoji Paint allows Snapchatters' Bitmojis to travel the globe, team up with friends, and let their imagination run free on one shared canvas. It's Snap Games Studio's second title.
Players enter the game through Chat (behind the rocket icon) or Search, and are faced with a planet with multiple islands floating in space.
Each island is a server that players can join along with hundreds of other real players. When players select an island to join, they are then placed on a live, editable canvas.
Players are able to paint, explore and hangout by switching between 3 modes; Move, Paint and Map.
You can encounter other Snapchatters in game organically, and communicate with them through a menu of emotes to each other.
"Our goal with Bitmoji has always been to be the world's avatar, to give people a digital version of themselves that represents them and lets them be themselves online," said Ba Blackstock, co-founder of Bitmoji. "And so now with games, it's also letting people play together in a really new and fun and exciting way."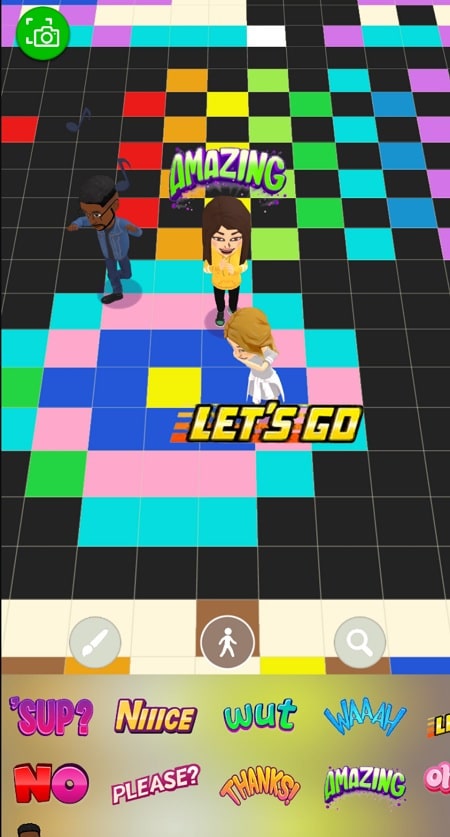 Bitmoji Paint will roll out globally starting today.
Snap also introduced Snap Tokens to let Android users customize the Bitmoji Paint experience. "Snap Tokens can be used toward roller skates or hoverboards to move around the game more quickly, or things like an ink painter or a paint roller to make larger creations."
"A lot of the playability in the game is things like simple scribbles," John Imah, head of games and entertainment partnerships at Snap, said in a statement. "You can send fun messages, and also even [make] giant landscapes, all these things are all possible in Bitmoji Paint."