According to Sensor Tower, Telegram and Signal reached new heights in Ukraine after its invasion by Russia on February 24, with downloads collectively reaching 1.7 million in the period from February 24 to March 20, up 197% from 573,000 in the immediately preceding January 30 to February 23 period prior to the invasion.
In Ukraine, Signal's downloads rose 1,075% to 787,000 between February 24 and March 20, up from 67,000 in the previous period. In Russia, the app reached 425,000, a growth of 286 percent from 110,000. To date, Signal has reached nearly 2 million installations in Ukraine, 42 percent of which occurred within 25 days of the start of the war.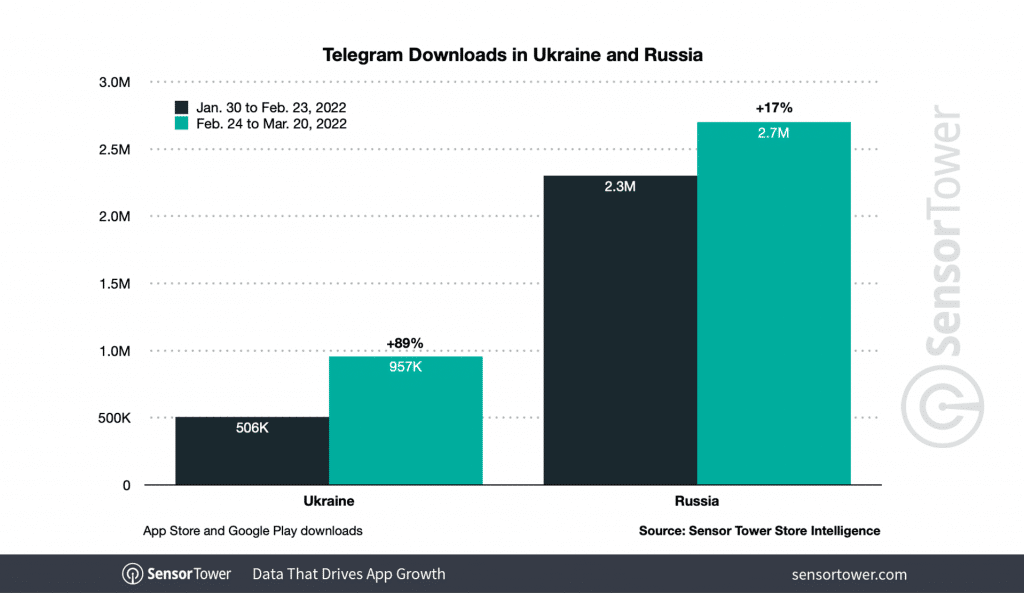 When comparing the same two periods, Telegram's installs increased by 89% in Ukraine, while it saw 17% growth in Russia.
The study also found that since the conflict in the region began, Signal's average daily active users (DAU) have increased by more than 184% in Ukraine and 81% in Russia. Telegram has also seen an increase in usage, with average DAUs increasing 9% in Ukraine and 15% in Russia.
Encrypted messaging apps aren't the only apps seeing a surge in growth in Ukraine. The first-time installs of the top 10 translation apps in Ukraine saw 71% month-over-month growth, due to the ongoing conflict in the region. 
In the first nine days of March, Ukraine's top 10 translation apps across the App Store and Google Play collectively saw 198,000 installs, a 71 percent increase from 116,000 in the first nine days of February.