Netflix's new $6.99 ad-supported tier ''Basic with Ads'' became the company's least popular subscription plan in its first month of launch, November, according to a new report from market data platform Antenna. (via the WSJ)
The tier accounted for only 9% of all U.S. subscribers that signed up for the streaming platform during the month. 57% of its subscribers rejoined the service after a while or joined it for the first time, and 43% switched to it from more expensive plans, according to Antenna.
To make a comparison, HBO Max's $9.99 ad supported tier, which was launched in June 2021, accounted for 15% of the new U.S. subscribers the platform gained during its first month, and only 14% of its subscribers downgraded from other plans, Antenna said.
---
Also Read: HBO Max and Discovery+ to merge in 2023, will offer ad-based subscription
---
Following the report, a spokesperson for Netflix said: "There are a number of inaccuracies in this reporting. It's still very early days for our ad supported tier and we're pleased with its launch and engagement, as well as the eagerness of advertisers to partner with Netflix."
Netflix launched its cheaper tier on November 3, in an effort to boost its revenue and user count, which dropped 200,000 in the first quarter and 1 million in the second quarter of 2022. While the company hasn't disclosed the number of subscribers expected to sign up for the tier, it forecasts that it'll lure 40 million subscribers by the end of 2023, according to the WSJ.
---
Also Read: Netflix Revenue and User Statistics
---
The report suggest that a greater proportion of customers choose cheaper plans on streaming services that have offered ad-supported tiers since their launch or for a longer period of time than Netflix and HBO Max.
NBCUniversal's Peacock, for example, was launched as an ad-supported service in 2020 along with premium tiers. According to the report, 76% of its users prefer its ad-supported plan, while the remaining 24% are ad-free subscribers.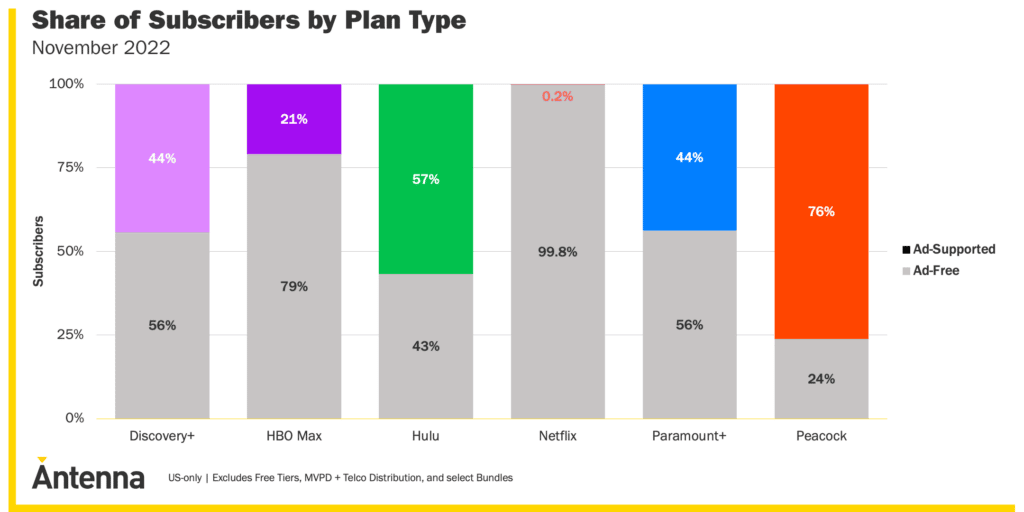 Disney also launched its $7.99 ad-supported tier in the United States earlier this month. But, there is no data yet on how the new plan is performing.