Meta (previously Facebook) has made an investment in Take App, a Singapore-based startup that aims to make it easier for WhatsApp merchants to sell their products via the popular messaging app.
The startup was founded in February 2021 by Youmin Kim, who previously worked at Facebook as a partner engineering manager but left the social media company last year to found Take App and close the digital gap facing small businesses in Southeast Asia.
The platform enables merchants to create websites without requiring them to have technical expertise. When a customer fills out an order form on these websites, they're redirected to WhatsApp where they can get in touch with the merchant and discuss the details of their order. It also lets sellers manage orders, offer discounts, and get insights into how many people visit their product pages.
In addition, the platform allows merchants to create newsletters to share their latest product or company updates, as well as special discounts with customers on WhatsApp.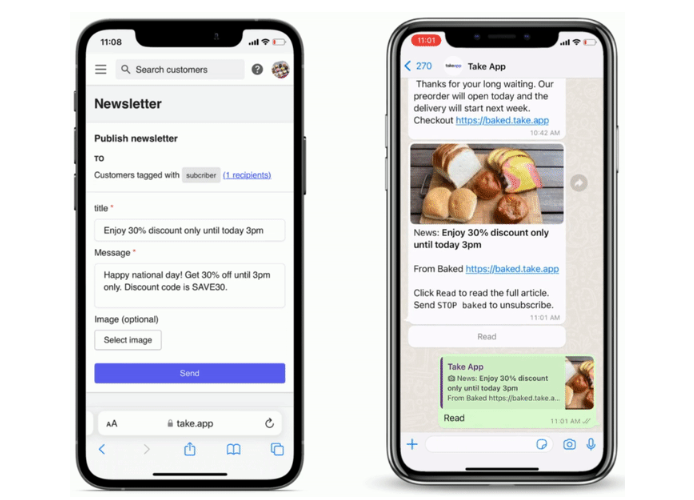 While its main solutions are free, the start-up also offers a premium package which costs $8.33 SGD per month (nearly $6 USD) and comes with additional features such as advanced insights, the ability to upload unlimited photos, etc.
On its webpage, Take App says it now supports 10 million local merchants around the world, including restaurants, grocery stores, beauty shops and also home-made businesses.
"Our unique selling point is that we let merchants keep direct WhatsApp conversations with customers," founder Kim told TechCrunch. "Merchants love the idea that they receive notifications and order details directly in WhatsApp — no other app or login is required."
In addition to Meta and other investors, American startup accelerator company YCombinator also joined the $1 million funding round of Take App which took place in June.
(1 SGD = 0.7255 USD)