Consent management platform Usercentrics conducted a new study to check the GDPR compliance levels of mobile apps, and found that the majority of them fail to comply with the EU regulations that require them to obtain user consent before tracking their personal data.
For the study, the company analyzed a total of 250 EU apps across Food, Lifestyle, Fitness & Health, Finance and Gambling categories, 90% of which were found to be in violation of GDPR rules.
Among all these categories, Gambling has the highest level of non-compliance (100%) with all the apps included in the category were found to be tracking user data without their consent. Meanwhile, the lowest level belongs to the Food category, 84% of which were found to be non-compliant.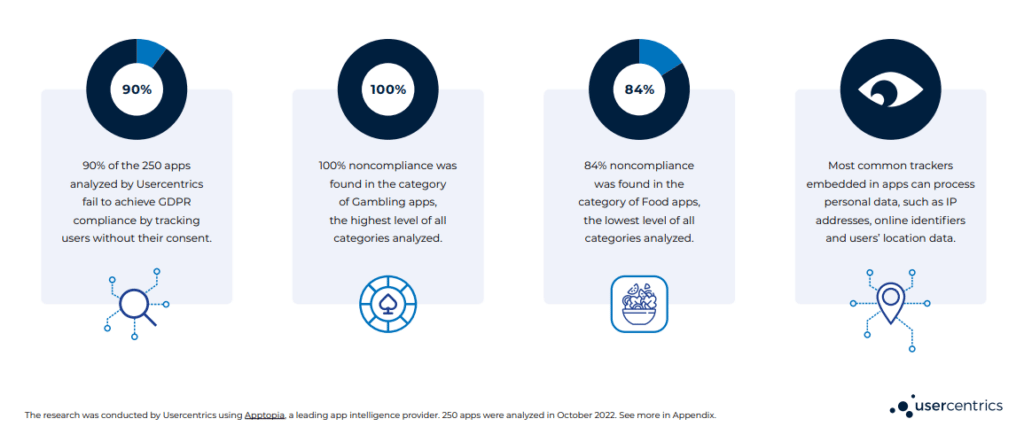 Usercentrics' findings also go in line with the conclusions of similar recent studies. Appvisory, for example, analyzed 1 million apps last year and said that 76% of them tracked user data without getting their consent. Oxford also conducted a study of 2 million mobile apps, and discovered that only 10% of them complied with GDPR regulations.
The report suggests that GDPR compliance is becoming more than a legal obligation now since people are more conscious of data privacy. This is backed by a recent study by Ipsos and Google, which found that delivering a positive privacy experience can increase brand preference by 43% while the impact of offering a poor one ''is almost as severe as that of a data breach.''
The same study also found that when users trust a brand, they are twice more likely to give consent to share their personal data. However, those that offer monetary incentives such as discounts in return for data-sharing can have the opposite effect and damage their trust adversely.
While non-compliance with regulations can also decrease the level of trust in a brand, complying with them will not only lead to a more trustworthy experience for users, but also provide apps with healthier monetization opportunities, according to the report.