With Apple's app privacy labels, users have begun to see which personal data the apps they downloaded use for what purpose. Although the nutrition labels' accuracy is still controversial, pCloud's recent research gives insight into which apps share the most data with third parties or for internal usage.
"Everything from your browsing history, to your location, your banking details, your contact details, and your fitness levels can be valuable for apps to store, use, or sell on. While they all have a responsibility to keep this data safe, that doesn't always mean it stays in their hands."
Mobile apps store your data for a lot of reasons from making your experience better, tracking how you interact with them to targeting you with ads across any platform.
Instagram shares 79% of your personal data with others online
The study says that 52% of analyzed apps share personal data with third parties.
While YouTube shares 42% of your personal data, Instagram is again at the top of the list with 79%, followed by Facebook with 57%.
"Including everything from purchasing information, personal data, and browsing history. No wonder there's so much promoted content on your feed. With over 1 billion monthly active users it's worrying that Instagram is a hub for sharing such a high amount of its unknowing users' data.
In second place is Facebook, which gives 57% of your data away, while LinkedIn and Uber Eats both sell off 50%. In fact, when it comes to food apps, Just Eat, Grubhub and My McDonald's are the only three in our study that give nothing away at all, instead using your data for location tracking and their own marketing needs."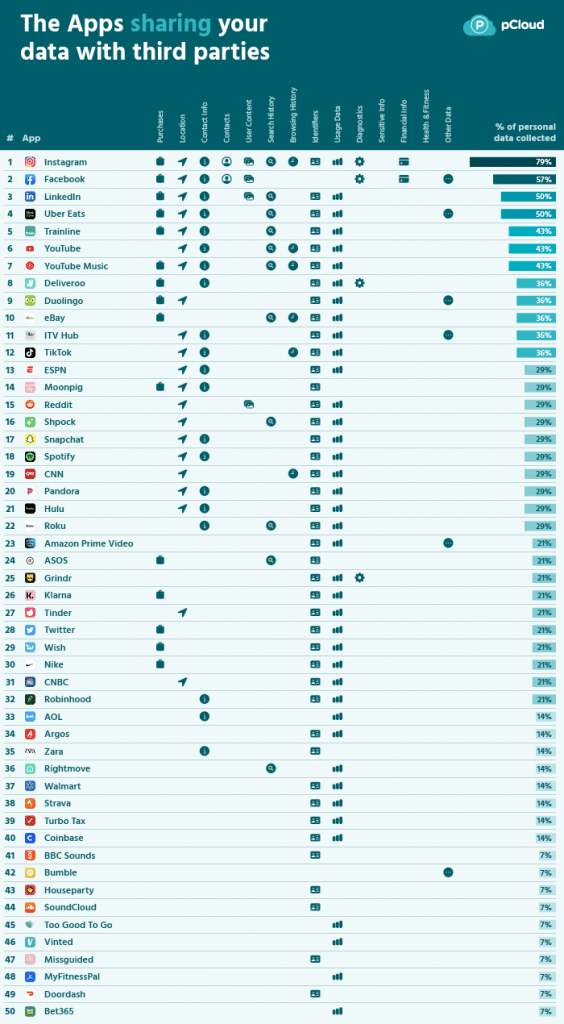 Apps collecting personal data for their own good
pCloud found that 80% of apps use personal data to market their own products in the app and beyond. This includes things like apps serving you their own ads on other platforms, as well as in-app promotions for their own benefit, or for third parties who pay for the service.
The study found that Instagram and Facebook, both are owned by Facebook, use 86% of your data to sell you more of their own products and serve you relevant ads on behalf of others.
Facebook and Instagram followed by Klarna and Grubhub with 64%.
Clubhouse, Netflix, and Signal are the safest apps to use regarding keeping your data private
The study also covers which apps are the safest to use in terms of data privacy. According to the study, lockdown favorites such as Skype, Microsoft Teams, and Google Classroom collect no data at all and top the list alongside Clubhouse, Netflix, and Signal.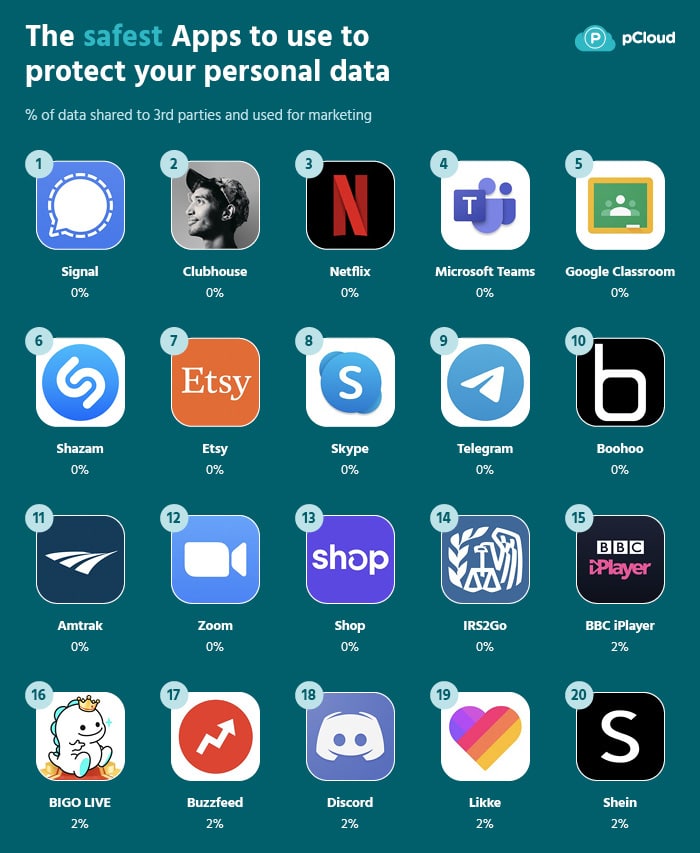 When it comes to the worldwide popular apps, the study found that the popular auction app Ebay came in at 5th place, by tracking and selling 40% of the personal data possible. Shopping giant Amazon came surprisingly low in the list with 14%, with minimal tracking for their own advertising, and no data passed on to third parties.
Reddit came in 19th place with 29%, though sharing users location and usage data with third parties, as well as tracking user content and purchases for its own marketing purposes.
You can see the full iPhone app privacy rankings in the company's post.