Meta-owned Instagram announced on Tuesday that it has started showing advertisements in search results and rolling out a new ad format named ''Reminder Ads''.
The company said in a blog post that ads in search results will help advertisers reach users looking for something that could be related to their businesses, products or content.
"Ads will show up in the feed that people can scroll when they tap into a post from search results,'' the company said in a statement, adding that it's planning to expand the format globally in the upcoming months.
Reminder Ads, on the other hand, will enable advertisers to remind users about their upcoming events or product/service launches. After a user opts into a reminder via the new ad format, Instagram will send them three notifications one day before, fifteen minutes before and at the time of the event.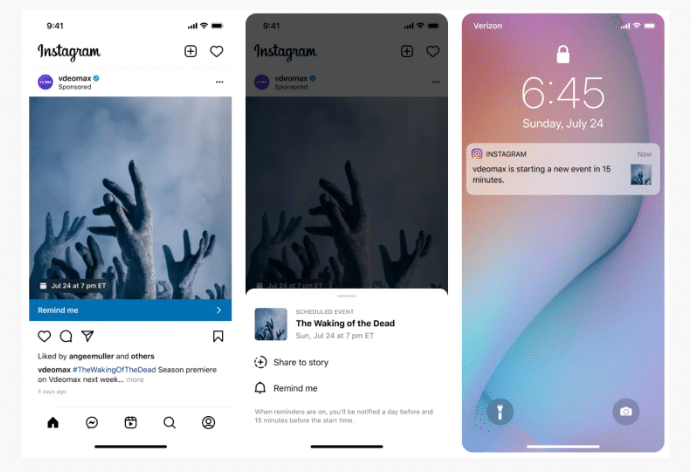 Advertisers will be able to create their ads at least 1 hour or maximum 3 months before their events. While the event time will be defined by the time zones in their devices used to run the ads, it'll be adjusted to users' local time zones.
''For example, if you're in New York City and select 8pm as the event time, the event time will be set as 8pm EST. But someone who's in Los Angeles will see the event time as 5pm PST,'' Instagram explains.
The company said that it has teamed up with brands like Starz for the tests of the new ad format.
The news comes months after Instagram started showing ads in user profiles and the Explore feed in October last year.
It also comes at a time when its parent Meta's ad business is facing challenges due to the global economic slowdown and Apple's privacy changes. During the last quarter of 2022, the company's revenue dropped by 4% year-over-year to $32.2 billion, with its ad business accounting for $31.25 billion.
"Q4 revenue remained under pressure from weak advertising demand, which we believe continues to be impacted by the uncertain and volatile macroeconomic landscape," said Meta's CFO Susan Li last month.
---
Also Read: Facebook Revenue and Usage Statistics
---
Last week, the company said that it would lay off 10,000 more employees this year, and that it would soon end its support for NFTs on both Facebook and Instagram.