Facebook is getting prepared to announce on Monday a suite of new audio products, including a Clubhouse-like audio chat app, as well as a push into podcast discovery and distribution aided by Spotify, Recode said.
According to the report, Facebook plans to announce
an audio-only version of Rooms,
a Clubhouse-like product for groups of users to listen to and interact with speakers on a virtual stage,
a podcast discovery and distribution product which will be connected with Spotify,
a feature that lets people record and post voice messages in their newsfeed.
According to sources, some products won't be available until later this spring.
"We've been connecting people through audio and video technologies for many years and are always exploring new ways to improve that experience for people." Facebook said Recode.
Facebook is not the only Big Tech considering a Clubhouse-like product: Discord launched Stage Channels feature for audio events, Linkedin confirmed that it is building a Clubhouse rival, Twitter Spaces is rolling out this month, ByteDance is reportedly building a clone, Spotify acquired live audio app Locker Room, and Slack is cloning one.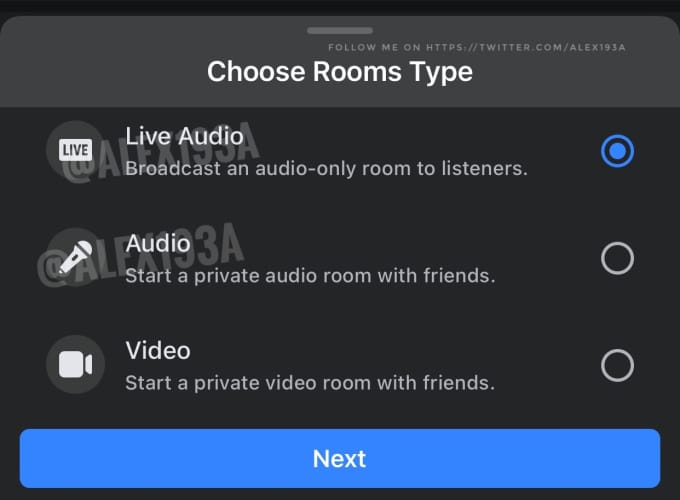 If you are wondering how Facebook's Clubhouse-clone 'Live Audio' will look like, here you can see some screenshots. As you can see in the screenshots, the feature is currently integrated into Facebook's Zoom-rival product Messenger Rooms which the company launched in May 2020.
Apple is also preparing a subscription podcast service it may announce as early as Tuesday, Recode reported. Apple declined to comment to Recode.