According to a new report from InvestGame, the video game industry recorded 626 closed deals with the overall deal value of $51.4 billion or $124.5 billion, including 10 more announced but not yet closed deals including Microsoft's Activision deal.
$124.5B is almost 2 times bigger than the $62.4B closed and announced cumulative deal value of Q1-Q3 '21, but lower without Microsoft's $68.7 billion Activision deal. The same is true for closed deals, with $51.4B vs. $58.8B across 709 deals in Q1–Q3'21.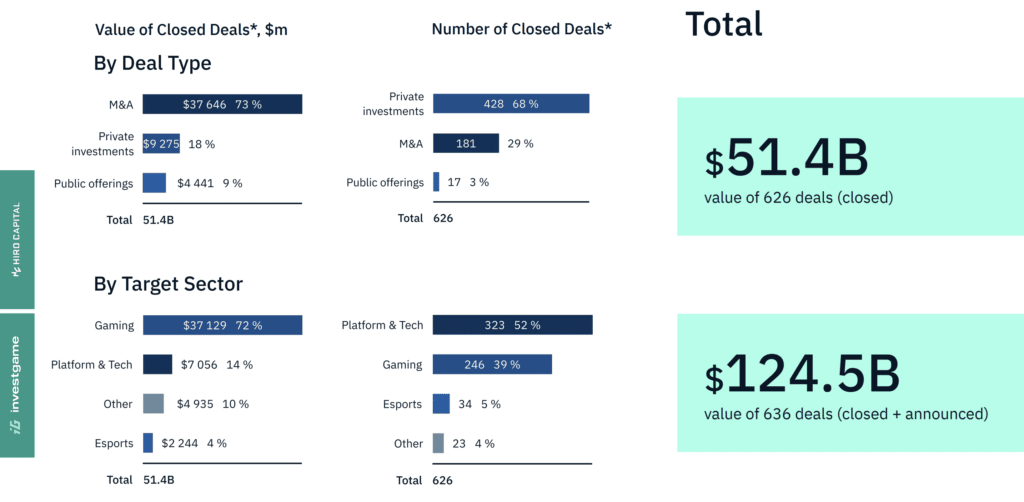 For Q1–Q3'22, top 5 deals contributed almost 65% of the deal value: Zynga—Take-Two Interactive ($12.7B); Bungie—Sony ($3.6B); Asmodee—Embracer Group ($3.1B); Saudi Arabia's Public Investment Fund (PIF) purchase of a minority stake in Nintendo ($2.7B); and Joffre Capital purchase of a minority stake in Playtika ($2.2B).
Even despite the total deal value 14% growth ($29.4B across 118 deals vs. $25.8B across 149 deals), the overall share of the Gaming sector deal value has decreased from 90% to 78%.
When it comes to private investment activity, despite the drop in the last quarter, the sum of Q1–Q3 still allows 2022 to so far outrace 2021: it's $9.3B among 428 deals, against $8.8B among 409 deals in Q1–Q3'21.
Per the report, throughout Q1–Q3'22, Early-stage VC deals now occupy 41% of the total deal value ($3.8B) across 343 deals (up from 38% in Q1–Q2), meaning Early-stage VC placements are gaining more and more momentum among Gaming investors – compare this to 20% in Q1–Q3'21 ($1.8B) and 16% in Q1–Q3'20 ($744m).
Embracer took the first place with 22 deals, with a total amount of $3.8B. The most notable deals were the acquisition of Asmodee for $3.1B, six acquisitions on Aug'22 for $765m, and acquisition of three studios from Square Enix—Crystal Dynamics, Eidos-Montréal, and Square Enix Montréal—for $300m consideration.
Saudi Arabia's Public Investment Fund (PIF), with its subsidiary Savvy Gaming Group, took the second place with 7 deals, including purchasing of shares of 5 public gaming companies (incl. Embracer). Furthermore, on Sep'22, Savvy Gaming Group announced its plan to spend $37B for investing in the gaming market, including the acquisition of one of the major publishers for $13B.
According to a recent report from Newzoo, the global games market will shrink 4% year-on-year to $184.4 billion in 2022. The company previously said it was expecting the market to grow 2.1% Y/Y to $196.8 billion this year.