What is Byju's?
Byju's is an India-based edtech company founded in 2012 providing online learning programs for K3, K10, K12, NEET, JEE, UPSC & Bank Exams with personalized video lessons, tests, and one-on-one mentorship programs from experienced teachers.
Website: https://byjus.com/me/
Founded Date: 2012
Founder: Byju Raveendran
Google Play: Store Link
App Store: Store Link
Byju's Revenue Statistics
+ In March 2022, Byju Raveendran, the co-founder and CEO of Byju's, has invested $400 million into the startup. His backing is part of a larger $800 million round Byju's has secured, the company said. The round values Byju's at about $22 billion, a person familiar with the matter said. (Techcrunch)
+ In December 2021, Byju's acquired Austria-based math learning app GeoGebra in a $100 million deal.
+ In October 2021, Byju's raised $300 million at a $18 billion valuation. (Techcrunch)
+ Byju's announced on September 16 that it has acquired coding platform Tynker. The companies didn't disclose the terms of the deal, but a person familiar with the matter told TechCrunch that the Indian firm is spending about $200 million on the acquisition.
+ Byju's announced on July 26 that was buying professional training and higher education platform Great Learning for $600 million.
+ Byju's announced on July 21 that it has acquired California-headquartered reading platform Epic, which has amassed more than 2 million teachers and 50 million kids, for $500 million.
+ As of June 2021, Byju's has become India's most valued startup after raising $350 million at a $16.5 billion post-money valuation. (Techcrunch)
+ In 2020, Byju's revenue was more than $100 million. UBS executives said that Byju's current revenue run rate, as of early 2021, is $800 million. It is expected for revenue run rate to reach $1 billion in the next 12-15 months.
+ Byju's valuation was $11.1 billion as of September 2020. 
+ Byju's has become the first edtech startup to cross $2 billion in investments from as many as 17 rounds from 21 investors. (BusinessLine)
+ Byju's plans to generate $140 – 150 million in profit margin in this fiscal year. 
Byju's doubled its revenue to around $370 million (₹2,800 crore) in the year ending March 2020. (Business Insider) 
+ Byju's 2019 revenue for the financial year that ended in March 2019 was $188.8 million with a net profit of $2.8 million. (Techcrunch)
+ Byju's plans for an IPO in the next 24 to 36 months. (BusinessLine)
+ Byju's learning app reported a gross revenue of over 14 billion Indian rupees in financial year 2019, almost triple the revenue of the financial year 2018. (Statista)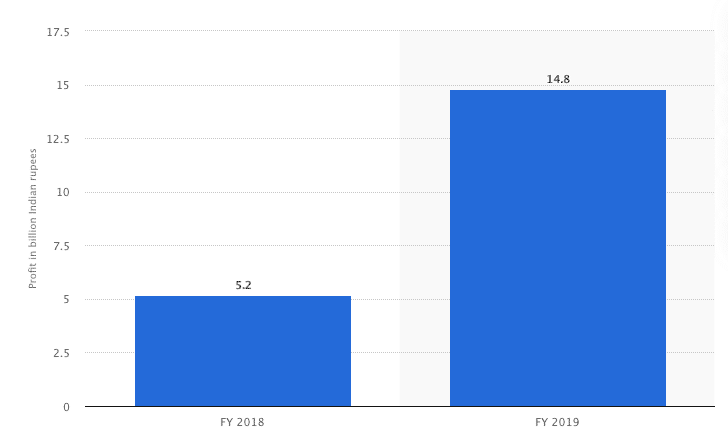 Byju's Usage Statistics
+ As of March 2022, Byju's hit 150 million users, up from 80 million it reached earlier 2021.
+ As of early 2021, Byju's surpassed 80 million users, 5.5 million of whom are paying subscribers.
+ As of September 2020, Byju's learning app added more than 25 million new students to its platform due to lockdown. 
+ As of September 2020, Byju's learning app has a total of 70 million registered students and 4.5 million paid users. (BusinessLine)
+ As of September 2020, Byju's had more than 2 million downloads worldwide in Google Play. (Sensor Tower)
+ As of May 2020, students, who used to spend 70 minutes on the app per session and come back twice-thrice a week, started to spend 100 minutes per day. (Business Insider) 
+ In 2019, the number of registered users was 40 million, while there were 2.8 million paying subscribers. (Techcrunch)
+ 30% of Byju's user base is coming from top 100 towns in India and 40% of its paid subscribers are from top 10 cities in India. (BusinessLine)