In today's fast-paced world, where smartphones have become an essential part of our lives, mobile recharge apps have revolutionized the way we recharge our devices and make payments. With numerous options available, finding the best recharge apps can be overwhelming. Fear not, as we have curated a list of the finest apps that offer seamless recharges along with other remarkable features. In this review, we covered the significant aspects of the top contenders, namely Paytm, CRED, Freecharge, PhonePe, and Google Pay, highlighting what sets each app apart. Without further ado, here are the best recharge apps that ensure secure transactions and convenience at your fingertips!
Paytm: Secure UPI Payments
Price: Free
Paytm stands out as one of the pioneers in the mobile recharge and payment industry. With its user-friendly interface and robust security measures, Paytm has gained the trust of millions. It offers a wide range of payment options, including UPI, making transactions faster and hassle-free.
Moreover, Paytm provides exciting cashback offers and discounts on recharges and bill payments, making it a favorite among users looking to save some extra bucks. The app's versatility extends beyond recharges, as users can shop online, book movie tickets, and even pay utility bills conveniently through Paytm. Visit Paytm's website to learn more about the app.
Paytm: Secure UPI Payments on Google Play
Paytm: Secure UPI Payments on the App Store
CRED: UPI & Credit cards
Price: Free
CRED is not just your average recharge app; it goes beyond rewarding users for paying their credit card bills on time. Along with a seamless recharge experience, CRED offers a platform to manage multiple credit cards in one place. The most distinctive feature of the app is its CRED Coins rewards program, where users earn coins for each payment. These coins can be redeemed for exciting offers and discounts from various partner brands.
Also, with its focus on financial discipline and exclusive rewards, CRED is an excellent choice for users seeking a comprehensive financial management platform, and it deserves to be one of the best recharge apps. To learn more, check out Cred's website.
CRED: UPI & Credit cards on Google Play
CRED: UPI & Credit cards on the App Store
---
Also Read: The 9 Best International Money Transfer Apps
---
Freecharge
Price: Free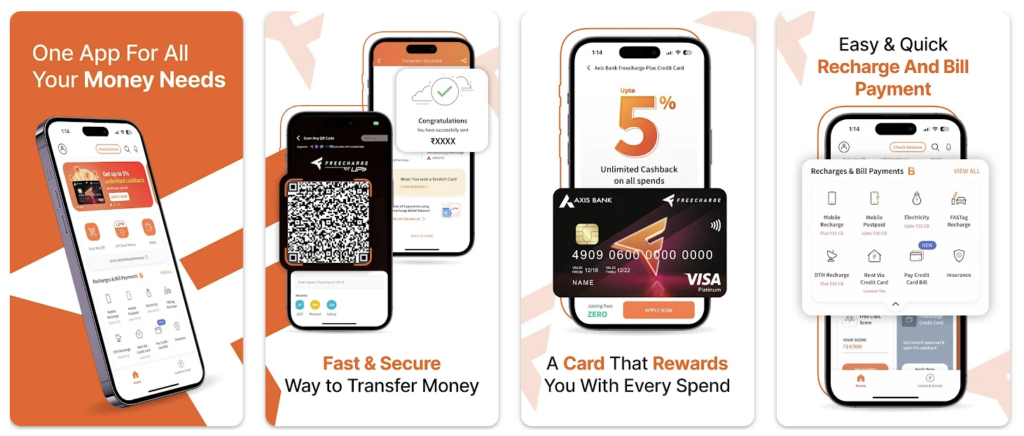 Freecharge is another popular recharge app that offers a plethora of features. One of its standout features is the "Deal of the Day," which provides users with exclusive cashback and discounts on recharges and bill payments. The app also allows users to pay their electricity, gas, and water bills conveniently.
Besides, with its secure payment gateway and speedy transactions, Freecharge ensures a seamless experience for its users. Additionally, it enables DTH and metro card recharges, making it a versatile platform for various payment needs. It stands out among the best recharge apps. For more detailed information, go to Freecharge's website.
PhonePe
Price: Free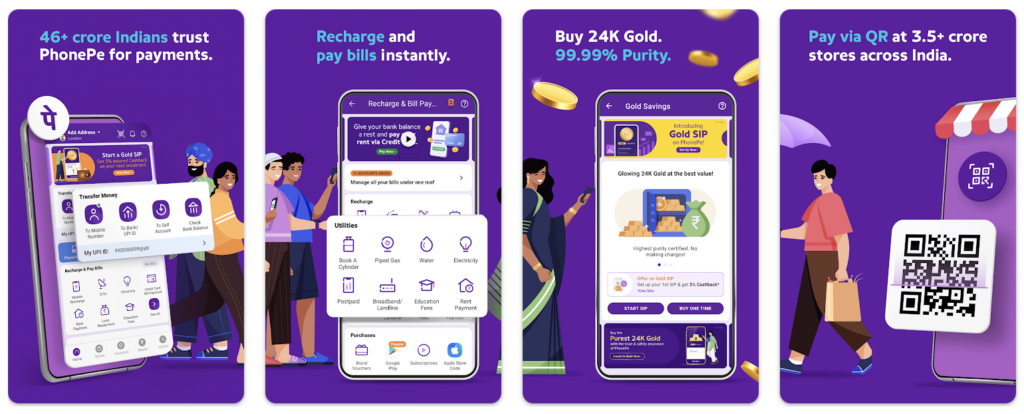 PhonePe, a reliable and user-friendly recharge app, has gained widespread popularity in a short span, and it ranks among the best recharge apps. The app provides users with a seamless UPI-based payment experience, allowing instant money transfers and bill payments. One of the standout features of PhonePe is its integration with popular shopping apps, enabling users to make purchases directly through the app.
In addition, the "Split Bills" feature allows users to split expenses with friends and family hassle-free. With its constant innovation and commitment to customer satisfaction, PhonePe has become a go-to app for recharges and payments. Explore PhonePe's website for more detailed information.
---
Also Read: The Best Crypto Wallets for Android and iPhone
---
Google Pay: Save and Pay
Price: Free
As part of the tech giant Google, Google Pay offers a secure and efficient platform for recharges and bill payments, and it is considered to be one of the best recharge apps. The app's integration with UPI makes transactions quick and straightforward. Users can also earn scratch cards for making payments, which could lead to exciting rewards.
Furthermore, Google Pay's "Offers" section provides users with cashback on various transactions, making it an enticing choice for those who love saving while paying. The app's intuitive design and wide acceptance among online merchants make it a popular choice for users looking for a reliable recharge app.
Google Pay: Save and Pay on Google Play
Google Pay: Save and Pay on the App Store