Transportation is a big part of urban life. When we go to a place, we think about transportation first and plan accordingly. But how do we do this in a country or city we don't know? There are great apps for this that cover public transport information around the world, these apps offer hours, minutes, location, and even private car service. According to your holiday style, whether you can learn the train times or your private car can pick you up at your door. Most of the apps offer customizable services, so it's possible to plan a hassle-free trip. We have listed the most preferred and best public transport apps for you. Here are the best ones!
Uber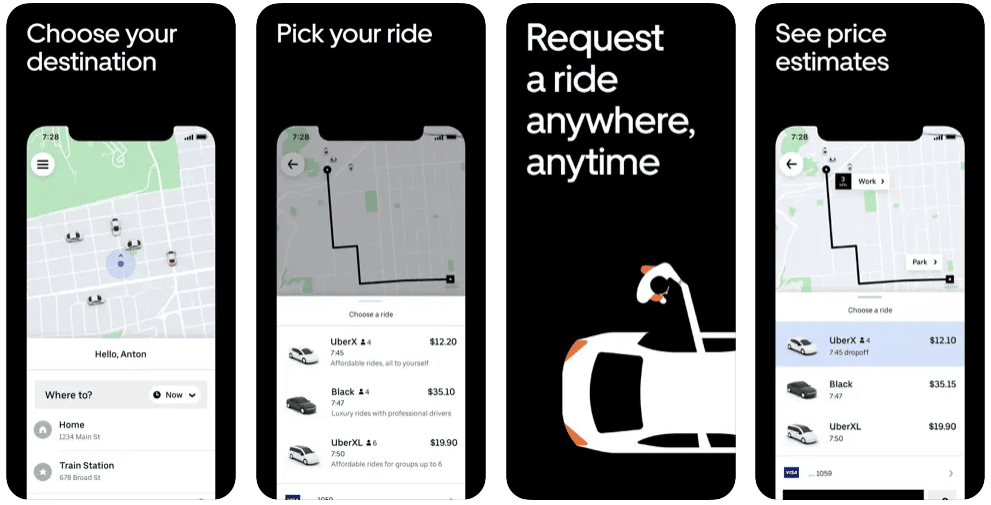 Price: Free
Uber, a transportation app that guarantees safety, is one of the most popular and preferred apps and deserves to be among the best public transport apps. Uber provides more than 600 airports transportations and is actively used in more than 10,000 cities worldwide. 
In addition, users can select the place they want to go and call the nearest Uber vehicle in the vicinity with Uber, which is very easy to use. Users do not get a surprise price because of the price estimates in the app, and the users appreciate this feature. Also, in case of an emergency, users can share their location with their loved ones and reach local authorities of the app.
---
Also Read: The 7 Best Navigation Apps for iPhone and Android
---
Cabify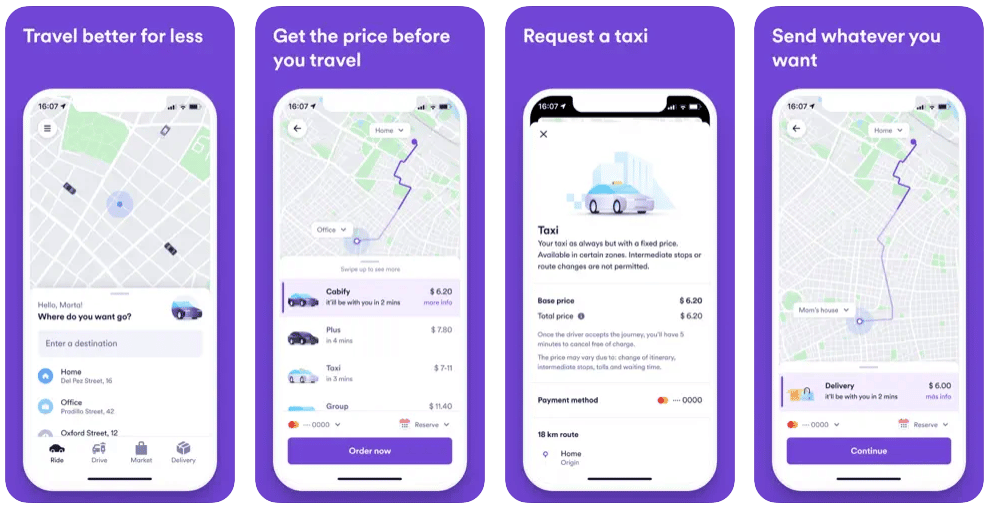 Price: Free
Cabify is a transportation app that offers high service and security. Users can order or reserve their trips. Users can get an average price with a virtual taximeter by choosing where they are and where they want to go.
Moreover, Cabify has multiple vehicle types such as simple, executive, and easy taxis, so users can choose the vehicle that suits their style and trip. The app provides the driver's name, the license plate of the vehicle, and the distance to the target area, so users get a professional transportation service and they can share this information with their loved ones.
Furthermore, the app allows users to personalize their transportation process, offering a customizable service such as their driver opening their door, air conditioning on or off, and playing the music of their choice. Cabify serves more than 90 cities, and users can access the full list at Cabify.com.
Citymapper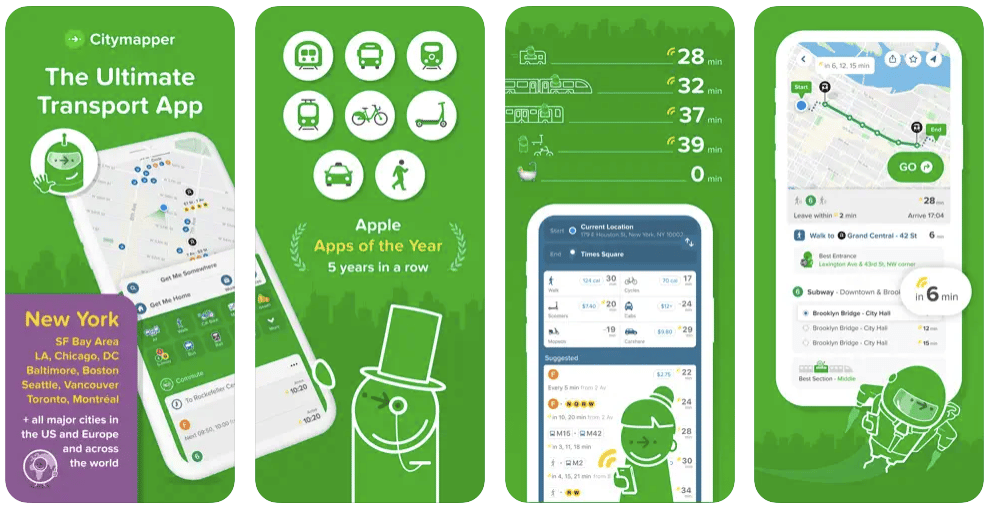 Price: Free/In-App Purchase: $2.99 – $99.99
Citymapper is a full-featured, easy-to-use, and accurate public transit app and is among the best public transport apps. The app brings together all public transport systems (BART, Caltrain, MUNI, VTA, etc.) and provides turn-by-turn directions for bus, subway, train, ferry, taxis, car-sharing, car-sharing, and bike-sharing trips.
Also, Citymapper has three different map views, and users can choose the one that suits their style. Users who prefer e-scooters and e-bikes can see their charge levels with the app and can be aware of the parking prohibited areas. The app has partnerships with Uber, Lyft, JUMP, Lime, Bird, Spin, Skip, Scoot, Citi Bike, JerseryBike, Bluebikes, Indego, CaBi, and more.
Additionally, the app offers live waiting times and the estimated time of arrival for trains, buses, and ferries, and alerts when it's time to get off. Users can save the home, work, and destination stops or stations while planning their trips. Thus they can have a complete travel experience. For more information, browse the app's website.
---
Also Read: The 5 Best English Dictionary Apps
---
Wingz
Price: Free
Offering a reliable and personalized driver experience, Wingz is among the best public transport apps. Users can avoid mishaps by pre-booking their trip and finding out the total price before booking. The app allows you to book two hours or two months in advance.
In addition, the drivers of the Wingz are people whose backgrounds are checked and carefully selected, and users can know their drivers in advance. Users who wish can create a list of city-by-city favorite drivers through the app.
Additionally, the active available regions of the app are CA (Los Angeles, Oakland, Sacramento, San Diego, San Francisco, San Jose), FL (Miami, Orlando, Tampa), Portland, Texas (Austin, Dallas, Houston, San Antonio), WA (Seattle).
Lyft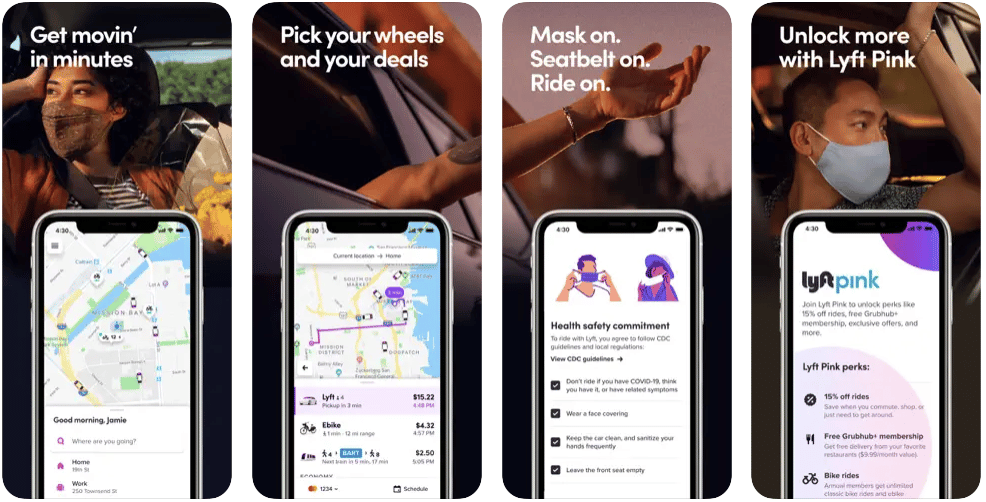 Price: Free
Lyft is a transportation app with a simple and intuitive interface. The app helps users to find the bus route, and the nearest scooter and provides a special vehicle for users who wish. Users can find a vehicle by selecting their destination on Lyft and pay within seconds through the app.
Furthermore, ride types may vary by region, so with Lyft, users should check for availability. Also, prices vary according to the market and situation.
Moovit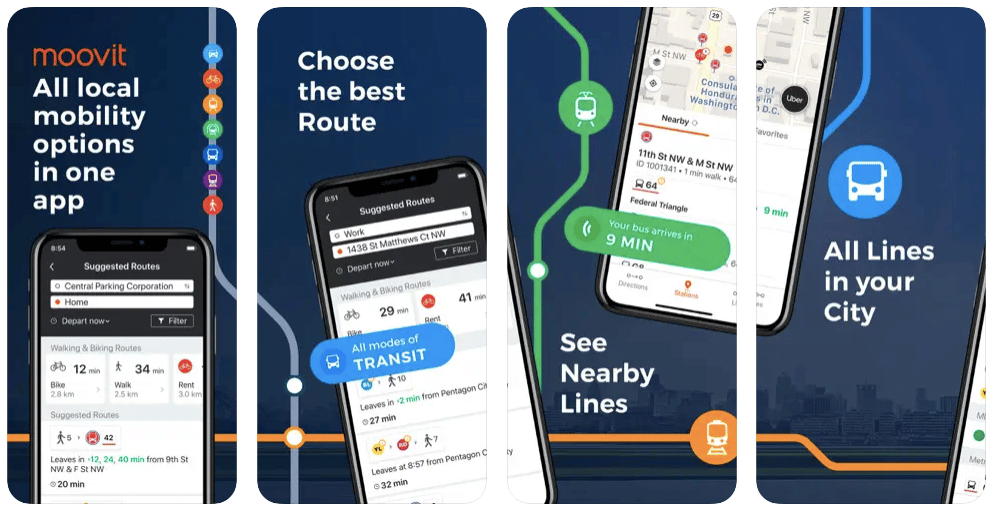 Price: Free/In-App Purchase: $1,99-$11,99
Moovit is a transportation app that provides transportation services in more than 3400 cities around the world and collects all local transit information in one place. Users can plan, drive and pay in seconds for buses, trains, subway, bikes, scooters, Uber, Lyft, and more with Moovit.
Also, the app creates the most convenient, simple, and convenient route for the target area for the users. Moovit provides users with train and bus times, maps, real-time arrival information, and more, so users can plan in the most accurate way. For more detailed information, you can browse the website of the app.