According to the data conveyed by the measurement company DappRadar, the popular NFT game Axie Infinity hit the $2 billion milestone in all-time sales.
According to DappRadar data, there are over 615 thousand people trading NFT in Axie Infinity and those traders have bought or sold Axie Infinity NFTs, in upwords of a total of 4.88 million transactions to date. That means, the average transaction price for Axie Infinity NFTs is worth $420.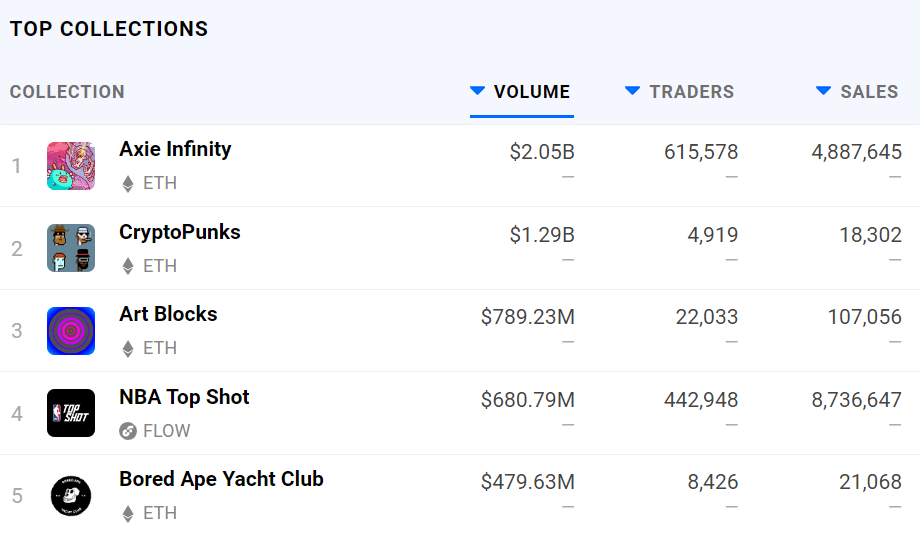 In August, the NFT game generated more than $765 million in sales, representing about 83% of the total volume of game NFT sales in August. When it comes to the average transaction price, DappRadar says that Axie Infinity doubled it as compared to May where the average transaction within the Axie Infinity NFT collection was $226.
---
Also Read: Best NFT Games of 2021
---
Developed by "Sky Mavis", a software company based in Vietnam, in 2018, the number of daily active players of the Axie Infinity game has exceeded 1 million as of August 2021.
As a play-to-earn game, Axie Infinity is a game played with creatures called Axie. Axies are unique, unchangeable Tokens that we refer to as NFTs. The nature of the popular NFT game is based on combat. With the team you set up, you can enter into battles in 2 different modes called Adventure and Arena, and you can earn a very valuable Token, called SLP, which is listed on the world's largest crypto money exchange Binance, every day.