Earlier this month, Apple rolled out the new ad spot, called Search tab ads, in the App Store in order to allow mobile advertisers to capture the attention of customers before they search in the App Store. However, several mobile ad experts and advertisers told Insider that the new ad spot was too expensive and underperforming.
Unlike other ad formats in the App Store,the search tab ads is based on the cost-per-thousand-impressions (CPM) model. According to app marketing firm SplitMetrics, the average CPM for the new ad format was around $31.10 in the first 10 days after launch.
Utilities was the category with the highest CPM at $49.9, followed by Entertainment ($49.2) and Games ($47.1). Per SplitMetrics' analysis, which covered 70 advertisers and 5 million App Store impressions, the United States ($54.0), Canada ($40.7), Australia ($37.5), the United Kingdom ($36.9), and Germany ($26.4) became the top five countries with the highest CPM.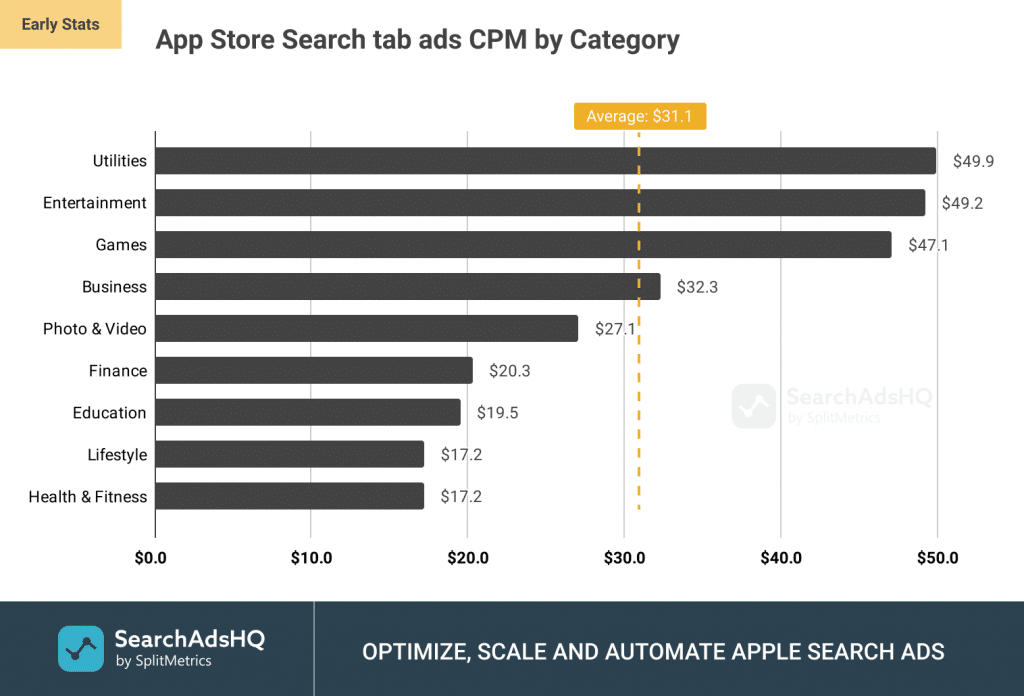 Thomas Petit, a marketing consultant, said that cost-per-installation was 30% t0 triple-digit percentages higher than Apple's existing search ads products. He said onyle a signle or double digit proportion of users were downloading the apps promoted through search tab ads, compared to an installation rate of about 50% for Apple's other search ads. "All in all, ROI-wise, this is looking dreadful so far," Petit said.
Redbox Mobile's account director Lucy Bennett said CPM was higher than expected while tap-through rates for search tab campaigns were low.
"Search-tab ads has potential, but in our view, broader options within the target audience demographics is needed to increase the audience relevancy and bring down the CPMs," Bennett added.
According to SplitMetrics' analysis, the tap-through rate for search tab ads was 0.91%, while it was 6.27% for the preexisting search ads.
According to advertising experts, one of the reasons why search tab ads cost more than other Apple search ads and perform poorly is that the ad space is small and advertisers cannot customize the ad elements because the ads are automatically created with apps' metadata in the App Store.
Some experts expect Apple to make algorithmic changes to the new ad type over time in order to increase conversion rates and decrease costs.
As Apple's algorithm will evolve, we expect that conversion rates will increase significantly with simultaneous decrease of costs," SplitMetrics CEO Max Kamenkov said. "And advertisers themselves will get better at optimizing."
Apple rolled out search tab ads a few days after the enforcement of AppTrackingTransparency framework which restricts app developers from tracking user data without user permission. Earlier in May, mobile apps analytics platform Flurry found that worldwide daily opt-in rate for Apple's ATT was as low as 12% while US daily opt-in rate hit only 4%.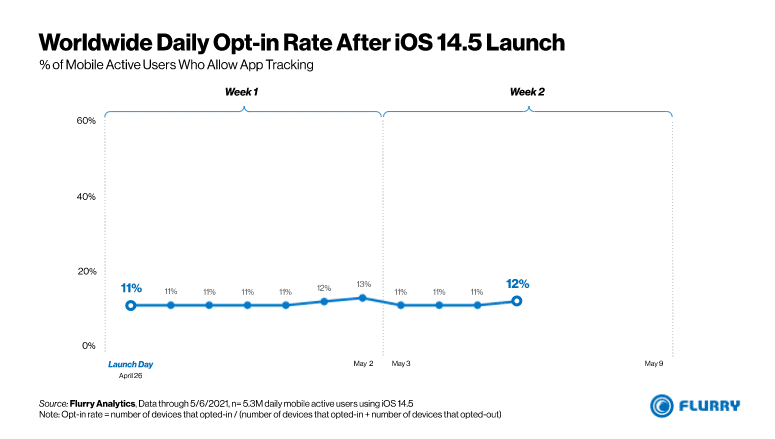 Due to targeting concerns after Apple's ATT, advertisers are concerned that ad revenue will drop. Small developers were expected to be hit hardest by the framework.
Facebook had said it expects a significant drop in its ad business which was the biggest source of revenue in the first quarter of 2021, following the enforcement of Apple's App Tracking Transparency framework.
According to data from StitcherAds, starting on April 27 – the day after the roll out of iOS 14.5 – Facebook ad spending has continued to increase and the increases remained above 90% both year-over-year and month-over-month.