According to Pixalate's data, 1,298 apps registered in Russia were removed from the Google and Apple app stores in January and February 2022. The vast majority of these apps (1,282) were removed from the Google Play Store, while only 16 were removed from the Apple's App Store in the time period observed.
Per the study, from astrology to music, games to utility, 16 of the removed apps in many different genres had at least 1 million downloads before being delisted.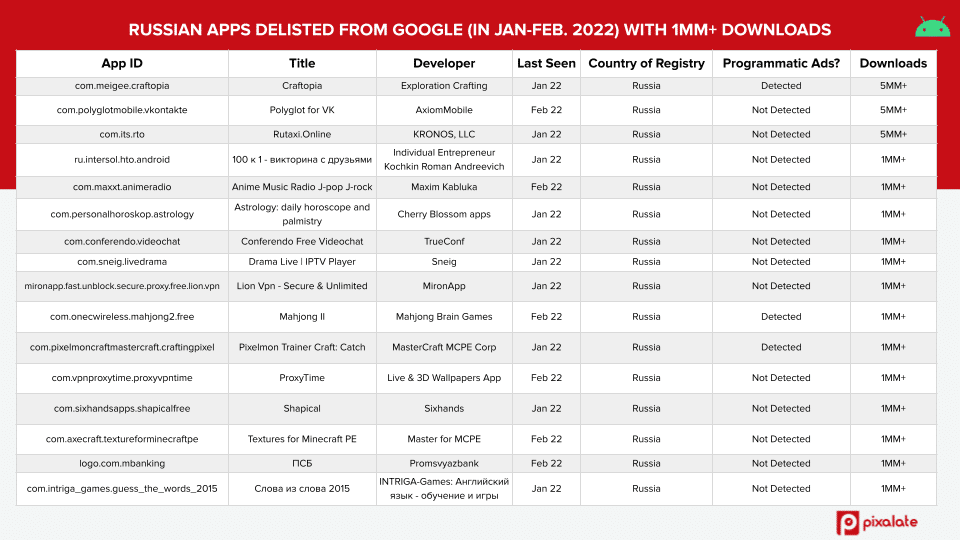 Here you can find the full list of 1,298 apps. 
In addition to the delisted apps, many major apps in the game and non-game genres suspended their services in the country since the start of the Ukraine invasion. For example, in early March, TikTok announced the suspension of new video uploads and live streams on its app in Russia, citing the country's newly passed "fake news" law.
App stores have also restricted their services in the country. In Mid-March, Google informed Android developers that it would restrict users to purchase apps and games, make subscription payments or conduct any in-app purchases of digital goods using Google Play in Russia. 
Also in March, Apple sent an email to the developer community announcing that it was suspending the Apple Search Ads service on the App Store in Russia "until further notice."