YouTube said on Wednesday that its Premium and Music services now have more than 80 million subscribers worldwide as of September 2022, including those that are currently trying them for free. That's 30 million more than the number the company announced last year.
"We've worked hard to build an experience that puts people first, and we'll continue providing the best, uninterrupted experience across all of YouTube, even on the go," said Adam Smith, VP of Product Management at YouTube. 
In a blog post, YouTube Music Global Head Lyor Cohen attributed the growth to YouTube Premium's new features like "afterparties" and discount offers for Google products, the company's mission of ''putting the fans first'', and its global partnerships with companies such as Samsung, SoftBank, Vodafone, LG U+, Universal Music Group, Warner Music Group, and many others.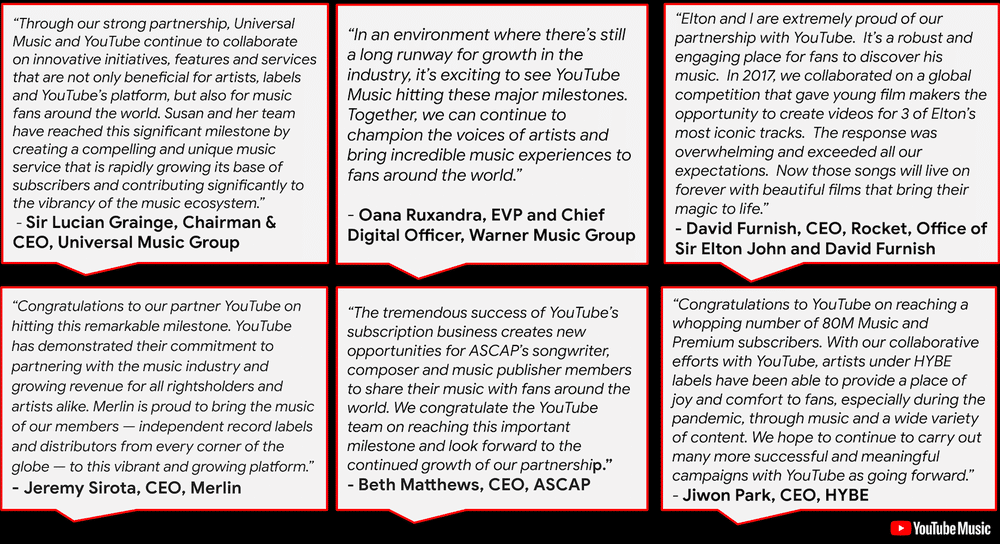 He continued by reiterating how YouTube Music contributed $6 billion revenue to the music industry between July 2021 and June 2022, with user generated content accounting for 30% of it.
He also said that ''the real deal'' is YouTube's subscribers and ads, which make up its ''twin engine of revenue.''
---
Also Read: YouTube Revenue and Usage Statistics
---
"Alongside our music industry partners, we've been working hard to make YouTube the best place for every fan and every artist, and today's news marks a significant milestone in that journey,'' said Cohen. ''We're not stopping here. We've got lots to do and look forward to driving more growth and contributions back to the music industry."
While the new milestone marks a significant growth from last year's 50 million, YouTube is still far behind its competitors such as Spotify and Apple Music.
Last month, Spotify announced its results for the third quarter of the year, reporting a total of 456 million monthly active users and 195 million premium subscribers. Apple, on the other hand, said in July that Apple TV+, Apple Music, the App Store and its other businesses collectively had 860 million paying subscribers.
However, when it comes to podcasts, YouTube is now the number one destination for users in the United States, according to Luminate Data's 2022 Podcast 360 Report released in August.
Meanwhile, days after raising the price of YouTube Premium's family plan, YouTube has also started selling streaming subscriptions in the US with its new ''Primetime Channels'' hub.